Better Call Saul's Pryce: The Yo-Yo Master Who Couldn't Yo-Yo
Meet Pryce in episodes 1 and 2 of Better Call Saul on amc.com and the amc mobile app (no login required).
How did Better Call Saul co-creators Vince Gilligan and Peter Gould find the perfect person to play the clueless, Hummer-driving dim bulb that is Pryce? As luck would have it, actor Mark Proksch knew a thing or two about playing Midwestern goofs.
Long before viewers rolled their eyes at Pryce's antics, Proksch became a viral video star thanks to a series of appearances he made on local morning shows in Wisconsin as Kenny "K-Strass" Strasser, a character Proksch calls a "complete idiot who discloses way too much about his personal life." To get booked on the shows, Proksch sent out press releases to the local stations touting K-Strass as a yo-yo champion who was going to local schools to teach children about protecting the environment. The bookings quickly started pouring in, and just like that, Zim Zam the Yo-Yo Man was born.
However, here's the kicker: Proksch had no idea how to yo-yo. "[I would] try to hold off on the yo-yo demonstration as long as possible because once I did the yo-yoing, they would know that I can't yo-yo and they would get me off the show as soon as possible," he says. "So I would ramble, telling the interviewer about my odd views of child-rearing and about my divorce. … Some it was improv, but a lot of it was stuff that I wanted to say to further the character. ... We thought of it as this weird way to tell a story through two, three minute interviews."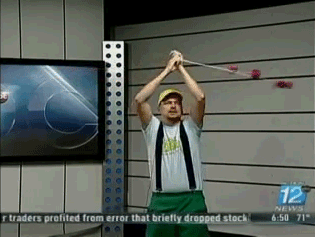 Unfortunately, after six or seven appearances, word got around that Zim Zam was a hoax and his remaining bookings were canceled. However, viewers who saw the bits uploaded them to YouTube, where they have gotten quite a second life and even attracted the attention of Gilligan and Gould after Proksch was cast as Pryce in Season 1. "Mark has a special ability that no matter what he does, it's funny," Gould says. "There's something about him. He's a comedy original." Adds Gilligan: "I laugh uncontrollably every time I see these videos, and I'm not sure why, other than the fact that this guy is amazingly funny. I think part of what I'm responding too so favorably is the courage it takes to do this, the cock-eyed bravery it takes to go on a television station and play this crazy, inept character who presents himself as a yo-yo master. I said to him when we met, 'Mark, how do you do this? … How do you be so ridiculous and never break character?' He just kind of shrugged and smiled and said, 'I guess that's who I am.'"
Indeed, Proksch – who says he took Gilligan and Gould's reaction as "incredibly high praise" – says the K-Strass character isn't much of a stretch from who he is as a person. In fact, he says there's even a little bit of K-Strass DNA in his performance as Pryce on Better Call Saul. "Every character that I play is a variation of me," he says. "I have yet to play an out and out asshole or a villain. It's always kind of a pathetic guy wearing pleats. And that's what I love. I'm so happy that I get to play these arrogant idiots."
In other words, Pryce doing the "squat cobbler" feels just as natural as K-Strass doing the "blue flying angel." "If I find it funny, I'll do it," Proksch says. "I have no real pride or vanity when it comes to myself and comedy. ... So, me sitting in pies? I was all for it."
Until we're able to see that video, click here to watch a compilation of K-Strass' appearances on YouTube.
Better Call Saul airs Mondays at 10/9c on AMC. Receive show exclusives by signing up for the Insiders Club.
Save