Who Is Silas (Hal Cumpston) on The Walking Dead: World Beyond?
For years, The Walking Dead and Fear the Walking Dead have set the stage for The Walking Dead: World Beyond's expansion into a new mythology and new universe. But beyond the CRM, helicopters, and three-ringed soldiers, the new series will offer something else novel in the apocalypse: a look at the first generation raised in a surviving civilization of the post-apocalyptic world.
These survivors will be like none other we've seen in the world of TWD, and they'll act accordingly. At the center of this new world and new community, are two sisters and their two friends. They join forces and leave their safe, comfortable homes, to brave unimaginable danger -- both known and unknown, living and undead -- on an important quest.
So who are our new heroes? They're sisters Iris and Hope, and their friends Elton and Silas. Before The Walking Dead: World Beyond comes to AMC, we're giving rundowns of everything we know about these survivors -- as well as all the of the new series' characters. Here's what to expect from one of those kids, Silas, as well as some info on Hal Cumpston, the actor who plays him:
Who Is Silas?
Silas is a shy, soft-spoken, hulking seventeen-year-old who works in the community, essentially as a janitor.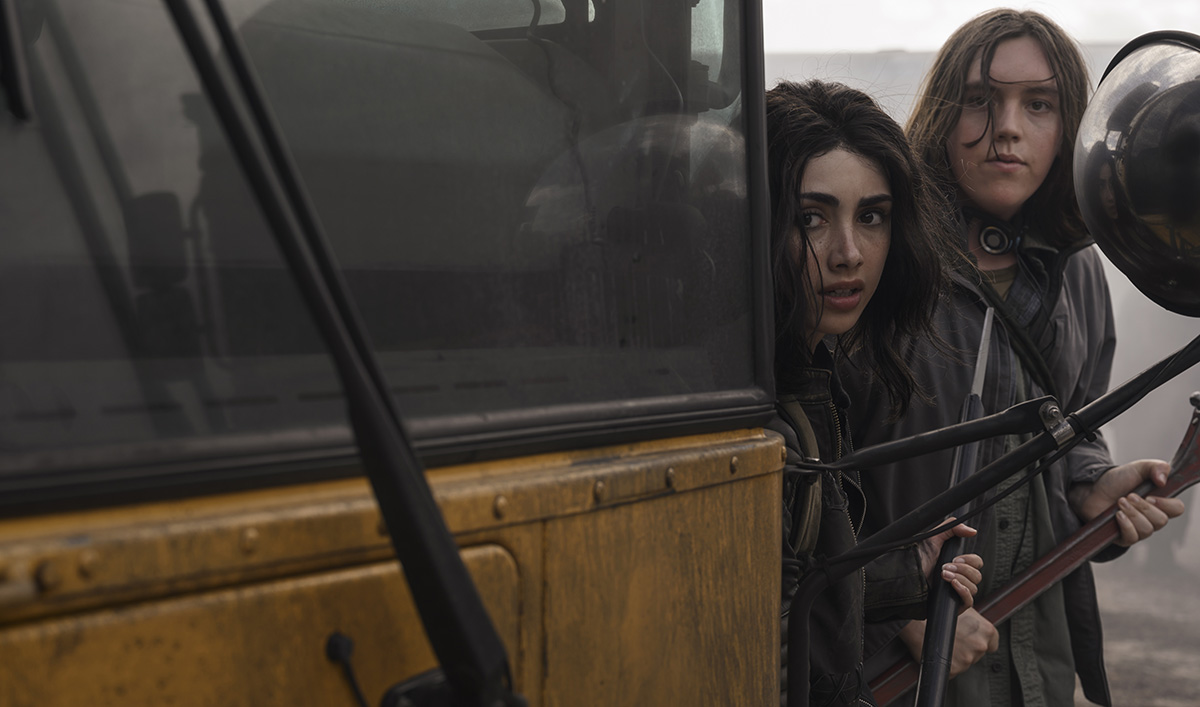 A year ago, he transferred there from a nearby surviving city, and rumors of his violent past soon followed. Some started calling him a monster, while others shunned him completely. In the context of this isolating existence, when Silas learns about Iris and Hope's cross-country expedition, he jumps at the chance to join them, eager to prove he's not the person everyone thinks he is.
There may be conflicting opinions about Silas's nature, and whether the rumors about his past are true, even among the cast. While Cumpston describes his character as "shy," and Nico Tortorella (Felix) and Nicolas Cantu both describe Silas as "guarded," Julia Ormond (Elizabeth) says Silas is "troubled and broken." Annet Mahendru leans closer to the latter direction as well, calling Silas "tortured."
While we have yet to see Silas fight, in both photos and teasers from the show, he's seen with a trademark wrench, perhaps from his janatorial work, that he wields like a weapon, which would be one of the more fascinating pieces of equipment we've seen used to fight the dead in the TWD universe.
Watch a Teaser for World Beyond:
Who Is Hal Cumpston?
Cumpston, an Australian native, wrote, produced, and starred in his first feature film Bilched at the age of 18. The film won The Grand Prix Award for Best Film and Best Screenplay at the 2019 Chelsea Film Festival in New York City. Rather than sitting around and waiting to be cast in a film, Hal set about writing a feature film that reflected Australian teenagers and their culture.
Cumpston was born in Sydney to parents who are both involved in the Australian film and TV industry. His mother Rachel Lane is a producer and his father Jeremy Cumpston an actor.
He was heavily involved in drama programs throughout high school, and knew his chosen career path would be as an actor and comedian. Cumpston was recognized with a State award for his High School final year drama performance, while also dabbling in stand-up comedy; his first stand-up earning him a finalist position in the Australian Class Clowns competition.
Watch the World Beyond "Three Things" Teaser:
Click here to learn everything we know about Iris and Aliyah Royal the actress who plays her.
Click here to learn everything we know about Hope and Alexa Mansour the actress who plays her.
Click here to learn everything we know about Elton and Nicolas Cantu the actor who plays him.
For trailers and more details from The Walking Dead: World Beyond, sign up for the The Walking Dead: World Beyond Insiders Club.