Who Is Iris (Aliyah Royale) on The Walking Dead: World Beyond?
The Walking Dead Universe is about to get a whole lot bigger when, later this year, The Walking Dead: World Beyond comes to AMC. The newest entry in the ever-expanding TWD Universe follows an inaugural generation raised in a surviving civilization of the post-apocalyptic world. In the new series, two sisters, Iris and Hope, along with their two friends, Elton and Silas, leave their secure community and embark on an adventure with the fate of their world in their hands.
These four kids, Iris, Hope, Elton, and Silas, each bring something different to their remarkable journey. We're breaking down everything we know so far about each of them, as well as the show's other main characters -- Felix, Huck, and Elizabeth. Here's what we know about Iris, as well Aliyah Royale, the talented actress playing her:
Who Is Iris?
Iris is a well-liked, above-average high school student, who's spent the decade since the world ended living in the relative safety of the Campus Colony of Omaha. The Campus Colony of Omaha is one of the three communities represented by the three-ringed symbol that first appeared on the helicopter that took a wounded Rick Grimes to safety, in his final episode of The Walking Dead. Iris and her adopted sister Hope, were raised by their father Joe behind the walls of this thriving community. He also took in Campus Colony security officer Felix, and welcomed him into their family.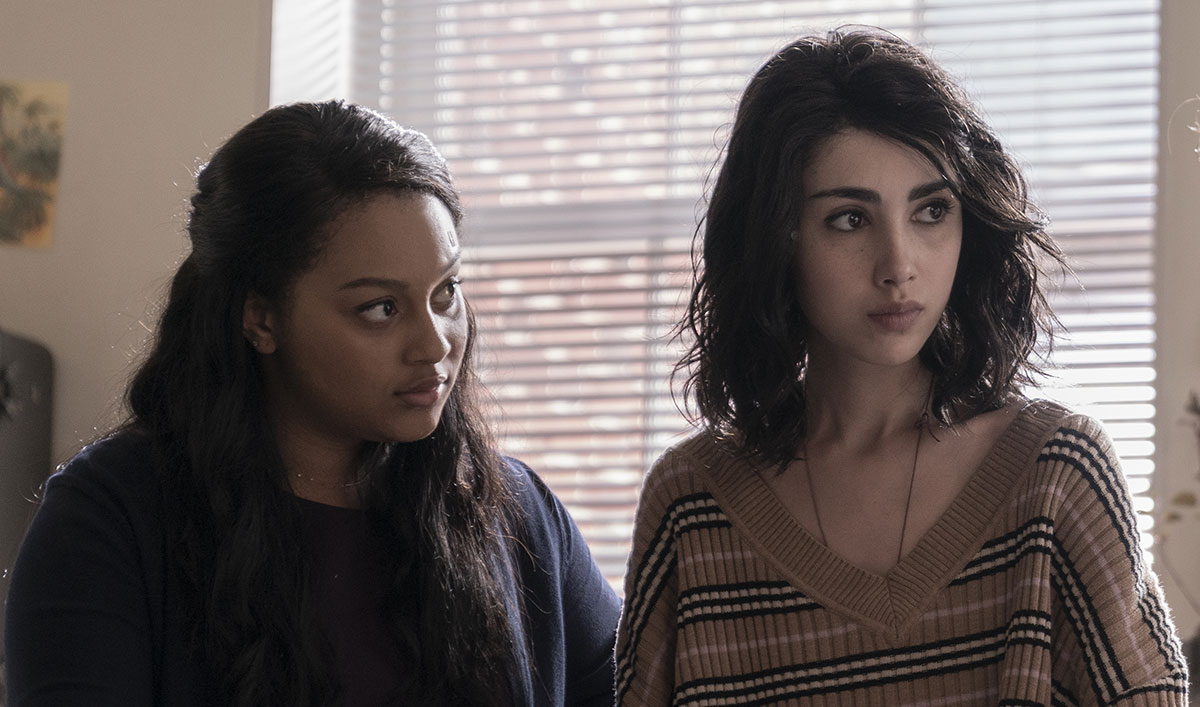 The Campus Colony community is a satellite to an even larger surviving civilization, and part of what The Walking Dead Universe Chief Creative Officer Scott M. Gimple described at last year's New York Comic Con as "three different civilizations that are bound and entwined in some ways and in some ways very different."
A smart, no-nonsense student leader, Iris is proud to be following in her scientist father's footsteps, to one day far in the future help bring back the world to what it was. This is also the overarching goal of the larger society she lives in -- and the goal of the CRM -- which her society is allied with.
More: Connecting Rick Grimes to The Walking Dead: World Beyond and the Larger TWD Universe
When Royale first read the script she says she "immediately knew that Iris was going to be responsible and a charismatic leader, but that she was carrying a massive weight with her all the time, even if other people can't see it. I think we've all felt that way before."
Just as Iris starts to wonder if she's been living her life for everyone but herself, an unforeseen event pushes Iris to lead her sister and two friends on a seemingly impossible cross-country quest. "We have to go now," she tells her sister in one of the first teasers for the series.
Watch the Teaser:
So far, it seems that Iris seems more optimistic, and Hope more suspicious. In a tense moment from the teaser, Hope tells Iris the CRM aren't good people. Royale elaborates on the differences between the two sisters: "I think they balance each other out. Hope has this realist and sometimes gritty perspective on life, and Iris brings the light and the love into view. When Iris can no longer see the good in people or in certain situations, it's Hope that reminds Iris the good is in her. Hope is literally Iris's hope."
Their journey will test her with hardships and dangers beyond her imagination, but also provide her with the freedom to finally live life on her own terms and discover who she really is. On that journey, she'll be an unshakable ally to her friends, according to her castmates. Alexa Mansour (Hope) says Iris is "selfless," while Hal Cumpston (Silas) calls her "trustworthy."
There will certainly be fights along the way, with walkers -- or empties in the parlance of these new survivors -- and perhaps people alike. As for fighting, it's not clear how adept Iris is yet, but as she heads on her journey with her sister Hope and her friends Elton and Silas, she can be seen fighting with a long-tipped spear which she uses to battle walkers.
Watch the World Beyond "Three Things" Teaser:
Who Is Aliyah Royale?
Aliyah is a multi-faceted entertainer based in Los Angeles, California. At a young age she found her love of acting through church plays and school performances, and built her resilience moving around frequently as a military brat. While living in Michigan working with a theater company, she realized this was her path and she knew it was time to get to Los Angeles to pursue her dreams. Prior to working on The Walking Dead: World Beyond, Aliyah is known for her lead role as Jira Calder-Brennan on CBS' The Red Line opposite Noah Wylie. Aliyah hopes to introduce herself to the world as an author in the near future.
Read an interview with Julia Ormond, who will play Elizabeth.
For trailers and more details from The Walking Dead: World Beyond, sign up for the The Walking Dead: World Beyond Insiders Club.