Who Is Elton (Nicolas Cantu) on The Walking Dead: World Beyond?
A new chapter in the ever-expanding The Walking Dead universe will premiere later this year, with the arrival of The Walking Dead: World Beyond. That means there will be lots more for fans to explore: new worlds, gnarly walkers we haven't seen before, new weapons, new communities, new mythologies, more information about the mysterious CRM which took Rick in the helicopter, and, yes, new survivors.
At the center of the story are a heroic group of teens who have been sheltered from the dangers of the post-apocalyptic world. But then they receive a message that inspires them to leave the safety of the only home they've ever known, and embark on a cross-country journey. Those young people -- Iris, Hope, Elton, and Silas -- are all very different and very distinct individuals. We're breaking down what we know so far about each of them, plus the rest of the characters on the show. Without further ado, here's what we know about Elton and Nicolas Cantu, the actor who plays him:
Who Is Elton?
Thoughtful, analytical, and intellectually curious, fifteen-year-old Elton is both an utter innocent and a wise old soul. An orphan of the apocalypse, Elton is Zen-like and completely at peace with the statistical probability that humankind is only a few years away from extinction. Wanting to spend the time he has left continuing the work of his scientist parents, he gladly joins the others on their cross-country quest. What better way to study the world than to experience it firsthand?
Like his fellow survivors, Hope and Iris, Elton is a resident of the Campus Colony of Omaha, part of the three-rings symbol along with the CRM.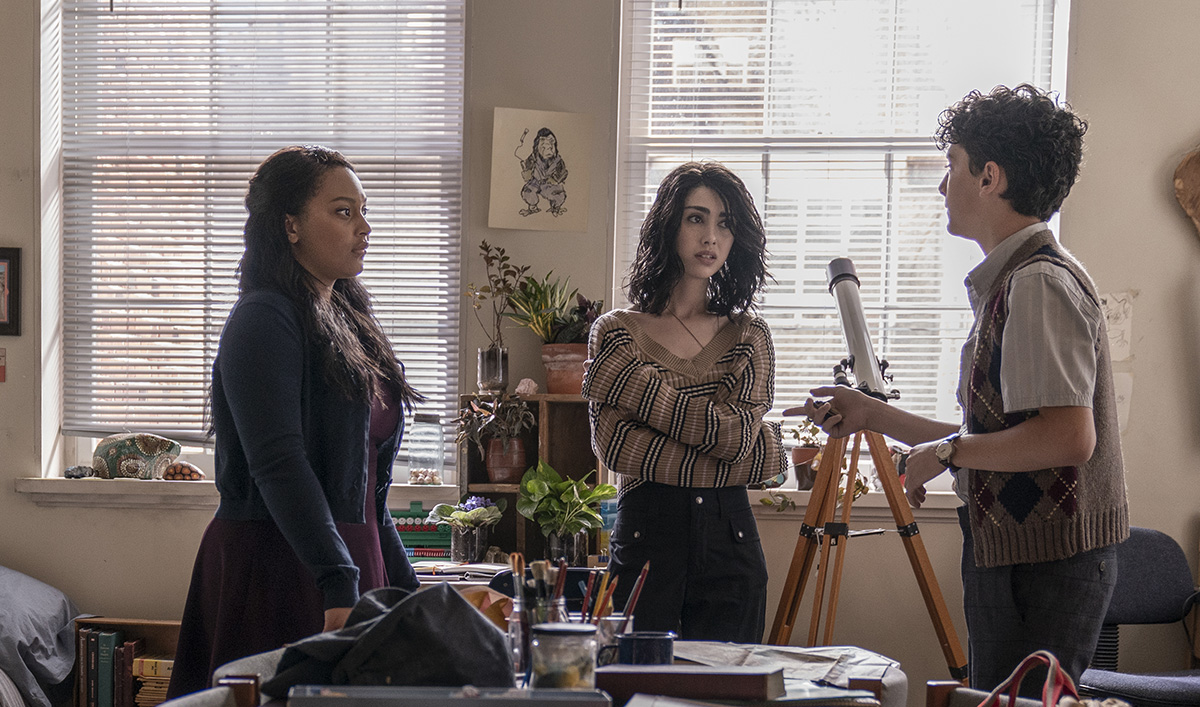 More: Connecting Rick Grimes to The Walking Dead: World Beyond and the Larger TWD Universe
"I came out here to see what the world is, start to finish. I don't intend to finish before I start. I need to make my life count," Elton tells his fellow survivors in one stirring moment from a teaser.
He's clearly ready to explore and make his mark on the world, and Cantu and the rest of the cast agree in that assessment of the character.
Aliyah Royale (Iris) describes Elton as "so clever," while Cantu thinks his character is "just this wonder for the world." To sum it up as Nico Tortorella (Felix) does in one word, Elton is "genius."
He's young and small for his age, and seems to have a trademark style of dress with his plushy suits and suspenders. Elton is also a study in contradictions. In one recent teaser he can be seen with a camera, which he likely uses in his attempt to document his experiences in the world. But he's not all artsy all the time -- he also knows karate.
Watch the World Beyond "Three Things" Teaser:
Who Is Nicolas Cantu?
Nicolas Cantu was born in Austin, Texas, the second of three children, who at the young age of seven declared his intention to be an actor. Nicolas began acting professionally in an industrial film for the City of San Antonio, followed by three national commercials. He soon moved to L.A. and signed with an agent, where he quickly booked Prince James in the animated series, Sofia the First. He went on to land numerous commercials, including multiple spots for Old Navy (with Julia Louis-Dreyfus), roles in TV including The Good Place, The Unicorn, Raven's Home, and Teachers, and in feature films including Vikes.
Nicolas continued to excel in voiceover, giving voice to the beloved character of Gumball in Cartoon Network's The Amazing World of Gumball, Lego Star Wars, and recurring roles in Nickelodeon's Hey Arnold: The Jungle Movie, and Dora and Friends: Into the City!
In his spare time, Nicolas enjoys neighborhood basketball, skateboarding, drawing, and creating animation videos on his YouTube channel "junkyjanker." He also loves hanging out with his family: his mom, dad, two brothers Sebastian and Matias, and his three dogs, Rocco, Lola and Fiona.
Watch a Teaser for World Beyond:
Click here to learn everything we know about Iris and Aliyah Royal the actress who plays her.
Click here to learn everything we know about Hope and Alexa Mansour the actress who plays her.
For trailers and more details from The Walking Dead: World Beyond, sign up for the The Walking Dead: World Beyond Insiders Club.