Vulture Highlights Saul Billboard; USA Today Previews Saul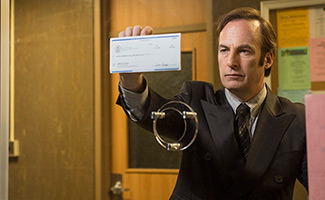 This week, an ad campaign featuring a Saul billboard in Albuquerque gets a lot of play in Vulture and elsewhere, while USA Today talks to Bob Odenkirk about Better Call Saul. Plus, E! has a conversation with the show's casting directors. Read on for more:
• Vulture reports on Better Call Saul's ad campaign, which includes an Albuquerque billboard and working phone number for Jimmy McGill (Saul's former name). E! Online applauds, "A+ on marketing, AMC." CBS News points out that the Better Call Saul billboard "lets you actually call Saul."
• USA Today, previewing Better Call Saul, speaks with Bob Odenkirk, who says, "You'll see a lot of things that made him who he is, and you'll re-look at his situation in Breaking Bad and see that he's not such a bad guy."
• Better Call Saul's casting directors tell E! Online about the secrecy on set: "The actors are coming in with dummy sides, they aren't even able to look at a script. So they have to walk into the casting room and trust us on how we're guiding that. Secrecy."
• Uproxx reports that Bob Odenkirk wrote the iconic Saturday Night Live sketch, "Down By the River," which featured Chris Farley as a down-on-his-luck motivational speaker.
To stay up-to-date with all the latest Better Call Saul news, join the Better Call Saul Insiders Club.