USA Today Talks Historical Dramas; The Star Online Previews Season 3 in Malaysia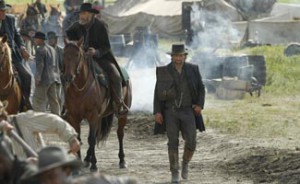 This week, Hell on Wheels is cited as an example of the proliferation of historical dramas on TV. Plus, Season 3 is set to air in Malaysia and gets a preview from The Star Online. Read on for more:
• USA Today notes that TV shows which take place in the past, like Hell on Wheels, still need to be relevant to the present day.
• Ahead of Hell on Wheels's Season 3 premiere in Malaysia, The Star Online calls the drama "an examination of the racism, greed and politics that drove people during that period and continues today."
• Variety reports that Entertainment One Television Intl. sold multiple seasons of Hell On Wheels to LoveFilm and Watchever in Germany and to NOW in Russia.
To stay up-to-date with all the latest Hell on Wheels news, sign up for the weekly Hell on Wheels Telegraph.