'80s Playlist for Halt and Catch Fire's Gordon Clark Now on Spotify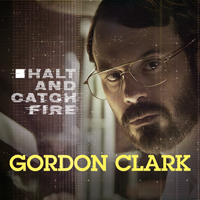 A once-promising engineer, Halt and Catch Fire's Gordon Clark (Scoot McNairy) is sleepwalking through life. He has a second chance at success now, but the deck is stacked against him. So what would a man longing for glory but straining under the pressure put on his personal mixtape? Tom Petty, Steely Dan, Eric Clapton, the Allman Brothers Band and other giants of '70s and 80s rock, to name a few. Check out this exclusive Spotify playlist of '80s music for Gordon Clark, courtesy of Halt and Catch Fire's Music Supervisor Thomas Golubic and his team at SuperMusicVision. And be sure to check back each week for a new playlist based on a different Halt and Catch Fire character.
Follow AMC Halt and Catch Fire on Spotify.
Halt and Catch Fire episodes and music are also available on iTunes.
Look after the jump to download songs from Gordon Clark's '80s playlist now.
3. Creedence Clearwater Revival, "Lodi"
4. The Allman Brothers, "Midnight Rider"
5. Leon Russell, "Out In the Woods"
6. Brewer & Shipley, "One Toke Over the Line"
7. Neil Young, "Heart of Gold"
9. Climax Blues Band, "Couldn't Get It Right"
10. Steely Dan, "Black Friday"
12. Rocky Burnette, "Tired of Toein' the Line"
13. R.B. Greaves, "Take a Letter Maria"
15. Firefall, "You Are the Woman"
16. Blues Image, "Ride Captain Ride"
17. Nick Lowe, "Heart of the City"
18. Electric Light Orchestra, "Don't Bring Me Down"
19. Eric Clapton, "Let It Rain"
20. Joe Walsh, "All Night Long"
Don't miss a new episode of Halt and Catch Fire Sunday at 10/9c on AMC.