Ride Travelogue: Embrace the Pura Vida Way of Life From Norman's Costa Rica Adventure
"Costa Rica is where I own a home and go to escape," says Norman Reedus in Episode 4 of Ride With Norman Reedus. He meets up with one of his oldest friends, Dom Rocket, for a trip through Costa Rica to help him assimilate more into the culture of the place he calls home. Follow along below to discover exactly where Norman and Dom traveled on their journey:
SAN JOSE, COSTA RICA
In the capital city of Costa Rica, Norman meets up with longtime friend Dom Rocket to start their adventure off with a burst of adrenaline. Racing around the indoor track at Fonesca Indoor Karting (FiK), Norman and Dom take turns trying to get the upper hand in their speeding go-karts. After getting thoroughly "shaked and baked" by the time they cross the finish line, Norman and Dom head out for some food.
Turning off the road to Salt Traders Costa Rica, Norman and Dom find what looks like a trendy cafe. But this is no dime-a-dozen coffee shop. Salt Traders's true product is salt (go figure) -- and the unique types of salt are added in various dishes offered in the cafe to create new, complex flavors. Have you ever tried coffee with salt in it? To hear foodies describe their experience at Salt Traders, it's the secret ingredient to crafting perfectly balanced flavors. Check out their instagram here to get your mouth watering.
Norman and Dom hit the road again, headed into the mountains above Heredia, Costa Rica. There, Norman finds his own personal heaven.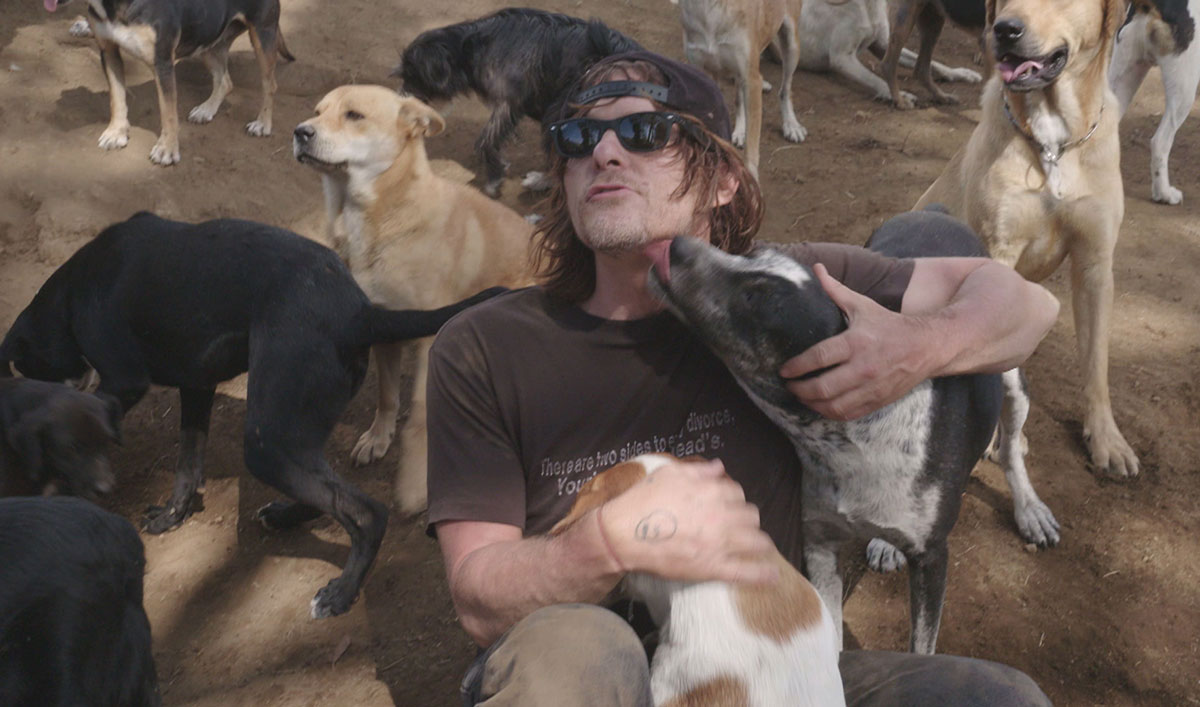 Territorio de Zaguates, or "Land of the Strays," is the ultimate dog sanctuary, serving over 1,500 dogs from all walks of life. "Oh my god, look at all the puppies -- I'm in heaven!" Norman says as a wave of dogs comes rushing down the hillside to greet him and Dom. Though the sanctuary isn't currently open to the public, Territorio de Zaguates is undergoing new upgrades to re-open for visitors soon. But don't worry, you can still help pups like Negro by donating to the sanctuary online. Each dog costs about $36 a month to keep healthy and well-fed -- consider sponsoring a puppy here.
Watch Norman and Dom visit Territorio de Zaguates:
Content after cuddling with puppies, and possibly getting more than a little covered in dog slobber, Norman and Dom head out for a place to wind down for the night.
A Costa Rican soda isn't a fizzy pop drink. Sodas are an important part of local Costa Rican culture -- a small, usually open-air, frequently family-owned restaurant serving traditional Costa Rican fare. One of the most singular representations of Costa Rican cuisine is the casado: a balanced dish of rice, beans, protein and greens. It's the "marriage of the perfect ingredients," says one Costa Rican local in the episode -- no wonder the word casado means "married" in Spanish.
The next morning, Norman and Dom head out to the mountain forests of Monteverde to explore another important part of Costa Rican culture.
MONTEVERDE, COSTA RICA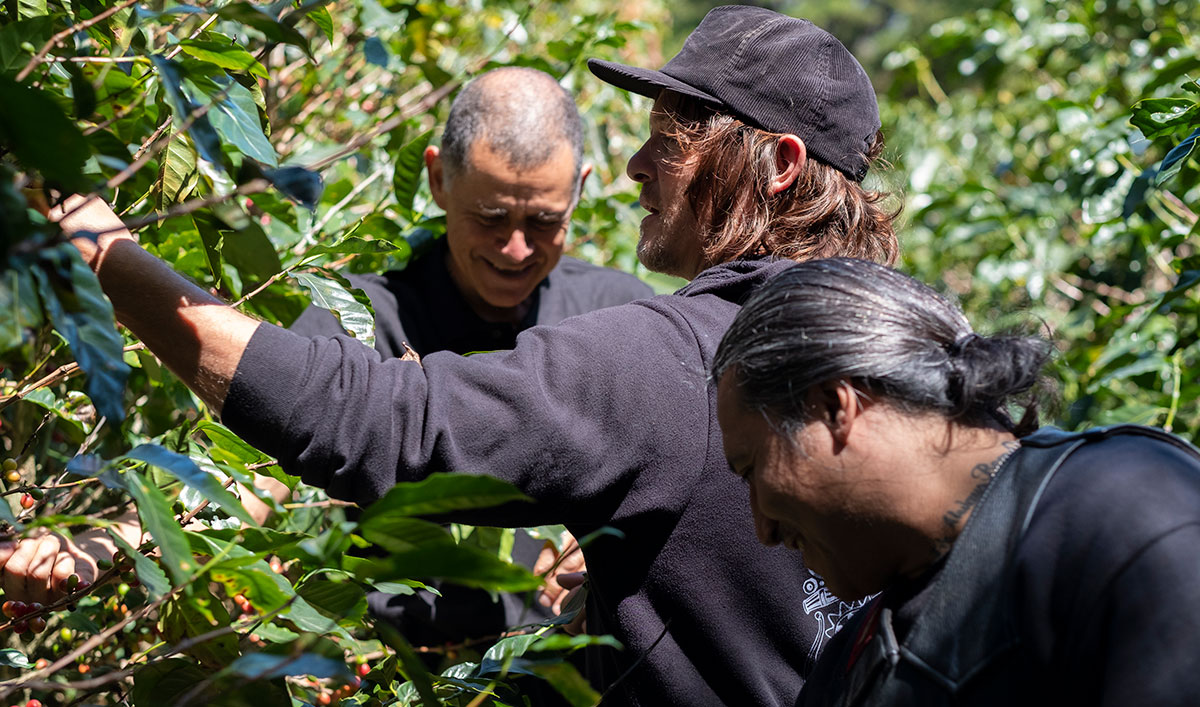 "Costa Rican coffee is the best," says Norman in the episode, and it's little wonder why. It's the leading industry in the nation with an ideal climate for growing Arabica beans. At Cafe de Monteverde, where Norman and Dom hand-pick coffee with farmer Guillermo, visitors can get a personal tour of the coffee farm and roastery, learn about sustainable agriculture, and also experience free tasting sessions in the two cafes on the farm.
After parting ways with Guillermo, Norman and Dom head up a (dangerously low visibility) dirt trail, about 5,000 feet up along the continental divide into the Cloud Forest Reserve. There, they get ready to explore Costa Rica's beauty with more action-packed adventure.
Norman and Dom meet up with Darian Alvarado Chavaris, a representative from 100% Aventura, to take an ATV tour through private trails in the Cloud Forest Reserve. After a rowdy turn on the ATVs (in which Dom takes yet another tumble), Norman and Dom discover a misty "sleepy hollow" overlooking the Caribbean Sea and Pacific Ocean. They decide to lie in the cloudy haze of their newfound "wet heaven." Find your own wet heaven through 100% Aventura here. They also provide zipline canopy tours, and hanging bridge tours for those willing to test their fear of heights.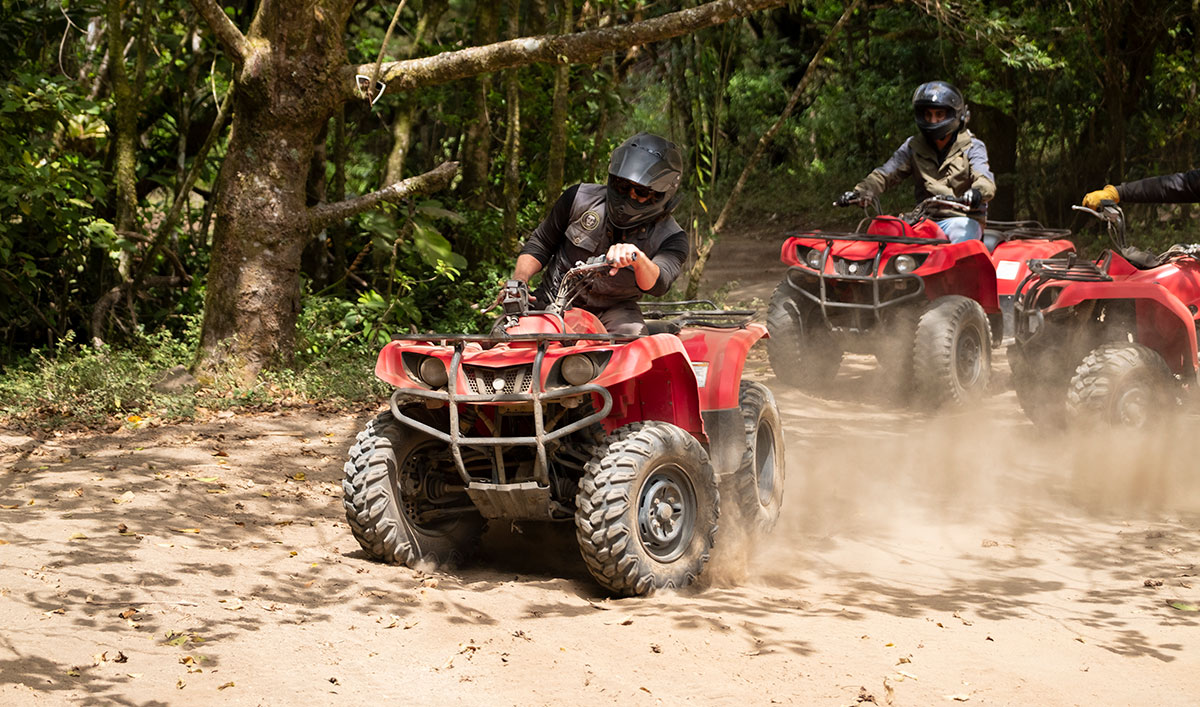 PITAHAYA, COSTA RICA
Leaving Monteverde, Norman and Dom ride about an hour southbound to Pitahaya, where they experience Costa Rica's commitment to conservation.
Founded in 1994, the Natuwa Wildlife Sanctuary is dedicated to protecting and rehabilitating exotic wildlife, environmental education and ecological restoration. Featuring macaws, tapirs, jaguars, squirrel monkeys, two-finger sloths and more, the sanctuary provides visitors with a new appreciation for local wildlife. Volunteer opportunities are also available at Natuwa for those looking to donate their time to be up close and personal with the animals.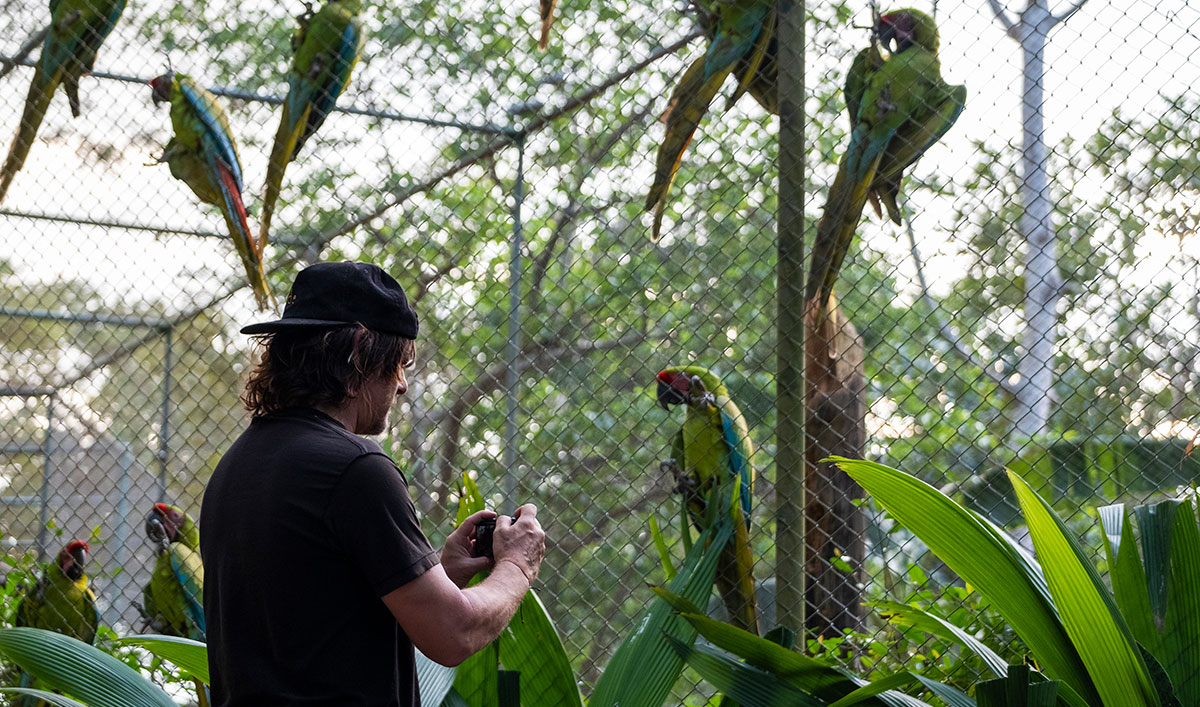 PUNTARENAS, COSTA RICA
Though barely able to leave the baby sloth and the thrall of the tapir, Norman and Dom head to Puntarenas, a city with "the look and feel of a surfer's paradise," Norman says. As night falls on their second day in Costa Rica, Norman and Dom start craving a beer and settle into the perfect place for a pint.
Norman and Dom find two seats at a popular beachfront spot, Isla Coco's Bar & Grill. The highly rated restaurant is the perfect place to grab a drink and wind down after a day by the water. See what other people have to say about Isla Coco's here.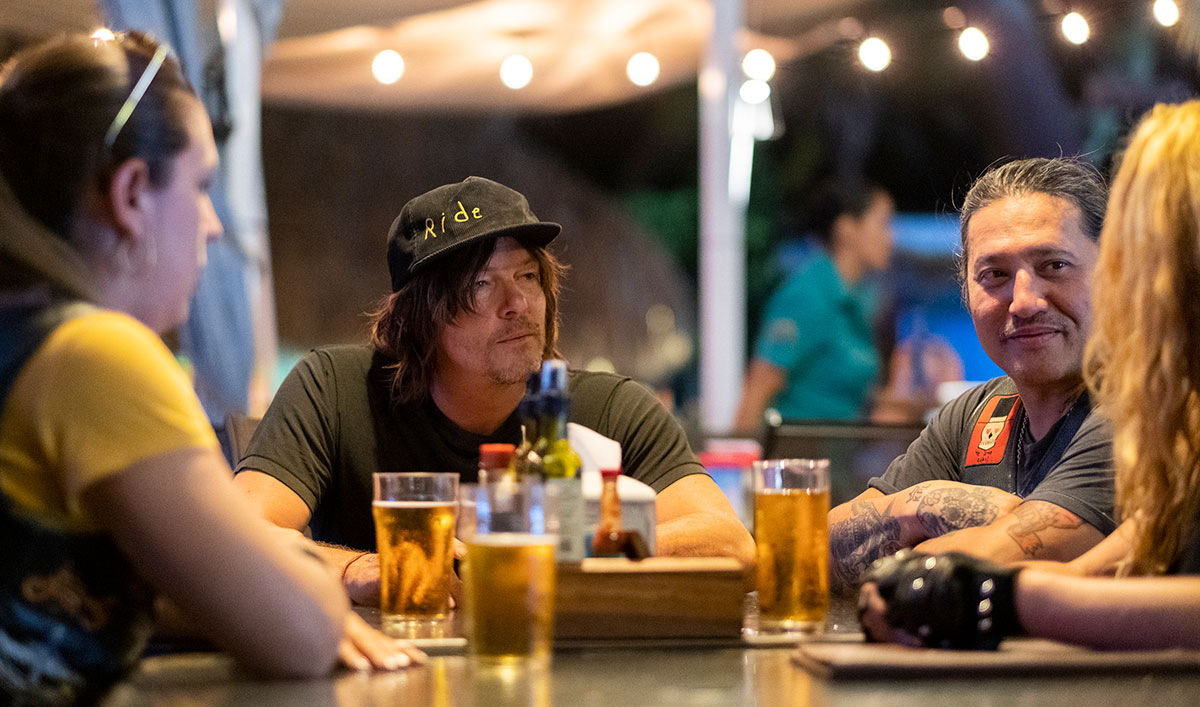 On the third day of their Costa Rican journey, Norman and Dom set out to explore a local motorcycle convention that takes over the streets of Puntarenas. The convention brings together thousands of motorcycle enthusiasts, and offers multiple events, like a moto rodeo, and delicious street food offerings.
Pipa fria, or cold coconut water, is a Costa Rican street food staple. Vendors offer ripe coconut and hack off just enough of the top of the fruit to drink the cool water inside with a straw. It's so good, you'll want to eat it. But...don't. As Dom finds out the hard way, if you bite into part of the rind, you're going to have a bad time. Norman and Dom's day briefly derails after Dom breaks his tooth on a piece of coconut.
Dom takes this setback like a champ, of course, and he and Norman soon find a nearby restaurant to put the tooth incident behind them. At Mar Abierto, the two enjoy large glasses of papaya smoothie.
Norman and Dom then get back on their bikes and make the 70-km trip down to the resort city of Jaco.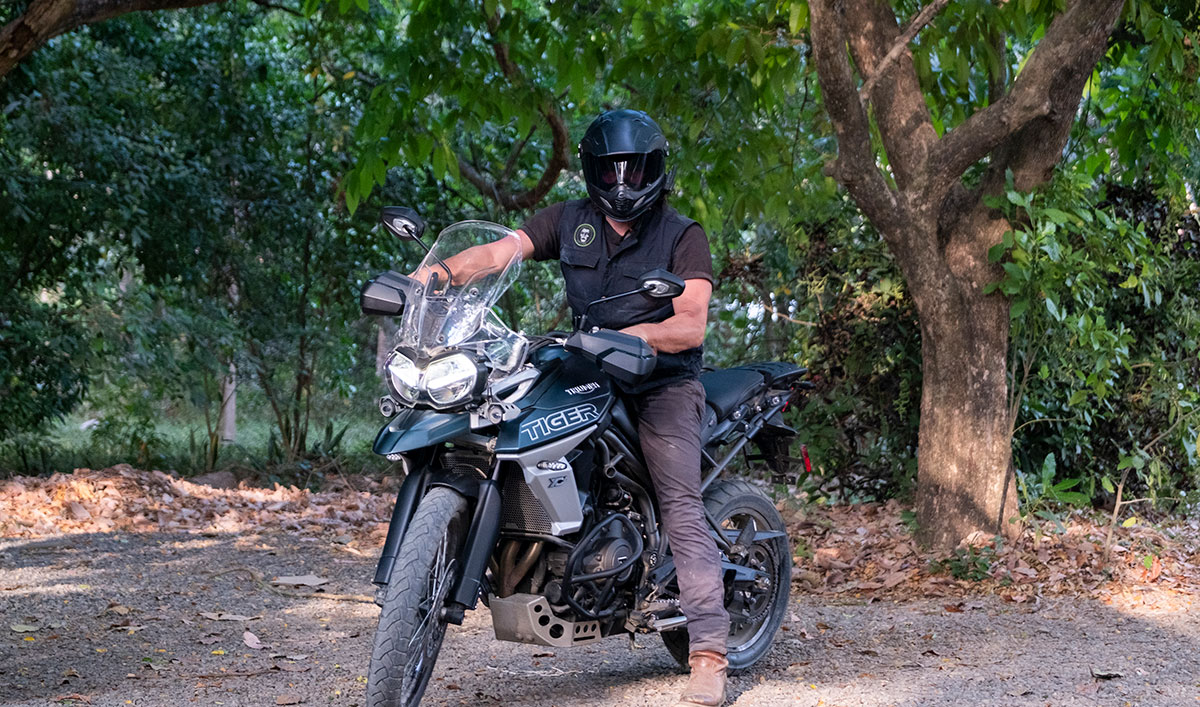 JACO, COSTA RICA
Better known for its surfing beaches and nightlife, Jaco offers even more adrenaline tourism as well. Here, Norman and Dom trade in their motorcycles for something little more down and dirty.
Less than five minutes from the Jaco city center, Norman and Dom, and other members of the Ride crew, hop on a pack of 125cc Honda mini dirt bikes. The gang of red riders gets rowdy and dirty as they zip along the muddy trail. Visitors can plan their own outing on mini dirt bikes here.
After a spin around the off-road track, Norman and Dom borrow the mini bikes for a casual ride along the Jaco waterfront. The two find a tranquil spot along the beach - not hard to come by in Costa Rica - and watch the sun fall below the ocean-lined horizon.
Click here to watch Norman Reedus and Dom Rocket explore the beauty of Costa Rica.
Unlock more with AMC Premiere: Stream the full Season 4 now, ad-free. Learn more at amcpremiere.com.
For exclusive content, behind-the-scenes road diaries, Q&As and more, sign up for the Ride With Norman Reedus Insiders' Club.
Ride With Norman Reedus airs Sundays at Midnight/11c.