Party Like It's 1984 With Halt and Catch Fire's Latest Spotify Playlist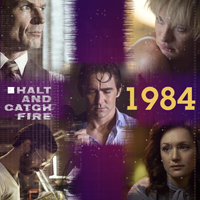 1983 proved to be an eventful year for the team at Cardiff Electric, whose venture into the PC market has been fraught with double-crosses, romantic trysts, and hiccups of both the technical and legal variety. Now, 1984 is approaching and the team is poised to unleash their Giant onto the market (the same year that Apple will unveil its game-changing Macintosh). To celebrate such a seminal year in the history of personal computers, Halt and Catch Fire's music supervisor Thomas Golubić and his team at SuperMusicVision have created a new Spotify playlist highlighting the pop hits of 1984. While Cardiff's future may be uncertain, 1984's place in music history is secure thanks to artists like U2, Depeche Mode, and David Bowie. Check it out below, and get ready to party like it's 1984 all over again.
Follow AMC Halt and Catch Fire on Spotify
Halt and Catch Fire episodes and music are also available on iTunes.
Look after the jump to download songs from the "1984!" '80s playlist now.
1. U2, "The Unforgettable Fire"
3. Prince and The Revolution, "Take Me With U"
4. Bronski Beat, "Smalltown Boy"
5. Pet Shop Boys, "West End Girls"
7. Thomas Dolby, "Hyperactive!"
8. Art of Noise, "Close (To the Edit)"
10. Depeche Mode, "Master and Servant"
12. Alphaville, "Big In Japan"
13. Murray Head, "One Night In Bangkok"
17. Style Council, "My Ever Changing Moods"
18. Bananarama, "Cruel Summer"
19. The Specials AKA, "Nelson Mandela"
20. Paul Young, "Come Back and Stay"
21. Talk Talk, "Call In the Night Boys"
22. Thompson Twins, "Doctor! Doctor!"
23. Rockwell, "Somebody's Watching Me"
24. Ministry, "Every Day (Is Halloween)"
25. Fad Gadget, "Collapsing New People"
26. Cabaret Voltaire, "Sensoria"
27. The Sugarhill Gang, "Girls"
29. Howard Jones, "What Is Love?"
31. The Smiths, "This Charming Man"
32. The Replacements, "I'll Will Dare"
33. R.E.M., "So. Central Rain"
34. Felt, "Sunlight Bathed the Golden Glow"
35. Cocteau Twins, "Pearly-Dewdrops' Drops"
36. Husker Du, "Something I Learned Today"
37. Echo and The Bunnymen, "The Killing Moon"
38. Big Country, "Fields of Fire"
39. The Blue Nile, "Tinseltown in the Rain"
40. Siouxsie & The Banshees, "Dazzle"
Click here to see Spotify playlists for other Halt and Catch Fire characters including Joe MacMillian, Gordon Clark, Cameron Howe, the Cardiff Electric Giant itself and more.