Party Like a Giant With Halt and Catch Fire's Latest '80s Spotify Playlist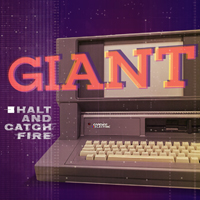 Things are heating up for Cardiff Electric's rogue PC team. With the company's senior VP John Bosworth under investigation for embezzlement, Joe MacMillan, Gordon Clark, and Cameron Howe are making a last-ditch effort to sell the "Giant," their PC clone, at COMDEX in Las Vegas. An annual computer expo where all the major PC contenders show off their wares, COMDEX is the party the Cardiff team has been waiting for, and what's a party without a killer mixtape?
To that end, Halt and Catch Fire music supervisor Thomas Golubić and his team at SuperMusicVision have crafted this new Spotify playlist from artists like Men at Work and A Flock of Seagulls. Rock out to the playlist now, then check back next week for the final Halt and Catch Fire playlist of the season.
Follow AMC Halt and Catch Fire on Spotify
Halt and Catch Fire episodes and music are also available on iTunes.
Look after the jump to download songs from the "GIANT!" '80s playlist now.
3. Missing Persons, "Walking In L.A."
5. A Flock of Seagulls, "Space Age Love Song"
6. Re-Flex, "The Politics of Dancing"
8. Wall of Voodoo, "Mexican Radio"
9. Violent Femmes, "Blister In the Sun"
10. Talking Heads, "Psycho Killer"
11. Nick Lowe, "Heart of the City"
12. Adam Ant, "Desperate But Not Serious"
13. Bow Wow Wow, "Do You Wanna Hold Me?"
14. The Smiths, "This Charming Man"
15. The Thompson Twins, "Lies"
17. The Jam, "Town Called Malice"
18. The Fun Boy Three, "Our Lips Are Sealed"
19. After the Fire, "Der Kommissar"
20. The Human League, "(Keep Feeling) Fascination"
21. Men at Work, "Who Can It Be Now?"
24. Altered Images, "I Could Be Happy"
25. Taco, "Puttin' On the Ritz"
26. The Waterboys, "I Will Not Follow"
Click here to see Spotify playlists for other Halt and Catch Fire characters including Joe MacMillian, Gordon Clark, Cameron Howe, and more.