New Promos for Anson Mount's Non-Stop; Common Gives Inspirational Talk at Penn State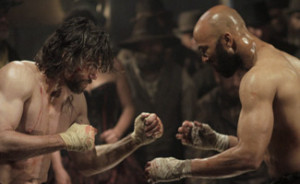 This week, catch two new TV spots for Non-Stop, with a cast that includes Anson Mount, while Common gives a talk at Pennsylvania State University. Plus, a movie with Colm Meaney has a new poster. Read on for more:
• Flicks and Bits shares two new promos for Non-Stop, a movie starring Liam Neeson and featuring Anson Mount that will be released on Feb. 28.
• According to the Centre (Pa.) Daily Times, Common speaks at Penn State about inspiring people to attain their personal greatness.
• Bloody Disgusting has the poster for Where the Devil Hides, a movie featuring Colm Meaney.
• The Modesto (Calif.) Bee reports that Common will give the keynote address and perform during the University of the Pacific's Black History Month celebration.
To stay up-to-date with all the latest Hell on Wheels news, sign up for the weekly Hell on Wheels Telegraph.