Listen to Joe MacMillan's Musical Evolution on This New Halt and Catch Fire Spotify Playlist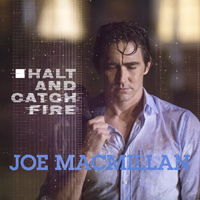 When Halt and Catch Fire's Joe MacMillan (Lee Pace) first sauntered into Cardiff Electric, he was as cold and smooth as the electro-synth pop tunes on his first Spotify playlist. But as his professional and personal relationships with Cameron and Gordon have grown, Joe's icy veneer has begun to crack, revealing his warmth and humanity. Joe's emotional transformation is on display in this new Spotify playlist of '80s music for Joe MacMillan, curated by Halt and Catch Fire Music Supervisor Thomas Golubić and his team at SuperMusicVision, and featuring warm pop classics from artists like New Order and Tears For Fears. Check it out below, and come back each week for a new '80s playlist based on the show.
Follow AMC Halt and Catch Fire on Spotify
Halt and Catch Fire episodes and music are also available on iTunes.
Look after the jump to download songs from Joe MacMillan's '80s playlist now.
1. New Order, "Age of Consent"
2. Duran Duran, "Careless Memories"
4. Depeche Mode, "Get the Balance Right"
7. Spandau Ballet, "Chant No. 1"
8. Kid Creole & The Coconuts, "I'm a Wonderful Thing, Baby"
9. Grace Jones, "Walking In The Rain"
10. The The, "The Sinking Feeling"
12. The B-52's, "Legal Tender"
13. Robert Palmer, "Johnny and Mary"
14. Japan, "Life In Tokyo, Pt. 1"
16. China Crisis, "The Soul Awakening"
17. Tears For Fears, "Pale Shelter"
18. Simple Minds, "Glittering Prize"
19. U2, "Surrender"
Click here to see Spotify playlists for other Halt and Catch Fire characters including Gordon Clark, Cameron Howe, Donna Clark, and John Bosworth.