Listen to Halt and Catch Fire's Gordon Clark's Musical Evolution on Spotify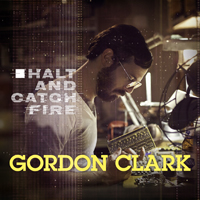 Gordon Clark has come a long way since he joined Joe MacMillan's rogue PC project. His confidence dashed by the failed Symphonic, Gordon is finding himself again as lead engineer. But his growing obsession with the computer is pushing him precariously close to the edge. What does a man on the brink of either greatness or disaster listen to? Warren Zevon, Bob Dylan and Pink Floyd, to name a few. Listen to this updated playlist of '80s music for Gordon Clark on Spotify created by Halt and Catch Fire's Music Supervisor Thomas Golubić and his team at SuperMusicVision, then be sure to check back each week for updated playlists based on Halt and Catch Fire's characters.
Follow AMC Halt and Catch Fire on Spotify.
Halt and Catch Fire episodes and music are also available on iTunes.
Look after the jump to download songs from Gordon Clark's latest '80s playlist now.
1. George Harrison, "What Is Life"
2. Jackson Browne, "Boulevard"
3. Dwight Twilley Band, "I'm On Fire"
4. Elvis Costello and The Attractions, "I Can't Stand Up for Falling Down"
5. Rockpile, "When I Write the Book"
6. Dave Edmunds, "Slipping Away"
7. Squeeze, "Pulling Mussels (From the Shell)"
8. Paul Simon, "Late In the Evening"
10. The Who, "Don't Let Go the Coat"
11. Warren Zevon, "Gorilla, You're a Desperado"
12. Bruce Springsteen, "Out In the Street"
13. Southside Johnny and the Asbury Jukes, "I Don't Want to Go Home"
14. Bob Dylan, "Union Sundown"
15. John Hiatt, "Back to Normal"
16. John Mellencamp, "Crumblin' Down"
17. Billy Joel, "Sometimes a Fantasy"
18. The Call, "The Walls Came Down"
19. The Rolling Stones, "Neighbors"
20. Stevie Ray Vaughan, "Tell Me"
21. Pink Floyd, "Two Suns In the Sunset"
Click here to see Spotify playlists for other Halt and Catch Fire characters including Joe MacMillan, Cameron Howe, Donna Clark, and John Bosworth.