Listen to Halt and Catch Fire's Cameron Howe's Musical Evolution in a New '80s Spotify Playlist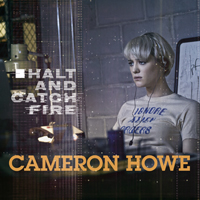 When Cameron Howe (Mackenzie Davis) first arrived at Cardiff Electric, she brought a punk sensibility to the company's conservative corporate environment. Cameron's taste for loud, abrasive music -- which she blasted constantly while coding the PC's BIOS -- didn't exactly endear her to her coworkers. But now, Cameron is slowly learning to work with others and has become the leader of a motley team of coders. Check out her evolution in this updated playlist of '80s music for Cameron Howe on Spotify, curated by Halt and Catch Fire's Music Supervisor Thomas Golubić and his team at SuperMusicVision, which traces Cameron's transition from punk to post-punk with a mix of new wave and indie artists like Sonic Youth and The Cure. Listen below, and be sure to check back each week for updated playlists for Halt and Catch Fire's characters.
Follow AMC Halt and Catch Fire on Spotify.
Halt and Catch Fire episodes and music are also available on iTunes.
Look after the jump to download songs from Cameron Howe's '80s playlist now.
1. Bush Tetras, "Too Many Creeps"
2. Echo & the Bunnymen, "The Cutter"
3. The Motors, "Dancing the Night Away"
9. Sonic Youth, "Kill Yr. Idols"
10. Mission of Burma, "Secrets"
11. Siouxsie and The Banshees, "Israel"
12. Cocteau Twins, "Musette and Drums"
13. The Cure, "10:15 Saturday Night"
14. The Buzzcocks, "Harmony In My Head"
15. Gang of Four, "I Found That Essence Rare"
16. The Fall, "The Man Whose Head Expanded"
18. Telefones, "The Ballad of Jerry Godzilla"
19. Minutemen, "Life as a Rehearsal"
20. Swell Maps, "Another Song"
21. The Raincoats, "Fairytale In the Supermarket"
22. ESG, "U.F.O"
Click here to see Spotify playlists for other Halt and Catch Fire characters including Joe MacMillan, Gordon and Donna Clark, and John Bosworth.