Legendary Country Artist Charlie Daniels Pens Original Song for AMC's Hell on Wheels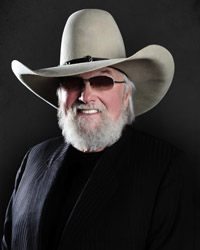 AMC Network and Entertainment One (eOne) announced that legendary country singer Charlie Daniels composed an original song for the western series, Hell on Wheels, which is produced by eOne and currently airing its third season on AMC.
Written for the episode "One Less Mule," airing on Sat., Sep. 7 at 9PM ET, the instrumental piece, titled "Hell on Strings," will be featured in a scene with Cullen Bohannon (Anson Mount) and Louise Ellison (Jennifer Ferrin) as they dance a Texas two-step together at the local saloon. Daniels signed on for the assignment after striking up a Twitter friendship with star, Anson Mount, and telling him he was a fan of the series.
"I sent him a complimentary Tweet saying how much I enjoyed the show and we started going back and forth a little and then he asked me if I'd be willing to write a song for the show," recalled Daniels. "It's about my favorite television show right now, so I said sure, what do you want?"
"In the world of country music, Charlie Daniels is one of the grand royalty," said Mount. "It's a hell of a track and works great for the scene, and I'm touched and thrilled that Charlie would do this for us and that he's a fan of the show."
Celebrated for his contributions to country and southern rock music, Charlie Daniels' 1979 signature song, "The Devil Went Down to Georgia," topped both country and pop charts, bringing him international acclaim. In 2008, he was inducted into the Grand Ole Opry followed by the Musicians Hall of Fame and Museum in 2009. During his 50-year career, Daniels has scored hits on the rock, country, pop and Christian charts and counts awards from the Country Music Association (CMA), Academy of Country Music (ACM), TNN/Music City News Awards, and the Gospel Music Association (GMA) among his many accolades.
Hell on Wheels is executive produced by showrunner John Wirth (Terminator: The Sarah Connor Chronicles, Falling Skies, The Cape), Mark Richard (Criminal Minds: Suspect Behavior, Huff) and Jeremy Gold, head of creative affairs for Endemol Studios. Season three premiered on Aug. 10, and lands in the year 1867, the third year of the building of the transcontinental railroad. Cullen Bohannon (Mount) leaves his vengeance-seeking behind and invests in the new American landscape- the beginnings of big business, big religion, and the new role of Wall Street in the White House. Bohannon must contend with racism, greed and murder as he single-mindedly leads the Union Pacific in its race across the country against the Central Pacific Railroad. The high stakes corporate race, the environmental costs and degradation of the native peoples' way of life are themes that resonate deeply in today's America. The series also stars Colm Meaney as Thomas "Doc" Durant, and Common as emancipated slave, Elam Ferguson.