TV Diners That Are Practically Part of the Cast
Restaurant nostalgia is real! We all love to reminisce through our tastebuds and stomachs, and so do our favorite characters. It's especially popular in TV, as quirky diners have practically become part of the cast. Would Seinfeld be Seinfeld without the neon red letters of "Monk's Cafe?" Could we ever learn to love the Rose family from Schitt's Creek without pivotal meals at "Cafe Tropical?" Probably, but you get the point.
Take a Tour of Cafe Tropical with Twyla and Alexis:
Think about the feel-good classic Gilmore Girls, and its favorite haunt "Luke's Diner." Did Luke's ever fail to provide Lorelai and Rory with their favorite strong coffee? Of course not! For years the diner never changed its special from Rory's favorite "4 Slice French Toast." The Gilmore girls visit Luke's in just about every episode, and through these visits we get to see the two of them slowly grow. Even if it's just ordering slight variations of their favorite dishes or sitting with new company—it's something! Sometimes it's easier to identify change, when everything else stays the same, and that's how many famous TV diners often function.
Just see how Rory reacts when the special on the menu changes:
These diners can also help draw viewers in. So many of us have had pivotal diner experiences, likely in our hometowns. We've walked through them catching bits and pieces of each surrounding table's conversations. Have you ever wondered whose life you're listening to? Seinfeld was dubbed "a show about nothing," and by that standard, can't anyone's life and their diner conversations be turned into TV sitcom? Imagine the characters you'd meet!
No TV diner was more of a magnet for stories than Twin Peaks's Double R Diner. You don't have to "listen in" very hard, to see the TV-sitcoms-waiting-to-happen in every uniquely wacky character that visited the Double R. Characters walk in, put their mood on the jukebox, and suddenly the whole diner knows exactly what they're feeling. Today, people travel across the country to walk into the Double R Diner and play a little piece of themselves out to fellow diners. While not a standard of every diner, the classic jukebox is another element that when coupled with homey food, strong hot coffee, and good company, really brings people together. If Allison could walk into the Double R Diner and play her tune, what would she play?
While certainly not as well known as some of the beloved diners from other shows, Bev's Diner from KEVIN CAN F**K HIMSELF is timeless. Its calming lighting and shiny coffee machines gives it a uniquely special and nostalgic vibe. Like other classic TV diners, Bev's is also a place for characters to grow. When Allison feels fed up with her job at the liquor store, she quits and starts working at Bev's. Choosing to work at the diner is one of the first times Allison stands up for what she wants. It's her first step out of a life routine that just isn't working. The diner also holds possibility for Allison. Its clean, cozy atmosphere and hot cups of Irish Coffee draw her in therapeutically, and reconnecting with the owner, Sam (a guy from her past), reminds her of who she was before meeting Kevin.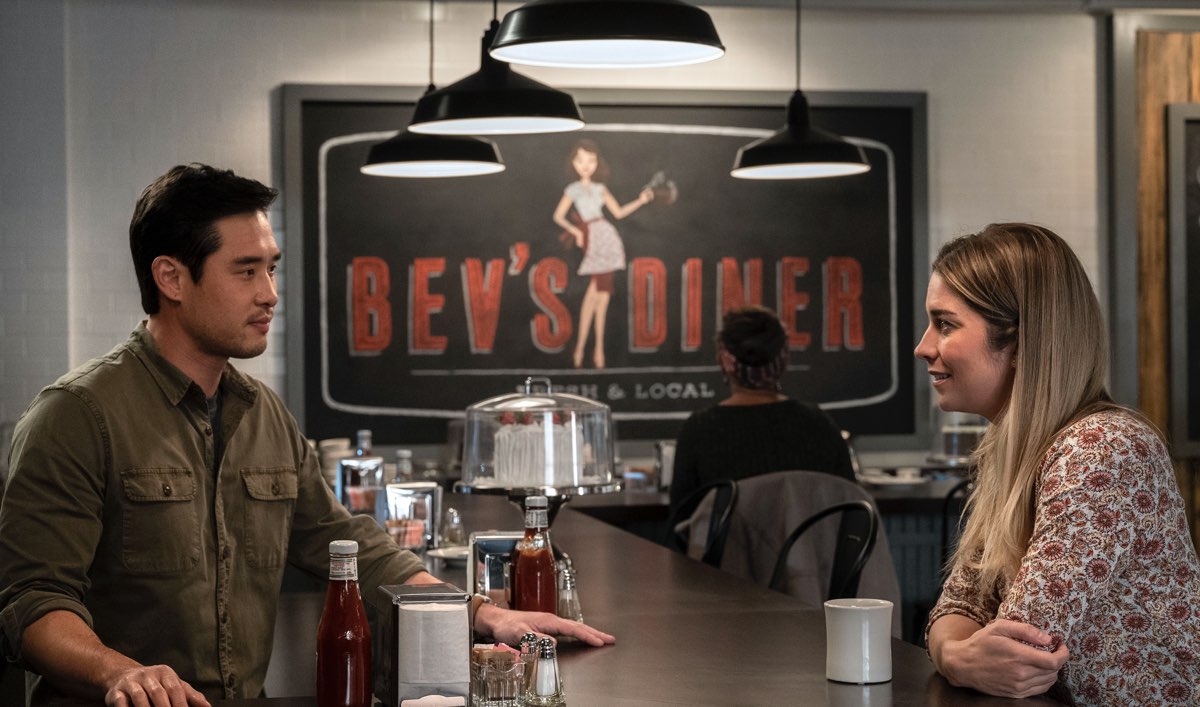 While Allison does a lot of reflecting on how terrible Kevin is, the diner forces Allison to reflect on herself. In Allison's fantasy she's often dressed up, with an apron on, pouring Kevin a beer as he sits at the kitchen table waiting with anticipation. Bev's Diner, like Allison's situation, is not what it appears to be on its surface. After all, it's actually "Sam's Diner" not "Bev's." The diner's logo is a woman (who we can assume is Bev), dolled up in cooking attire. Bev is living Allison's dream. But slowly, as Allison spends more time at Bev's, we see the cracks in Allison's dream and the ways in which she's trying to achieve it. This may have something to do with Sam, who seems to know an older version of Allison that she's lost sight of.
It's certainly interesting to see how KEVIN CAN F**K HIMSELF plays with typical sitcom-isms. Allison is not the typical sitcom wife, and Bev's is not the typical sitcom diner. But, even so, Bev's remains a place for character growth just like Luke's Cafe or Cafe Tropical. From the first episode, Allison's encounter with Sam at Bev's diner foreshadows her potential to flourish and develop into an empowered, kick-ass woman.
Stream new episodes of KEVIN CAN F**K HIMSELF on amc.com and AMC apps. New episodes air Sundays 9/8c and are available one week early on AMC+.
Get updates and exclusive content directly to your inbox by signing up for the KEVIN CAN F**K HIMSELF Insiders' Club.