John Wirth Talks With EW About Season 4; CarterMatt Has Big News on Elam's Future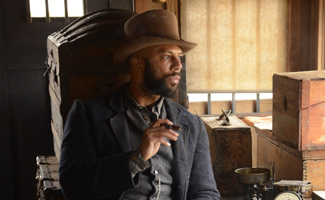 This week, Entertainment Weekly sits down with showrunner John Wirth to discuss what's to come in Season 4, and CarterMatt spills details on Elam's future. Plus, TV Guide says Hell on Wheels Season 3 is coming to Netflix in July. Read on for more:
• Entertainment Weekly gets the scoop on the recasting of Naomi Hatch, Cullen's bride, from showrunner John Wirth, who talks about Naomi's place in the upcoming season. CarterMatt also reports on the interview.
• CarterMatt has big news on Elam's life-or-death crisis after the bear attack from last season and speculates about his future.
• Yahoo! TV talks with John Wirth about the most fun scene he's shot so far and which character he's most excited to explore more of in Season 4.
• TV Guide reports that the third season of Hell on Wheels is coming to Netflix on July 19.
• Seriable has the trailer for the new season of Hell on Wheels.
To stay up-to-date with all the latest Hell on Wheels news, sign up for the weekly Hell on Wheels Telegraph.