Indiewire Showcases Season 4 Trailer; Mercury News Previews New Season Ahead of Premiere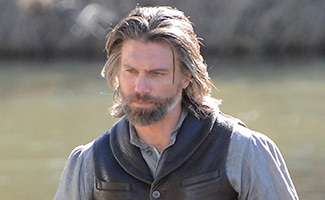 This week, Indiewire showcases the Season 4 trailer, while the San Jose Mercury News previews the new season ahead of Saturday's premiere. Plus, Zap2it features Anson Mount talking about Westerns. Read on for more:
• Indiewire presents a Season 4 trailer that features a "graphical time-lapse of a railroad and a city under construction" as the backdrop of a speech by Colm Meaney's character Thomas "Doc" Durant.
• The San Jose Mercury News previews Season 4, noting that the "series left a lot up in the air at the end of Season 3, so fans will be glad to have a few questions answered this year." [No Link]
• Zap2it presents a featurette where Anson Mount discusses the anatomy of the Western, cautioning, "You have to both embrace a genre and be very careful of it at the same time."
• The Season 4 premiere is one of The Columbus (Ohio) Dispatch's best TV bets for the week.
• The Globe and Mail is looking forward to the Season 4 premiere, describing Hell on Wheels as a "lauded period-piece drama." (No Link)
• CarterMatt.com also checks out a trailer for Season 4 and is excited to see the Swede, noting that "we've seen the darkness in this man's heart and know full well what he is capable of."
• Cowboys & Indians reports on the Hell on Wheels marathon, which will start airing on Aug. 1, a day ahead of the Season 4 premiere.
• BlogCritics.org, reviewing the Season 3 Blu-ray, declares that Hell on Wheels is "good for the first two years, improves in story structure and scope in its third season."
• According to TheWrap, Tom Noonan will play a "mysterious villain" in SyFy's 12 Monkeys TV series.
To stay up-to-date with all the latest Hell on Wheels news, sign up for the weekly Hell on Wheels Telegraph.