John Wirth Talks to EW About Recasting Cullen's Wife; CarterMatt Watches Season 4 Trailer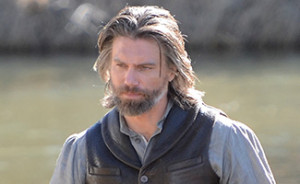 This week, Entertainment Weekly speaks with John Wirth about the new actress playing Cullen's wife. Plus, CarterMatt checks out a promo for the new season. Read on for more:
• John Wirth, interviewed by Entertainment Weekly about recasting the role of Cullen's wife with MacKenzie Porter, calls her "a helluva actress [who] has really grabbed onto this part and brought a soulfulness to it."
• CarterMatt spotlights a Season 4 promo, which features this dialogue from Cullen: "I'm a killer and a railroad man. You can't pick one without choosing the other."
• Death and Taxes checks out a new video from Common's new album, calling it "gritty, yet grit elevated to the sublime."
To stay up-to-date with all the latest Hell on Wheels news, sign up for the weekly Hell on Wheels Telegraph.