Hell on Wheels's Common Drops New Single, Raps at University of Florida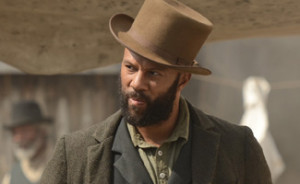 This week, Common releases a new single. Plus, he gives a speech (and raps) at the University of Florida.
Read on for more:
• Vibe reports that Common is "returning to the rap realms" with a new single called "Made In Black America."
• The Gainesville (Fla.) Sun attends Common's University of Florida presentation, where the Hell on Wheels actor did a freestyle rap using the word "Gators."
• San Diego State University's The Daily Aztec, reviewing a stage production of Bethany, says that Jennifer Ferrin infuses her character, Crystal, "with an immensely likeable presence."
To stay up-to-date with all the latest Hell on Wheels news, sign up for the weekly Hell on Wheels Telegraph.