Anson Mount Tells Collider About Season 4; CarterMatt on New Season 4 Characters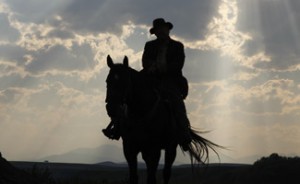 This week, Anson Mount talks Season 4 with Collider. Plus, CarterMatt posts photos of some new Season 4 characters. Read on for more:
• Anson Mount, talking to Collider, shares that Season 4 will be very different for Cullen, "in the sense that he's been forced to mature, for lack of a better word, in a variety of ways. It's about trying to get him on board with that while, at the same time, maintaining the old hair triggers and the old desires."
• CarterMatt.com checks out photos of two new characters, played by Jake Weber and Jonathan Scarfe, on the Hell on Wheels set.
• Ireland's Independent.ie reports that Colm Meaney posed as Oscar Wilde for the Sky Arts Portrait of the Year TV show.
To stay up-to-date with all the latest Hell on Wheels news, sign up for the weekly Hell on Wheels Telegraph.