Anson Mount Takes EW Pop Culture Test; John Wirth Discusses Cheyenne Setting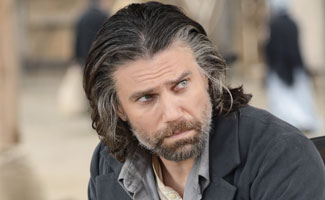 This week, Anson Mount takes Entertainment Weekly's Pop Culture Personality Test, while John Wirth discusses the show's Cheyenne setting with The Vancouver Sun. Plus, the Toronto Sun recommends the series. Read on for more:
• Entertainment Weekly hosts Anson Mount, who recites a scene from The Breakfast Club and talks about working on Hell on Wheels.
• Showrunner John Wirth tells The Vancouver Sun that, with the show's Cheyenne setting, "What we're playing is the knife edge between civilization and frontier."
• Ahead of the Season 4 premiere, the Toronto Sun recommends the first scene of the new season "and see if it doesn't hook you, or at the very least you'll appreciate the look and feel and sharp dialogue that the series has to offer."
• Anson Mount does a Reddit Ask Me Anything, where he talks about his co-stars and credits Hell on Wheels' "writers and an amazing list of directors this year including Neil Labute, Rod Lurie, David Straiton, and our own Marvin Rush" for the show's quality this season.
• Anson Mount shows up on Fox & Friends to give the rundown on Season 4, which takes place in Cheyenne, Wyoming, a place that was run by criminals, so "they had to figure out how to go in and get the criminals out and get the railroad through."
• The Tennessean interviews Anson Mount, who says, "In terms of Cullen, I think they've drawn a really interesting arc this year. This season it becomes much less about himself and much more that it (the railroad) is a lot of things to a lot of people."
• Paste speaks with Anson Mount, who discusses Season 4, saying that "we're doing a whole season in Cheyenne that's sort of about when you wake up after a long winter and you're in a bed of criminals. How do you unbed yourself and get working again?"
• The Calgary Herald interviews Jonathan Scarfe and Jake Weber about joining Hell on Wheels for Season 4.
• The New York Daily News awards the Season 4 premiere four out of five stars and calls the show AMC's "rewarding rail series."
• Sound On Sight's review of the Season 4 premiere describes Hell on Wheels as "one of the most underrated dramas on television right now."
• The StarTribune describes Hell on Wheels as a "riveting drama" and "the closest thing we've got right now to a classic western."
• Digital Journal applauds Hell on Wheels, saying, "The story is immersing and the acting is impressive."
• Cheyenne, Wyoming's KGWN examines the city's starring role in Season 4.
• Spoiler TV offers a clip from Season 4, Episode 2, "Escape From the Garden."
• For recaps and reviews of the Season 4 premiere, "The Elusive Eden," check out Cowboys & Indians, TV.com and TV Fanatic.
To stay up-to-date with all the latest Hell on Wheels news, sign up for the weekly Hell on Wheels Telegraph.