Anson Mount Chats With Access Hollywood; MacKenzie Porter Talks to Calgary Herald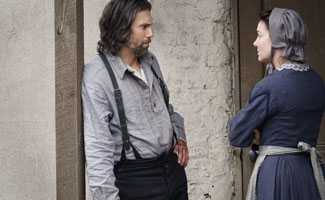 This week, Anson Mount shows up on Access Hollywood, while MacKenzie Porter talks to the Calgary Herald. Plus, Deadline is impressed by the Season 4 premiere ratings. Read on for more:
• Appearing on Access Hollywood, Anson Mount characterizes Cullen as "one of those people who's become addicted to conflict," as a way of dealing with post-traumatic stress disorder.
• MacKenzie Porter, interviewed by the Calgary Herald about being the second actor to play her character, says, "I definitely wanted to make her my own and feel comfortable going to work everyday knowing that this is my character now."
• Deadline reports that the Season 4 premiere pulled in "quietly impressive" ratings that were even with ratings for the Season 3 premiere and finale.
• Anson Mount tells The Canadian Press that U.S. TV shows are hiring lots of foreign actors, but he was lucky with Hell on Wheels because they "wanted not just an American but they wanted ideally to find a southern American who had a genuine accent."
• Speaking with 100.3 Jack FM, Anson Mount says Season 4's Cheyenne setting was "one of the only cities that was built in preparation of the railroad coming through. Because it was lawless, by the time they got there it was being run by hardened criminals."
• According to TVWise, TCM UK has picked up the first-run U.K. broadcast rights to Season 4 of Hell on Wheels.
• Home Media Magazine reports that the Season 3 Blu-ray was No. 15 on the list of top sellers for the week ended July 20. [No link]
• For recaps and reviews of Season 4, Episode 2, "Escape From the Garden," check out Basket of Kisses, CarterMatt.com, Cowboys & Indians, Paul Levinson, TV.com and TV Fanatic.
To stay up-to-date with all the latest Hell on Wheels news, sign up for the weekly Hell on Wheels Telegraph.