AMC Bosses Laud Hell on Wheels Audience; Tennis.com Compares Series to Men's Tour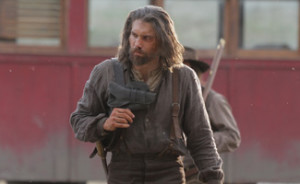 This week, Hell on Wheels's passionate audience is praised by AMC's president and executive vice president. Plus, Hell on Wheels is compared to the men's professional tennis tour. Read on for more:
• AMC's Charlie Collier and Joel Stillerman talks to TheWrap about airing Hell on Wheels, a show that's brought in "a very passionate audience."
• Tennis.com compares the men's tennis tour to "a high-quality television mini-series," like Hell on Wheels.
• The (Chicago) Post-Tribune reports that Indiana's Hammond Civic Center booked Common for its first concert after a long time.
To stay up-to-date with all the latest Hell on Wheels news, sign up for the weekly Hell on Wheels Telegraph.