NY Times Profiles Mackenzie Davis; Halt and Catch Fire Gets Critics' Choice TV Nod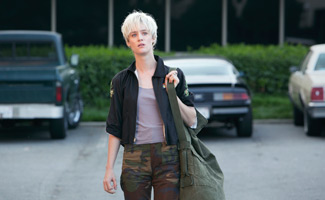 This week, Mackenzie Davis speaks with The New York Times, while Halt and Catch Fire is nominated for a Critics' Choice TV Award. Plus, Scoot McNairy talks Texas with Men's Journal. Read on for more:
• The New York Times interviews Mackenzie Davis, who views Cameron "as embodying the hacker ethos in a very literal way."
• Monsters and Critics reports that Halt and Catch Fire was nominated for a Critics' Choice Television Award in the Most Exciting New Series category.
• Men's Journal talks to Scoot McNairy about his Texas ranch, where he goes to "take a breath of fresh air between jobs."
• USA Today features the playlists -- now available on Spotify -- created by Music Supervisor Thomas Golubić for each member of Halt and Catch Fire's cast.
• Recode.net discusses the Spotify playlists with Golubić, who says they "elaborate on the different characters and their headspace, to articulate their journey with music."
• Jonathan Lisco tells HitFix that Halt and Catch Fire is "an investigation of narcissism, the fallout from our own ambitions, whether or not we're visionary or fraud, the insecurities of trying to strive for something greater and not knowing if you're gonna succeed."
• HitFix also speaks with Kerry Bishé, who says she's glad not to be playing "the wet blanket wife, sort of raining on the parade of the antihero."
• Kerry Bishé, interviewed for World Screen along with Executive Producer Mark Johnson, says Donna is "a complete whole brilliant, motivated, professional person who happens to be married and happens to have some kids."
• The Dallas Morning News cites Halt and Catch Fire as an example of TV shows dealing with technology.
• Art of the Title speaks with the creators of Halt and Catch Fire's title sequence, which is "the interface through which we enter a simpler age of bytes and bauds, when fear, uncertainty, and doubt ruled and code was king."
• Business Insider looks at the origins of the show's title, "a reference to tech history."
• Intrigued by Joe's "mysterious backstory," Bustle wonders how Joe got his scars.
• For recaps and reviews of Season 1, Episode 2, "FUD," check out The Baltimore Sun, Digital Journal, Mashable, New York Observer, The New York Times, Rolling Stone, The Verge and The Wall Street Journal.
To stay up-to-date with all the latest Halt and Catch Fire news, sign up for the The AMC Weekly.