Gangs of London Q&A — Paapa Essiedu Talks Alex Dumani's Paradigm Shift After the Truth About Finn Wallace Is Revealed
In Gangs of London, Paapa Essiedu plays Alex Dumani, the tech genius poised to take the Wallace organization to new heights of economic power. In this chat with amc.com, Essiedu talks about how Alex deals with learning the truth about Finn's betrayal, the breakdown in Sean and Alex's relationship, and filming the explosive family meeting scene at the end of Episode 8.
Q: What initially drew you to this project?
A: I was drawn in by the team behind it—I grew up watching Gareth Evans and Matt Flannery's work. I was a huge fan of The Raid. I remember watching it in the cinema, and I'm not really an action film person. I usually need a little bit more story. But I remember watching the film and being so mesmerized by the balletic beauty of the violence, and really impressed by the way the camera became a character. So I always really admired them as filmmakers. It's also a magical cast to be a part of. Some actors I'd worked with before and had admired for a long time. It was also great being able to work in London, which is where I'm from. To show a version of London on this scale was really exciting.
Q: When you joined the cast, what kind of work did you do to develop Alex as a character?
A: Me and Joe -- Joe Cole, who played Sean -- talked for a long time about Alex and Sean and where they'd come from. We really wanted to step away from any stereotypes of how you would imagine a gangster to be. We all grew up on Lock, Stock [and Two Smoking Barrels] and Snatch, and The Italian Job-type shows, so we've seen that. We wanted to come up with something else that felt a little bit more specific than just doing another East End gangster. So we spoke at length about where these guys were educated, what their ambitions were for their lives, how they were similar and different from their parents and the generation before them. We talked about  what kind of world they wanted to create for themselves and their children looking forward, and how that might be different. There were many long, long, long conversations between me, the other actors, the writers, and the directors to create something that felt rooted, specific, and not an attempt to mimic something else.
Q: Sean and Alex's relationship is a core part of the series, and it changes so much by the time we get to Episode 8. I'm curious how you both worked together to create that brotherhood dynamic that falls apart slowly and slowly over time?
A: Maybe it will be surprising to people considering the characters he plays, but Joe's actually a very nice, sweet, lovely young man. He plays a lot of tough, troubled guys, but he's actually very sweet. We got on really well and spent a lot of time together, as you do when you're filming, and he's a really committed, passionate, and enthusiastic actor. He's down for doing the work, as am I. I come from a theater background, and there's a slightly different kind of way when working in film and television. I'm definitely more geared towards digging deep and trying to find something that exists under the surface, rather than reaching for low-hanging fruit, so yeah, me and Joe got on well.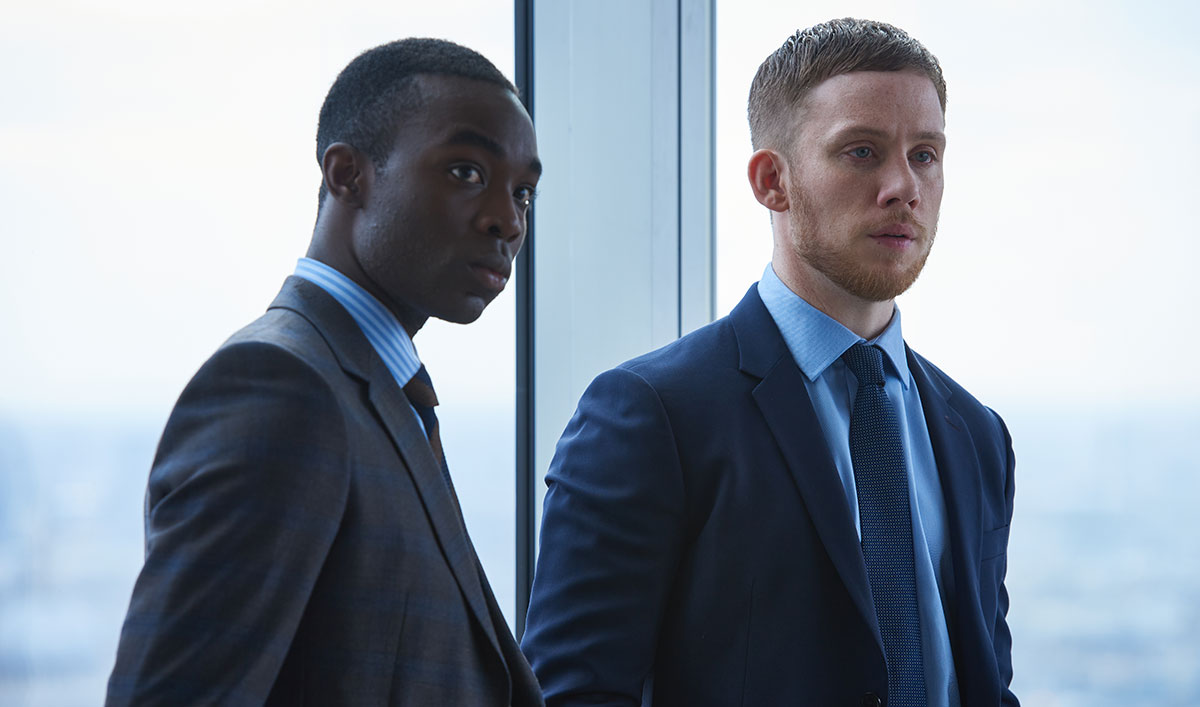 Q: Alex is a major part of the business, but he doesn't really get his hands dirty like Sean does. He seems to have this element of plausible deniability around how dirty the organization is. How do you think he justifies being a part of the organization, or do you think he even cares to justify it?
A: They're real people with anxieties and senses of responsibility, etc. I think with Alex, he's definitely got a clear plan as to where he is now, where he wants to be, and where he wants to take the organization. He's got big plans for the organization to develop from something that's been a bit more fights in the street and grabbing what you want with physical force and violence, and moving towards something a little more sophisticated. To be honest, it's similarly destructive and has similar amounts of responsibility to it, but it's something that he can do wearing a nice suit in a big skyscraper in the middle of London and go downstairs and get a Pret [a Manger] on his lunch break, you know?  
Q: In Episode 8, when Alex realizes that Finn is the one who tried to organize their downfall, do you think that changes his understanding of their whole family dynamic? How would you say that lands on him?
A: It definitely does, because we're in a world where trust is such a valuable commodity and we've got to a point where it feels like, "Oh my God, now we can't trust anyone." You've got family members turning on each other. And Finn, the person that taught Alex, taught Sean, in many ways taught Ed everything that we knew, someone that we really idolized and looked up to, turns out to be the person who didn't care about us at all. He was willing to sell us out for his own selfish pursuit. So, that's a real turning point for not only Alex, but I think for all the characters in the show. It's that thing where you're made to see that the world is not as you think it is, and suddenly you have to pivot very quickly in order to come to terms with that, and adapt to it.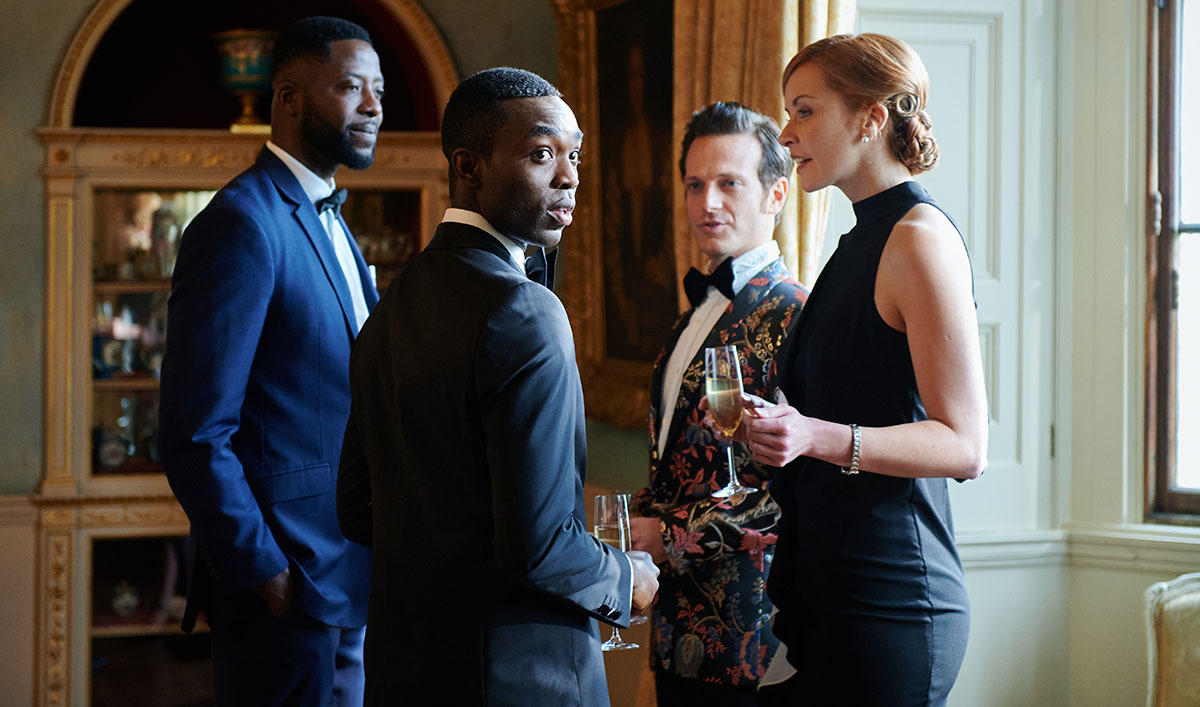 Q: Leading into the whole reveal scene at the end of the episode, what was it like working with Lucian [Msamati], Michelle [Fairley], Pippa [Bennett-Warner] and Joe [Cole]? It's a very high-intensity scene, so I'm curious what it was like on set and how you all worked together?
A: It was so intense that I think we went a little bit mad. We were shooting in a real house, but there were no lights in the house and I think the walls were red or something like that. It was a really odd environment, and it was very claustrophobic. I remember it was very, very hot, and we were doing this really intense scene where people were accusing people of things. It's not often that you get an opportunity to have five, six, seven characters in a room at the same time. Often it's one-on-one or two-on-one or whatever, and suddenly, we were all there! We got into it and eventually we were so giddy with the intensity of it that people were just laughing in the middle of scenes or forgetting lines. We were kind of mad, but I think it had an explosive quality that was necessary for the intensity that was needed for that scene. In those scenes, I think it's important to see the humor in what we do, and in between takes to have a space to breathe and have a laugh. They're all really, really hilarious and wonderful people, along with Brian as well.
Q: It's funny to hear you talk about the humor that was happening on set during that scene, because of how devastating it is in the show. Sean pulls a gun on Ed and shoots him in the leg! Do you think the Wallaces and the Dumanis can ever come back from this, or do you think their bond is broken forever?
A: The thing is, life is long, it's pretty mad, and people do insane things. But do you hold a grudge or do you allow love to win out? I think nothing's set in stone, and eventually we'll have to get to a point in time where whatever betrayals that have been committed are confronted.
Q: Do you think Alex is ready to get his hands dirty himself without the backing of some Wallace muscle? As much as Alex may think he's ready to be the head of the organization, do you think he's ready to be the head of the organization?
A: Heavy weighs the crown. It always looks great until you're actually in the position, and I think, with Alex, it's about whether he can adapt. Can he maneuver himself into a position where he's ready to bear that weight or will he crumble under that weight? The thing is, you only find out by doing it, so experience will eventually teach him... or not.
Read an interview with co-creator, executive producer and director Gareth Evans here. The renowned The Raid director discusses crafting a dynamic family drama and subverting audience expectations, how much of Gangs of London can be traced to true stories, and that one time he came hilariously close to London's criminal underbelly.
Gangs of London airs Sundays at 10/9c AMC. Check out the full schedule here. Full episodes are available to stream now on amc.com, the AMC apps for mobile and devices, and on AMC+. The entire first season is available to watch now with AMC+, which is available through a variety of providers, including AppleTV, Prime Video Channels, DirectTV, Dish, Roku Channel, Sling, and Xfinity. Sign up for AMC+ to stream Gangs of London now on amc.com, on mobile for iOS and Android devices, and on your TV streaming device with the AMC app, available for Roku, Apple TV, FireTV, Xbox One, Android TV, and Chromecast.
For more of the latest episodes, sneak peeks, interviews and more from Gangs of London, sign up for the AMC Insiders' Club.