EW Spotlights "Cholera"; Lincoln Journal Star "Into" Hell on Wheels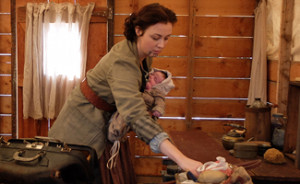 This week, Entertainment Weekly checked out the latest episode, "Cholera," while the Lincoln Journal Star applauds Hell on Wheels. Plus, a Pittsburgh Post-Gazette reader is curious about Eva. Read on for more:
• Entertainment Weekly analyzes a clip from this past weekend's episode, "Cholera," observing, "Things are never easy in Hell on Wheels."
• Hell on Wheels is one of the things the Lincoln (Neb.) Journal Star is into, citing the depth of the characters and Cullen's "quote machine" lines.
• The Pittsburgh Post-Gazette addresses a viewer question about Eva's tattoo.
• Entertainment.ie lists Colm Meaney's best roles to date, with Chief Miles O'Brien of Star Trek: Deep Space Nine at No. 1.
• For recaps and reviews of Season 3, Episode 7, "Cholera," check out Basket of Kisses, CarterMatt.com, Starpulse, TV.com and TV Fanatic.
• To stay up-to-date with all the latest Hell on Wheels news, sign up for the weekly Hell on Wheels Telegraph.