E! Online Teases Season 4 Premiere; Colm Meaney's Alan Partridge Reviewed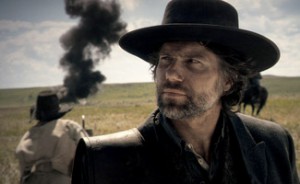 This week, E! Online has some scoop on the Season 4 premiere. Plus, Colm Meaney's newest film, Alan Partridge, is well-reviewed by The Week. Read on for more:
• E! Online previews that the Season 4 premiere will introduce Cullen's "reserved and subservient" wife, a 20-year-old named Naomi.
• The Week's review of Alan Partridge, with a cast that includes Colm Meaney, says that "even those who have never heard of the character [Alan Partridge] will find much to enjoy."
• Canada's Innisfail Province interviews John Scott, a stuntman who also provides expertise, props and animals for many productions, including Hell on Wheels.
To stay up-to-date with all the latest Hell on Wheels news, sign up for the weekly Hell on Wheels Telegraph.