Collecting the Dead – The Chase Is on With The Walking Dead Universe Collect
In a year when people have spent more time at home than any in recent memory, TWD fans have been looking for ways to connect from the safety of their living rooms. One of those ways is through the Topps collectible trading card app, The Walking Dead Universe Collect.
Martin Nolan and Gino Ferrazzano have been working diligently behind-the-scenes at Topps, to keep up with the demands of this digital hobby. Nolan manages and brainstorms content for TWDU Collect, while Ferrazzano handles the marketing for the brand.
We spoke to both Nolan and Ferrazzano to find out more about the world of digital trading cards, what fans can expect with the new features of The Walking Dead Universe Collect, and exactly what you need to know to start your own walker collection.
Q: We're new to the world of digital trading cards. Could you speak a bit about The Walking Dead Universe Collect for people who might be unfamiliar with the hobby?
Nolan: The Walking Dead Universe Collect is a place to collect and trade digital cards and collectibles with other fans around the world. The app captures the nostalgic experience of purchasing a pack of cards, the thrill of blindly ripping open a pack to see what's inside, and of course the interactive nature of trading with others— all from your mobile device.
We've also elevated the collecting experience to new heights, by offering free claimable packs and in-app currency everyday, plus we've added further utility to cards. App users can complete missions to unlock special content, combine cards to "craft" into rarer ones, and access new content daily from The Walking Dead, Fear the Walking Dead, and The Walking Dead: World Beyond.
Q: Is the content for your cards based on stills from the various shows, or do you commission artists as well?
Nolan: We receive images from each episode of all three TWD shows, in addition to promotional art and photography. Our designers then create card designs and we work closely with AMC to make sure all our sets belong in The Walking Dead Universe. For special sets, we've worked with other artists to create original art cards. It's definitely something we plan to do more of in the future.
Q: The idea of storing your entire collection on a mobile device is really appealing. What other advantages do virtual trading cards have over traditional trading cards?
Nolan: Bringing collecting into the digital space allows us to provide the basic experience of opening a pack of cards, while introducing new elements to both the cards themselves and the collecting experience. For instance, we often create video cards with motion effects. For people who may not have time to go out and purchase cards, our app allows you to go on your phone, rip new packs, and collect new cards every day.
One of my favorite aspects of the app is our ability to host games and events. During the pandemic, we've begun hosting Watch Parties for special episodes. During the season finale of The Walking Dead: World Beyond, we hosted an in-app discussion as the episode aired, and provided fans with free cards and avatars from the episode. The immediacy and connections we're able to foster with fans from around the world is part of what makes this app so fun.
Ferrazzano: The rise in interest in card collecting has certainly been felt in the digital space as well. Over the last two years we've seen a steady increase in usership, with app adoption up 41 percent in 2020 alone.
Q: How exactly does trading work on the app?
Nolan: There's a great community of collectors constantly trading with other fans from around the world! You can offer any card (or cards) from your collection in exchange for cards collected by them. Fans can post in a trade feed about what cards or characters they're searching for and can send offers or counter offers with a message.
The app allows you to sort cards by rarity, so if you're looking for a certain card that's designated as "Super Rare" you can easily find an equally rare card to offer in return. The app also tells you which cards you still need and which you have duplicates of, so you can quickly offer a fair trade!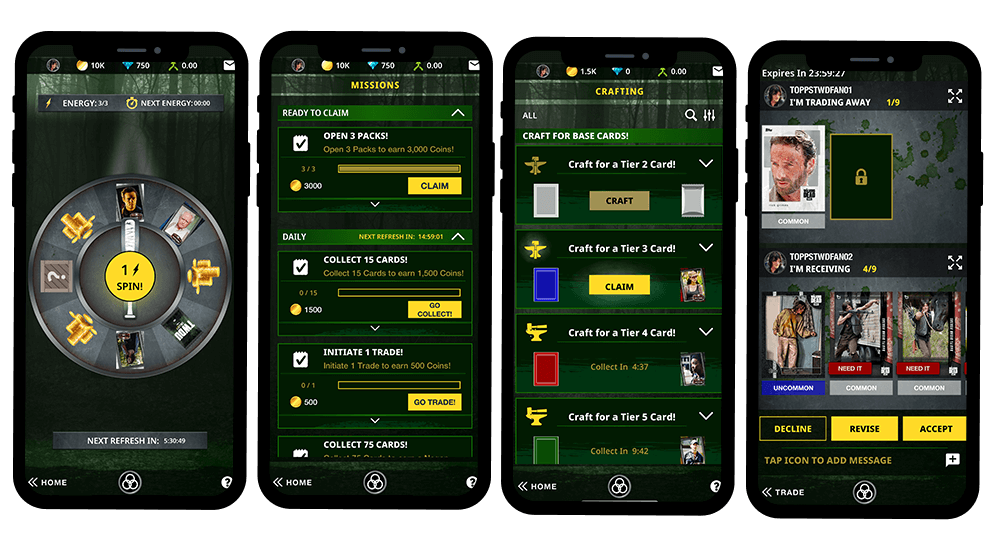 Q: As a long-time collector, I'm well aware of the love/hate relationship formed with locating chase cards. What's the chance of striking gold by finding a highly sought-after card on the app?
Nolan: Each of our packs lists the odds of pulling featured cards within that pack. While odds vary for every set, our goal is to provide plenty of accessible (or free!) cards for casual fans, while having a selection of rare cards with difficult odds for the more hardcore collector.
When you pull a featured card that you're chasing, the app displays how far along you are in collecting that set, helping you celebrate your new card and keeping track of what you still need to earn your award.
Q: Free is my favorite price! What other sorts of bells and whistles can fans expect on TWDU Collect?
Nolan: Each day when you open the app you're able to claim our free coin currency, which you can use to purchase packs. Throughout the day more coins will become available, so the more you check in, the more coins you can earn. You can then open our mystery box for free packs, utilize the crafting feature to combine cards for rarer ones, complete missions to earn coins or avatars, and head to the Arcade to spin the wheel! When you spin the wheel, you can collect either a new card or coins, it all depends on what Negan's bat, Lucille, lands on!
Fans also have the option to purchase in-app Diamonds for increased odds at pulling the featured cards in packs.
Q: The Topps Walking Dead trading card app has been around for a few years. What new features were developed specifically for the updated version of The Walking Universe Collect?
Nolan: We've had dedicated and enthusiastic collectors in the app for years, and our recent update to The Walking Dead Universe Collect was done with an eye toward making the collecting experience easier and more engaging for fans of all three AMC shows. One key update for existing collectors is the Set Progress feature, which pops up after every pack you open to let you know how many more cards you need in order to collect the entire set. This makes chasing a specific award much easier. Once you earn an award, not only do you get an award card, but you now receive a trophy that displays in your collection, commemorating your achievement.
Beyond our traditional pack opening and collecting experience, we've also added dynamic features which bring new elements to the app. Users can interact with and follow fellow collectors, as well as receive daily, weekly, and special missions to complete in order to earn coins, avatars, and exclusive cards.
The app's new look incorporates elements of all three properties, celebrating the decay of TWD and Fear, as well as the growth and new beginnings represented in World Beyond. As The Walking Dead Universe grows and expands, TWDU Collect is making sure to highlight all the exciting changes that the shows have to offer.
Q: Why should fans hurry and download The Walking Dead Universe Collect?
Nolan: Honestly, there's never been a better time to be a Walking Dead Universe collector! With 10 seasons of material from the original show, plus the additions of Fear The Walking Dead and now The Walking Dead: World Beyond, there's something for everyone in TWDU Collect. Our team is always finding new and exciting ways to highlight the characters and themes of The Walking Dead Universe. With so much happening right now, being a digital collecting app puts us in the unique position of being able to keep up with all things TWD.
Download The Walking Dead Universe Collect app now from the Apple App Store, or the Google Play Store.