Bob Odenkirk Teases Season 2; Peter Gould Talks Jimmy's Journey With Vancouver Sun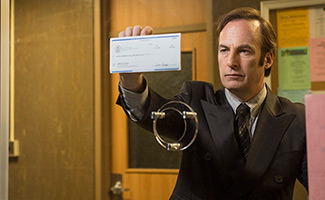 This week, Bob Odenkirk teases Season 2 to TV Insider, while Peter Gould discusses Jimmy's journey with The Vancouver Sun. Plus, Better Call Saul triumphs as the best-rated new cable series of the season. Read on for more:
• Teasing Season 2 to TV Insider, Bob Odenkirk says, "I think Jimmy's got some ups coming his way and some good times, which could be fun to watch. I think the journey he's on is an extended one and has a lot of ups and downs..."
• Peter Gould tells The Vancouver Sun, "The road to Saul Goodman is much more convoluted and filled with a lot more pain and a lot more energy than we thought it would be. And in some ways we're realizing now that it's a tragedy."
• "The intention was to introduce a character that — he is a tough guy, he is in that drug world — but he's a little bit more thoughtful. He's the bad guy you can talk to," Peter Gould explains to TheWrap about Nacho.
• Peter Gould, talking to Australia's news.com.au, is grateful that viewers "seem to be accepting the show on its own terms, which is good because the concern was we were always going to be in the shadow of Breaking Bad."
• Australia's TheVine interviews Peter Gould, who says of Jimmy/Saul, "We thought we understood the character, but the deeper we go the more complicated he felt to us and the more we learned."
• Variety reports that Better Call Saul is the highest-rated new cable series of the broadcast season, with the Season 1 finale averaging 5.1 million viewers (including 3.1 million adults 18-49).
• TVLine awards Bob Odenkirk an honorable mention as its performer of the week, declaring, "Let the Emmy buzz for Bob Odenkirk begin right… now. Jimmy McGill's bingo breakdown in this week's Better Call Saul finale was absolutely exquisite."
• Esquire, applauding Better Call Saul, believes it "has become something more, too: a show that not only follows on from its predecessor but has become a commentary on it, a companion show to the original."
• The Daily Herald reserves special praise for Rhea Seehorn, who "takes a character that could easily be seen as a one-dimensional pushover and makes her mysterious and lovable. Here's hoping Seehorn gets a brighter spotlight in Season 2."
• Asked by Yahoo TV about the pivotal role that Marco plays in Jimmy's life, Mel Rodriguez answers, "I was just thrilled. You know, I was like, 'I'm the reason Saul wears his pinky ring!'"
• The Daily Mail has a photo of Kiernan Shipka out and about sporting a Better Call Saul t-shirt.
• Interviewed by The Hollywood Reporter, Jonathan Banks says he can't tease Season 2, that he "cannot give you a single hint because I have no idea myself. I really don't."
• In an AMC preview video at CarterMatt, Bob Odenkirk says, "In Season 2, I'm hoping that he [Jimmy] finds his footing as Saul Goodman. He finds some fun and some positive energy coming from discovering who he is and where he lies in the world of ethical relations."
• Fansided observes that "Jimmy's story is long from over. This leads to the potential for heaps of storytelling. And we know this storytelling is going to be amazing."
• Digital Spy speculates which "Breaking Bad players we think could realistically make an appearance" on Better Call Saul.
• Gizmodo spotlights a "highly entertaining" video compilation of Better Call Saul's point-of-view shots.
• WhatCulture rounds up "ten awesome moments from the first season of Better Call Saul which helped to make it so amazing."
• Fansided presents "the top five moments from the first season of Better Call Saul that encouraged the transition from McGill to Goodman." Meanwhile, Fansided also has AMC's compilation of viewers' top five moments from the season just ended.
• Kotaku Australia calls the show "stellar," adding that "the folks behind Saul have crafted a story that is on par with if not better than the adventures of Walter White."
• Above the Law adds that "the first season of Better Call Saul (which ended earlier this week) was in many ways just as dramatic and heartbreaking as any season of Breaking Bad."
• Fansided has a compilation of "all the distinguishing shots employed" during Season 1.
• Gotham News marvels that the show "is able to stand entirely on its own merits as a great drama. There was talk that the series was constantly being re-written so that it wouldn't wind up having a more comedic tone and because of the more serious edge, BETTER CALL SAUL has transformed into a work of genius."
• The (Galesburg, Ill.) Register-Mail considers Better Call Saul "an incredibly entertaining, engrossing — and almost heart-breaking — journey. It is the best television of this year — and that's saying something."
• Esquire goes to Peter Gould himself to find out the origin of the "Chicago Sunroof," which was "a name so treasured that it was a leading contender when it came time to label the plaque outside the show's writers' room."
• Flavorwire speaks with Barrie Cadogan about how his band, Little Barrie, came to create the "infectious" Better Call Saul theme.
• On a related note, Dave Porter speaks with Mix about the differences between composing music for Better Call Saul and Breaking Bad, saying, "Whether it was synthesized originally or not, on Breaking Bad, sounds were a lot more processed. On Better Call Saul, there's much less of that."
• Fansided reports that a seven-inch Better Call Saul vinyl, with two tracks, will be released on Apr. 18.
• The Huffington Post's rundown of movie and TV lawyers includes Jimmy/Saul ("an everyman for the 21st century who is more like most of us really are, as opposed to whom we'd like to be") and Chuck ("a legendary Albuquerque lawyer who suffers from a host of psychological maladies").
• Bustle, discovering that Season 1 will only be available in the U.S. and Canada on Netflix in early 2016, observes that "the first chapter of the origin story of how Jimmy McGill became Saul Goodman is required viewing for any Breaking Bad fan."
To stay up-to-date with all the latest Better Call Saul news, join the Better Call Saul Insiders Club.