Sony Pictures TV Boss Talks Saul; Salon Chats With Bob Odenkirk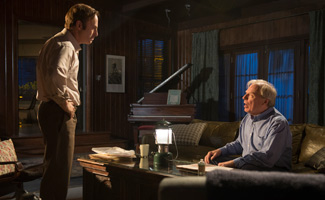 This week, the president of Sony Pictures Television talks about Better Call Saul, while Salon has a chat with Bob Odenkirk. Plus, Odenkirk tells New Hampshire Public Radio that Saul is "mindblowing." Read on for more:
• The president of Sony Pictures Television says Better Call Saul is "going to force you to go back and check out things that happened in Breaking Bad to make sure you were clear about what you saw back then," according to Variety.
• Salon interviews Bob Odenkirk, who says that Saul is "a very different guy from what you think. I'll put it that way. And yet it all makes sense, I think, because the writing is so good, and the writers have really challenged themselves and have come up great from it."
• Interviewed by New Hampshire Public Radio, Bob Odenkirk calls Better Call Saul "kind of mindblowing" and says Vince Gilligan and Peter Gould are "setting new standards for me for the writing I'm reading and the work I get to do."
• Bob Odenkirk's A Load of Hooey -- "a load of laughs" -- is one of the New York Post's must-read books this week.
• Fast Company's Co.Create gets nine lessons from Bob Odenkirk on how to be funny, such as "sometimes the dumbest ideas are really wonderful."
To stay up-to-date with all the latest Better Call Saul news, join the Better Call Saul Insiders Club.