Saul Teaser Thrills Fans; Bob Odenkirk Impresses Fargo Co-Star Allison Tolman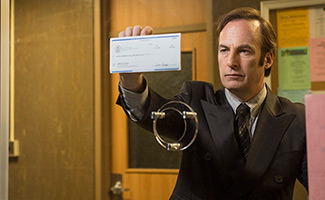 This week, a Better Call Saul teaser gets widespread coverage, thrilling Breaking Bad fans, while Bob Odenkirk impresses his Fargo co-star, Allison Tolman. Plus, Uproxx checks out Odenkirk's best Mr. Show moments. Read on for more:
• Vulture showcases Better Call Saul's promo and notes that the Breaking Bad spinoff will premiere in February. Says Rolling Stone, "The wait continues to be painful." Meanwhile, USA Today thinks Bob Odenkirk's Saul looks "more hirsute (and thinner?)" in the clip, and Good Morning America reports that, after the clip aired, "Breaking fans immediately freaked out in excitement, as to be expected, and the clip is trending on Facebook." TVLine and The Washington Post also watched the teaser.
• Allison Tolman tells the Los Angeles Times that Bob Odenkirk, her Fargo co-star, is the go-to guy in a new town: "I don't know how he does it so quickly, but the moment I met him, he knew where, like, two bookstores were that we should go to and every good breakfast spot in town."
• In honor of Better Call Saul, Uproxx presents Bob Odenkirk's "finest moments from before he became Walter White's sleezeball attorney," from Mr. Show (his HBO series with David Cross).
• Looking back at the first episode of The Dennis Miller Show (which aired in 1992), Splitsider notes that "his writer's room was pretty fantastic" and included Bob Odenkirk.
To stay up-to-date with all the latest Better Call Saul news, join the Better Call Saul Insiders Club.