Anson Mount Talks Season 3 With Collider, Oakland Tribune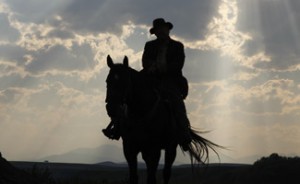 This week, Collider and The Oakland Tribune both discuss Season 3 with Anson Mount. Plus, a young Calgarian makes his first appearance on the show. Read on for more:
• Anson Mount, speaking with Collider.com, says of Hell on Wheels that "we've taken a show about destruction and turned it into a show about construction."
• The Oakland Tribune learns from Anson Mount that Cullen's actions are "just different ways of keeping the truths about himself in his blind spot, so he can focus on something else." [No Link]
• The Calgary Herald reports that Calgary native, 10-year-old Tayden Marks, made his Hell on Wheels debut in this week's episode.
• For reviews and recaps of Season 3, Episode 3, "Range War," check out Cowboys and Indians, Screen Rant, Starpulse, TV.com and TV Fanatic.
• To stay up-to-date with all the latest Hell on Wheels news, sign up for the weekly Hell on Wheels Telegraph.