Anson Mount Discusses Season 3 Premiere With EW; John Wirth Teases the Rest of the Season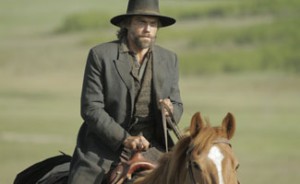 This week, Entertainment Weekly talks about the Season 3 premiere, including one scene in particular, with Anson Mount, while John Wirth tells the Sioux City Journal what to expect the rest of the season. Plus, Entertainment Weekly previews the next episode. Read on for more:
• Anson Mount tells Entertainment Weekly he wanted to keep Cullen's sex scene with the Mormon family's daughter in the episode because "I'm not interested in pure, untainted heroes."
• Showrunner John Wirth tells the Sioux City (Ia.) Journal that Anson Mount and Common are two of Hell on Wheels's strengths and also marvels at "the magnificence of the Alberta countryside as our natural setting."
• Entertainment Weekly highlights Season 3, Episode 3, "Range War," calling it a "foreboding hour." [No Link]
• CableFax interviews John Wirth, who says viewers in Season 3 will watch Cullen "reintegrate himself into the world and become a human being, kind of re-humanizing himself in a way."
• The Calgary Herald interviews Anson Mount, who applauds the Hell on Wheels crew for all the extra work it did to rebuild the show's sets after late June flooding.
• For recaps and review of Season 3, Episode 1, "Big Bad Wolf," and Episode 2, "Eminent Domain," check out Basket of Kisses, Cowboys & Indians, Den of Geek, Screen Rant, TV.com and TV Fanatic.
• To stay up-to-date with all the latest Hell on Wheels news, sign up for the weekly Hell on Wheels Telegraph.