Jacob Anderson to Star in 'Interview with the Vampire'
(Photo: Getty Images)
AMC+ is adapting author Anne Rice's 1976 gothic novel Interview with the Vampire into an eight-part series. And, we are thrilled.
The story follows two lead protagonists, both vampires, with Lestat de Lioncourt being the more senior and turning mortal Louis de Point du Lac into a vampire companion for himself.
It was recently announced by AMC+, that Sam Reid is set to portray Lestat, a role which Tom Cruise made famous in the 1994 movie by the same name. And, just yesterday, AMC+ turned to Twitter to share more big news, that Jacob Anderson will be stepping in as Louis, who we saw Brad Pitt bring to the screen opposite Cruise.
Here's a peek at the tweet, which includes a line that Louis speaks, about being lost (and then found):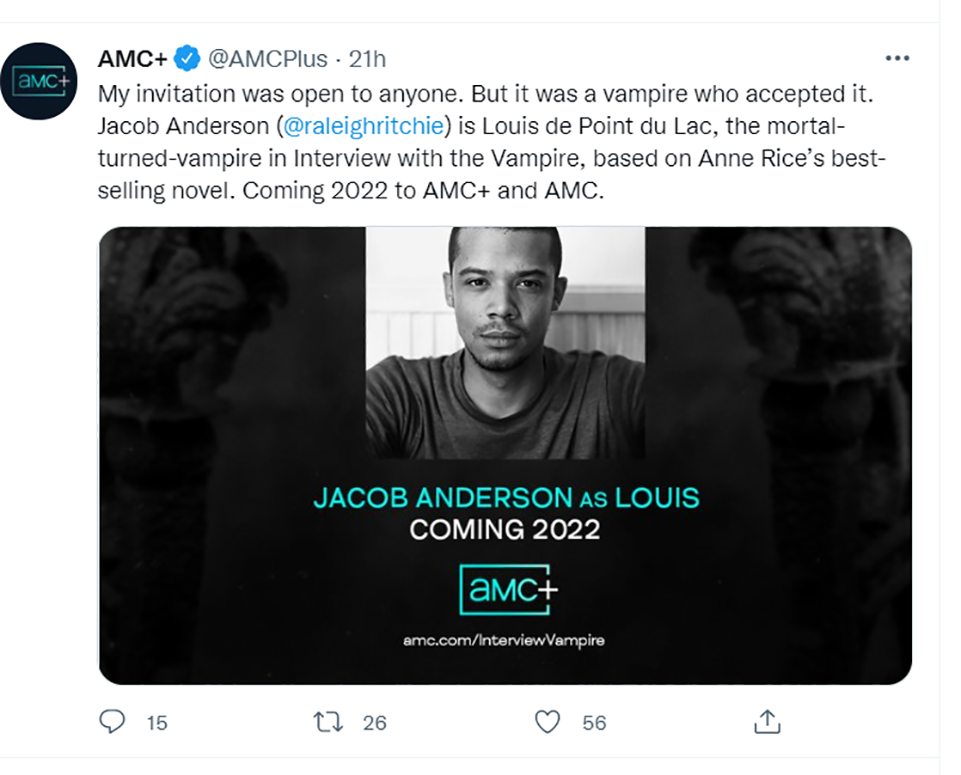 (Photo: Twitter)
You may know Anderson best from his role as Grey Worm in Game of Thrones (2013-2019). And, you're about to get to know him even better, with Anderson also set to star in the upcoming season of Doctor Who.
With Anderson now joining Interview with the Vampire, he's not only becoming a household name, he's become an in-house AMC/BBC America name/family member.
If that's not enough Anderson in one place for you, here's a roundup of his earlier roles leading up to now.
Rice's Interview with the Vampire started off as short story, growing into a novel, which you can read about more over at Good Reads.
The AMC+ adaptation will premiere in 2022.
Are you excited to see Lestat and Louis on TV?