AMC Book Club — What's Vic McQueen Reading?
July 10, 2020
Welcome to the first installment of an ongoing AMC Book Club series that explores what we think our favorite characters are reading. Check back for a new set of books from a new character each month.
Take a look at someone's bookshelf, and assuming it's not there for mere decoration, you'll learn something about that person. Maybe they appreciate history, or they like to get lost in fictional tales. Maybe they want to learn about business, or they're learning about art. Hell, they may be interested in all of these things.
In the case of Vic McQueen, we have a feeling that she's an eclectic reader. Her books probably aren't lined up on a bookshelf for aesthetic purposes either. We imagine them on a side table, face down, open to the page where she last left off.
For starters, she's an artist. She shares comic books with the janitor of her school, albeit before she knew he was Charlie Manx's right hand man. Given this and the general time period in which she spent her adolescence, there's no way she didn't read some of the most popular comic books of that time.
Batman: The Dark Knight Returns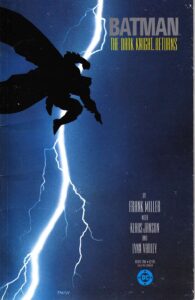 The Dark Knight Returns was Frank Miller's legendary comic book creation that introduced the battle between Superman and Batman. Non-comic book fans will likely recall Tim Burton's 1989 film, Batman, starring Jack Nicholson and Michael Keaton, in which the comic played a major influence. The film also benefited from the origin story of a character that has become a career-high to play for actors: The Joker. This origin story, The Killing Joke, was a 1988 DC comic created by Alan Moore and Brian Bolland.
Whether Vic likes it or not, she actually has some things in common with the comic's hero. One of them being the necessity to take on a role she never asked for in order to keep people safe. Though Bruce Wayne / Batman has a number of villains to worry about, Vic just has one: Charlie Manx.
Little Fires Everywhere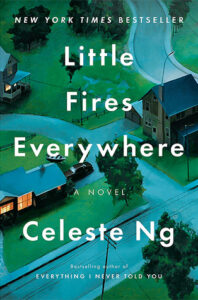 Vic had a childhood with rough edges — parents that fought, little money, no encouragement to reach beyond her current means — so it's likely that fairytales weren't very relatable for her. Those types of happy ending stories are likely so un-relatable to her that they don't even serve as a proper escape from her day to day. Instead, she'd escape into parallel childhoods with kids that had their own struggles. A place where she wasn't so out of place.
Celeste Ng's second novel, Little Fires Everywhere, immediately transports you into the carefully groomed town of Shaker Heights. A place where your grass is measured by rulers. Needless to say, Elena Richardson, who was born and raised there, and then raised her own family there, is a very particular kind of person. What seems like a suburban paradise from the outside, is a quiet prison for anyone that lives outside its rules. Like, Izzy Richardson, Elena's daughter.
Izzy rebels against her family, like Vic does in her own way, via the Shorter Way bridge.
Zen and the Art of Motorcycle Maintenance: An Inquiry Into Values
It's hard to imagine Vic's home without a copy of Robert Pirsig's bestseller. The book, published in 1974, is a philosophical look at how one approaches life through the lens of taking care of a motorcycle. If you know Vic, you know that she grew up watching her dad care for his motorcycle. You might also know that her motorcycle becomes her escape and in the world of NOS4A2, her knife (aka her gateway to defying the rules of physics). In her case, that defiance is her ability to teleport from one location to the next with all final destinations having one commonality: she's in search of something there.
In Pirsig's novel he illustrates two points of view, the romantic and the classical. The romantic being those who appreciate being in the moment, and the classical being those who have their mind's deep in the mechanics.
The tension between these two ways of living just so happens to be a perfect expression of Vic's life. She has a desire to live a life lost in her art, and that's constantly at odds with the mechanics of life—both real and supernatural—that she just can't escape. At least, it seems, as long as Charlie Manx is breathing.
Want more of Vic McQueen? New episodes of NOS4A2 air every Sunday 10/9c.