Best Christmas Ever: The Many Versions of Santa Claus in Holiday Movies
Ho, ho, ho! 'Tis the season for holiday spirit, and there's no better representation of the true meaning of Christmas -- to give selflessly to loved ones and strangers alike -- than Santa Claus.
But who is Santa Claus really? Santa Claus is an amalgamation of multiple mythic traditions of different "Santas" from around the world, including, of course, the historical Saint Nicholas, the fourth century Greek bishop who wowed devotees with purported miracles and a penchant for gift-giving. Then there's the Victorian-era British Father Christmas, usually pictured with deep green or red robes; Sinterklaas, the Dutch variant of St. Nicholas; and the Norse god Odin (or the Germanic pagan Wodan), who leads the Yuletide "Wild Hunt," a procession of ghostly figures through the sky during the longest nights of the year.
For centuries, new myths and stories have cemented the idea of Santa Claus as the ultimate holiday icon, and though the core of Santa lore has remained the same, some key aspects of his personality have changed with the times. These days, there's a Santa Claus for everyone, with the plethora of Santa movies available for the whole family, from the saintly and patient Kris Kringle of the Miracle on 34th Street movies, to the wild and raucous Saint Nick of Netflix's recent The Christmas Chronicles movies. For AMC's annual Best Christmas Ever holiday movie spectacular, Santa fans can choose from all different kinds of Ol' Saint Nick with Santa Claus movies and holiday classics available to stream now through December. Want a cute, delightful Kris Kringle? We've got him. Want a funny, human Saint Nick? We've got that too. Track Santa Claus through cinema with these movies available now during Best Christmas Ever:

Who deserves to live forever more than Mr. Claus? That's the premise of the 1985 Rankin/Bass special The Life and Adventures of Santa Claus. In a land filled with mythical creatures and immortal spirits, their leader, The Great Ak, convenes the immortals and elemental spirits for a momentous decision: should a mortal be deemed worth of the Mantle of Immortality? Based on the 1902 children's book by L. Frank Baum (who's probably better known for penning The Wonderful Wizard of Oz and the Land of Oz books), this adaptation by Rankin/Bass Productions was the beloved company's last film crafted in their iconic stop-motion style.
In this film, the Great Ak finds a human child in a mystical forest where humans aren't allowed to tread, but instead of casting out the baby, he takes the child in and a fellow sprite, Necille, raises the baby as her own. He is named Claus, and when he grows into a young man, the Great Ak gives him a ghostly tour of the world of Man. It's a stark contrast to the happy life he's lived in the magical forest—the world of mortals is violent, depressing, and gray. Claus vows to go off into the world of Man, and make the world a better place than how he found it.
His mission to spread joy to children with his skills as a toy maker puts him at odds with monstrous creatures called the Awgwas, who delight in making children act naughty. So if you're looking for a movie where Santa Claus fights monsters, this should be your pick. The film slowly builds the mythos of Santa as we know him: collecting his reindeer, climbing down chimneys, putting toys in stockings, and more. But when Santa comes to the end of his mortal coil, will his good deeds be enough to grant him eternal life? Watch The Life and Adventures of Santa Claus here now on amc.com the AMC apps for mobile and devices, and AMC+ through December 31st.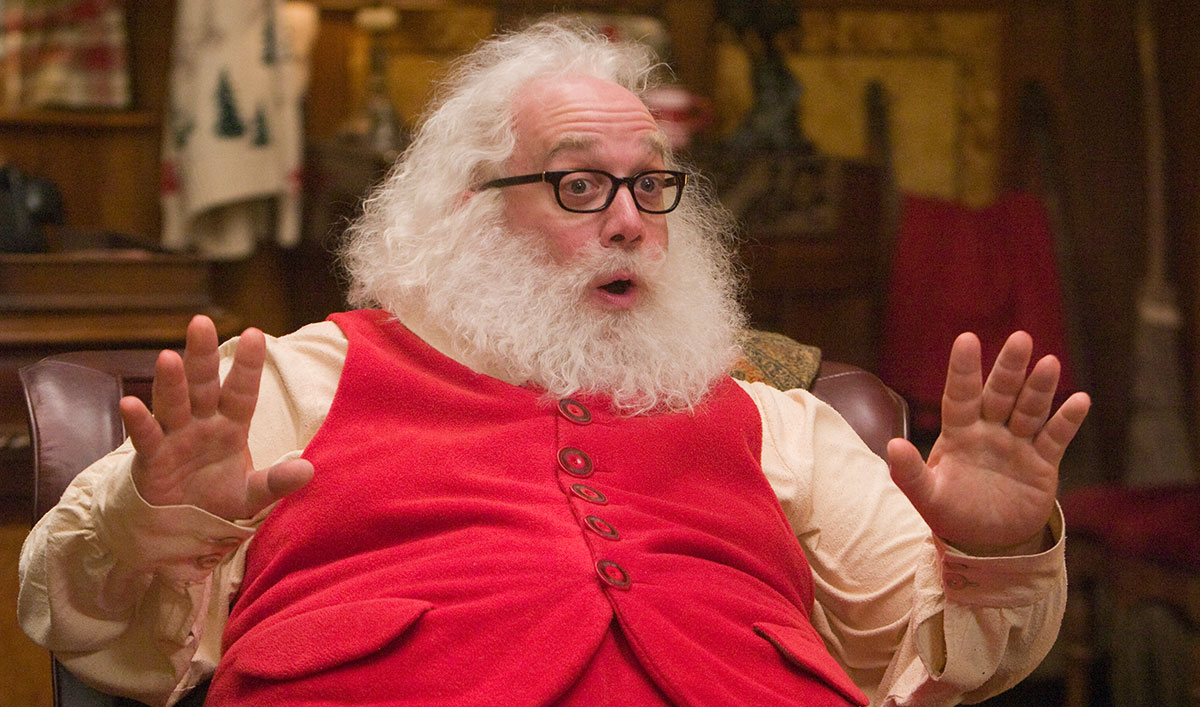 David Dobkin's comedy holiday film Fred Claus proves that even if you're an immortal Saint of legend, you can still have family problems. The critically acclaimed Paul Giamatti brings a more human element to Santa Claus in this film. Giamatti's Saint Nick is a family man with a heart of gold -- but man, gold is heavy. This Santa is tired, haggard, and at the end of his rope, and his brother, Fred (Vince Vaughn) is only adding to his stress. In Fred's defense, it's hard to live in the shadow of your sibling, especially when your family has been granted everlasting life due to your brother's world-renowned legacy of good deeds. Regardless of that familial legacy, every year for centuries, Fred ends up on the naughty list.
When Fred asks Nick for money, the Christmas icon asks his brother to stay in the North Pole to earn it fair and square. Unfortunately, their brotherly reunion is timed poorly with the arrival of "efficiency expert" Clyde Northcutt (Kevin Spacey), who monitors the activities of various supernatural entities. As the Claus operation comes under Clyde's Scrooge-like scrutiny, and Nick and Fred's centuries-long brotherly feud explodes under the stress, Giamatti's Santa Claus reveals that despite the supernatural immortality and the global fame, Santa is really just a normal man trying to do his best. Watch Fred Claus here now on amc.com the AMC apps for mobile and devices, and AMC+ through December 31st. Plus, check out the familiar AMC faces in Fred Claus here. Did you know TWD's Negan makes an appearance? Or TURN's Burn Gorman? See if you can spot all of the members of the AMC family in this movie (with a bonus AMC alum behind the camera)!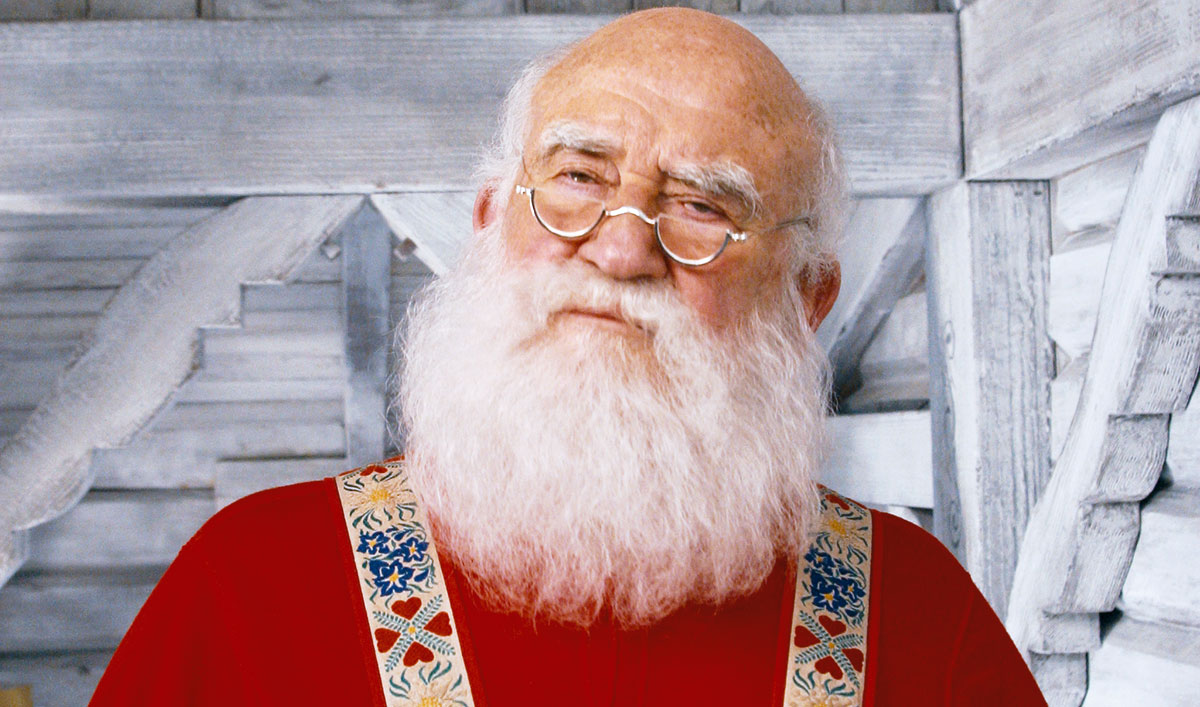 Santa Claus takes a bit of a back seat to Buddy the Elf (Will Ferrell) in Jon Favreau's holiday classic Elf, but Santa is still an important part of Buddy's story. In Elf, Santa is played by Ed Asner, who bears the distinction of being the most awarded male performer in the history of the Primetime Emmy Awards. He's also played Santa multiple times in various roles for both acting and voice acting; separately, he voices Carl in Pixar's Up, if you're wondering why his voice is so familiar.
Elf's Santa is easily distracted by cookies (who isn't), which allows baby Buddy to crawl into Santa's sack of toys one night on Christmas Eve. Instead of returning baby Buddy to the orphanage where he was found, Santa lets Papa Elf (Bob Newhart) raise the human child as his own. When Buddy grows up, Santa encourages him to spread his wings in the human world with his biological father. After Buddy's whirlwind experience in New York, he reunites with Santa again on a fateful Christmas Eve, where Santa reveals more of his personality beyond his "local celebrity" persona. Elf's Santa apparently has a dark history with the sinister "Central Park Rangers," and he knows how to keep up with the times with turbo-engine technology. Santa's had more than a few rough patches on the job, but he seems to keep a level head and his sense of humor, even if he does mumble, "I'm getting too old for this job." Watch Santa and Buddy's Christmas Eve sleigh ride adventure in Elf here, available to watch now on amc.com the AMC apps for mobile and devices, and AMC+ through December 31st.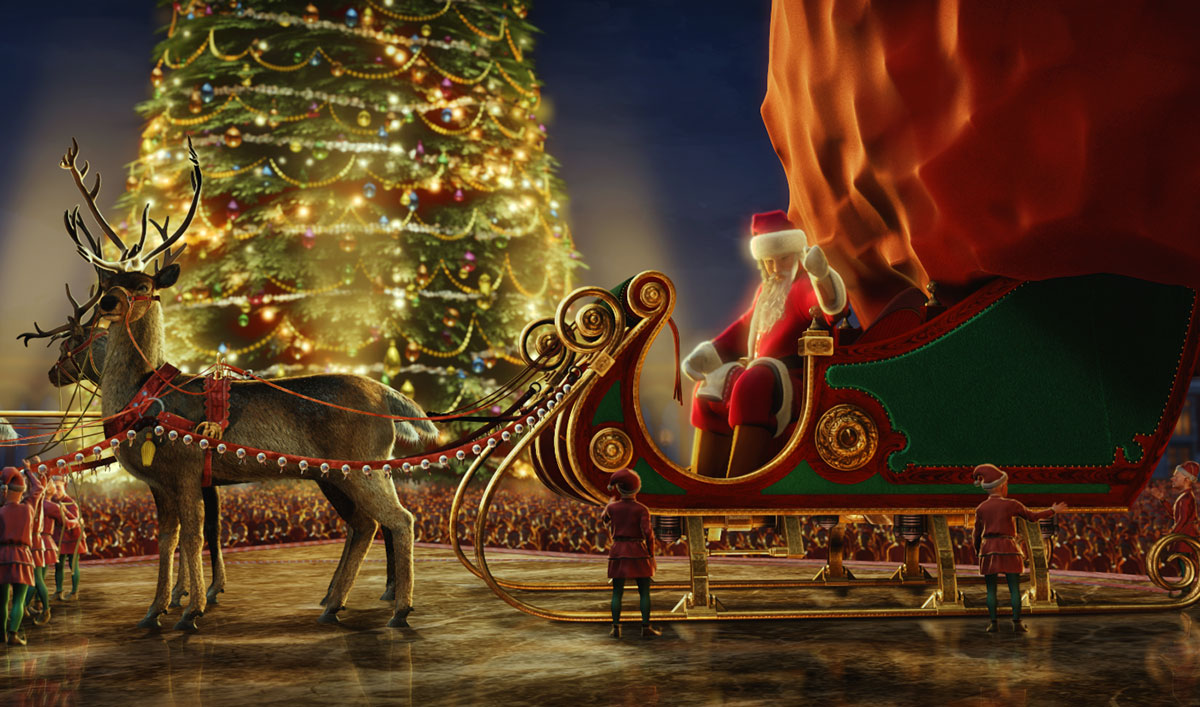 Santa Claus in the computer animated holiday classic The Polar Express is a mythic figure, acting more like the light at the end of the tunnel for the main character's journey through the North Pole on the magical Polar Express. Voiced by Tom Hanks, Santa Claus in The Polar Express is more like a beloved celebrity. When Santa Claus first arrives on the scene in his red suit about to depart for his Christmas sleigh ride, the elves at the North Pole absolutely lose their minds. But Tom Hanks's Santa Claus is a tall, wise, and sage version of Santa, doling out life advice to the young passengers of the Polar Express, in addition to the first gift of Christmas. Of course, it's important to remember the audience is seeing Santa through the eyes of the main character, so Kris Kringle takes on a revered, magical quality. But Santa himself leans into the magic of his nature, telling the main character when he gives him the sleigh bell "This bell is a wonderful symbol of the spirit of Christmas, as am I. Just remember, the true spirit of Christmas lies in your heart." Is The Polar Express's Santa a spirit? A dream? Or a real man? In keeping with the legend of Santa Claus, he's real for all who truly believe. Watch The Polar Express now on amc.com the AMC apps for mobile and devices, and AMC+ through December 31st.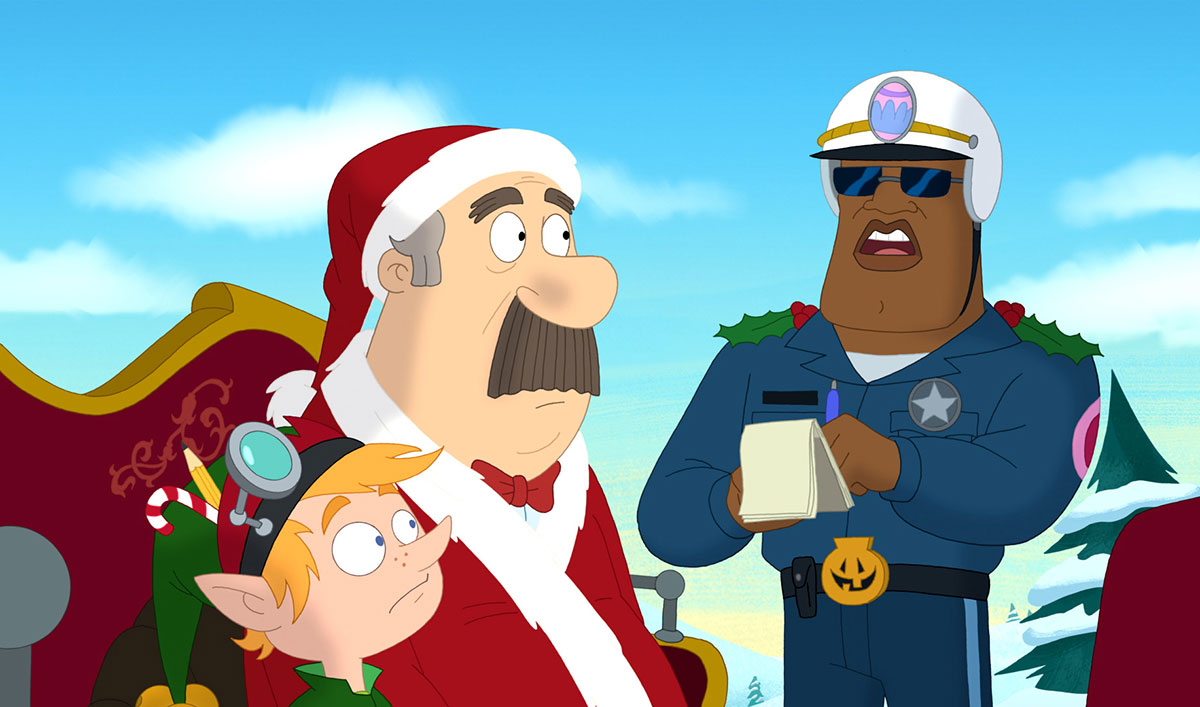 How Murray Saved Christmas is an animated television special with a musical twist. In addition to the irreverent musical numbers, the whole special is narrated and spoken in verse. Directed by Peter Avanzino (of Futurama, Drawn Together, Disenchantment and Ren & Stimpy fame), and written by The Simpsons writer Mike Reiss, How Murray Saved Christmas is a special delightful enough to entertain kids, and funny enough to keep adults enthralled as well. In a quaint town called Stinky Cigars, so named so passersby and tourists will avoid it, the citizens are all iconic holiday figures, living together in harmony and truly ridiculous song.
Santa Claus lives there, as well as Cupid, the Easter Bunny, George Washington and Abraham Lincoln, the Tooth Fairy, the Baby New Year, and more. Among them lives the curmudgeonly Murray (Jerry Stiller), who runs the local diner, where he whips the locals into shape with his sharp wit and speedy service. When Santa is injured in an unfortunate toy incident, none of the other magical holiday figures are up to the task of replacing him before Christmas Eve -- except for Murray, who, despite his lack of holiday cheer, is a perfect fit for the job because of his impeccable diner delivery. If you're in the mood for a dour, salty Santa (technically, Santa stand-in), with tickling rhyme and a "Simpsons sensibility," watch How Murray Saved Christmas now on amc.com the AMC apps for mobile and devices, and AMC+ through December 31st.
Want even more holiday movies and Christmas classics? Check out AMC's Best Christmas Ever full library of movies, available now on amc.com, the AMC apps for mobile and devices, and AMC+. Don't forget to check the on-air schedule here for even more movies playing on-air until Christmas Day.
In addition to featuring the season's most beloved Christmas movies, AMC+ will bring viewers a series of holiday specials throughout December, including the streaming debut of IFC's Joe's Pub Presents: A Holiday Special, hosted by Tony Hale; Shudder's "Unhappy Holidays" collection of Christmas horrors featuring films like Black Christmas, Rare Exports, and Better Watch Out along with cult classics Christmas Evil and Deadly Games; a special episode of BBC America's The Graham Norton Show on Christmas Day; and the first-ever The Walking Dead Holiday Special, hosted by Chris Hardwick and featuring fan-favorite cast members, on Sunday, December 13 – an exclusive for the streaming bundle this holiday season.
For more of the latest news from AMC Networks, sign up for the AMC Insiders Club.