What's a Weaver in the Witch World?
As witches are increasingly featured in Season 2 of A Discovery of Witches, we bet you're asking yourself: What in the Witch is a Weaver? At AMC, we had the same question, so we've studied up on weavers in order to give you some key facts.

Weaver 101
Weavers have access to skills that not all witches have, including the ability to create new spells. 'Normal' witches rely on the old books, aka 'Book of Shadows' and their fellow witches for spells. Weavers can't use the spells that already exist in books, so they must 'weave' their own. There's a lot of pressure on weavers due to their unique nature. In the simplest terms, they must create magic that is unique in nature. And as it turns out, making new and complex spells, takes a lot of witch power.
Multiple Elemental Magic Skills
If we look at Diana in particular, we know she possesses the skill of earth like other non-weaver witches do. However, she also has strong, multi-elemental skills. Her top elemental power is water, then fire, and finally air, which is her weakest element to play with. Since weavers can play with multiple elements, their power is somewhat limitless. Being able to mix fire and water, for example? You're basically creating fiery rain!
The Tenth Knot
All weavers are able to weave the nine knots, which is already an incredible thing to watch. However, the tenth knot is the knot many weavers envy. Diana, being as special as she is, has the ability to create this tenth knot. We won't spoil how she ultimately uses this tenth knot, except that it can be used to both create and kill. It's pretty incredible!
The Weaver Witch Hunt
Weavers are rare. Due to weavers having such massive powers, they are feared and hunted—even by their own species. Yikes. Weavers are rare since their roots are from both demons and witches, and as we know, those unions are frowned upon by some members of the congregation. Some witches want to keep the witch species 'pure bred.' Double yikes.
But, thankfully there are others who are rooting for them. With their support they're saying, we be-weave you can fly. That's right, one of weaver's main talents is their ability to fly.
What's a Familiar?
A familiar is the ancient spirit animal that attaches itself to a Weaver. They usually represent the weaver's power, and often first appear to the witch during their first 'weave.' Diane's Firedrake familiar is named Corra. She's called a Firedrake as she has the ability to breathe fire, and in turn strengthens Diane's fire skills. A weaver and a witch don't even have to speak to communicate. They're so in tune that they can have a psychic connection where words aren't necessary.
Who is Queen Weaver Goody Alsop?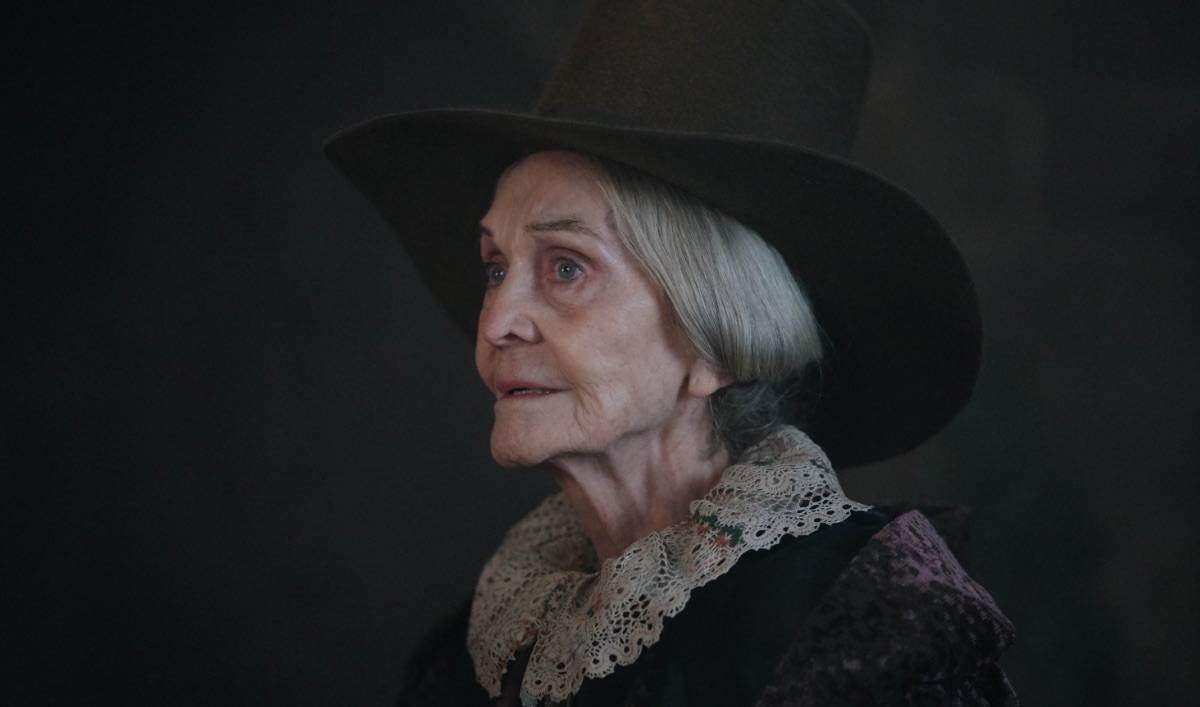 Goody Alsop is a very important weaver and mentor to Diana in the year 1590. At that time, she's one of the most powerful witches on British Land. Unlike Diana, her affinity is with Air, thus she can teach Diana a thing or two about her weakest power.
Do you have more curiosities and questions around weavers? Is there any weaver magic you would like to perform? Which elemental magics would be your dream if you were a witch? Let us know where you stand.
Stream new episodes of A Discovery of Witches Season 2 every week on amc.com and AMC apps. New episodes air Sundays 8/7c.
Get exclusive content and interviews from the show directly to your inbox when you subscribe to A Discovery of Witches Insider's Club.