'80s Playlist for Halt and Catch Fire's Cameron Howe Now on Spotify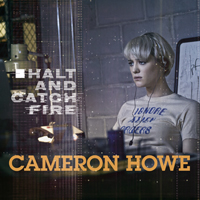 Halt and Catch Fire's volatile computer prodigy Cameron Howe (Mackenzie Davis) is a shock to the system of conservative, old-guard Cardiff Electric. The 22-year old's abrasive manner rubs coworkers the wrong way and her unconventional lifestyle doesn't mesh with corporate Texas. So of course Cameron's personal mixtape would lean towards the punk side of the '80s music scene with head-banging tracks by Blondie, The Slits and The Clash. See what else Cameron would listen to with this exclusive Spotify playlist of '80s music for Cameron Howe, courtesy of Halt and Catch Fire's Music Supervisor Thomas Golubic and his team at SuperMusicVision. And be sure to check back each week for a new playlist based on a different Halt and Catch Fire character.
Follow AMC Halt and Catch Fire on Spotify.
Halt and Catch Fire episodes and music are also available on iTunes.
Look after the jump to download songs from Cameron Howe's '80s playlist now.
1. Public Image LTD, "Public Image"
3. The Weirdos, "Happy People"
5. 23 Skidoo, "Last Words (12" Version)"
7. Romeo Void, "Never Say Never"
9. The Vandals, "Wanna Be Manor"
10. Nervebreakers, "I Love Your Neurosis"
11. Pere Ubu, "The Modern Dance"
12. The Clash, "The Magnificent Seven"
13. X-Ray Spex, "Germ Free Adolescents"
14. Au Pairs, "Diet"
15. Minor Threat, "Little Friend"
18. The Hates, "So What (If Your Mother Kicks Me in the Nuts)"
19. Stick Men With Ray Guns, "Hate in the '80s (Learn To)"
20. Richard Hell & The Voidoids, "Blank Generation"
23. Pylon, "Cool"
Don't miss a new episode of Halt and Catch Fire Sunday at 10/9c on AMC.