Blog
It's an Action-Packed Month of Movies on AMC — Check Out What's Streaming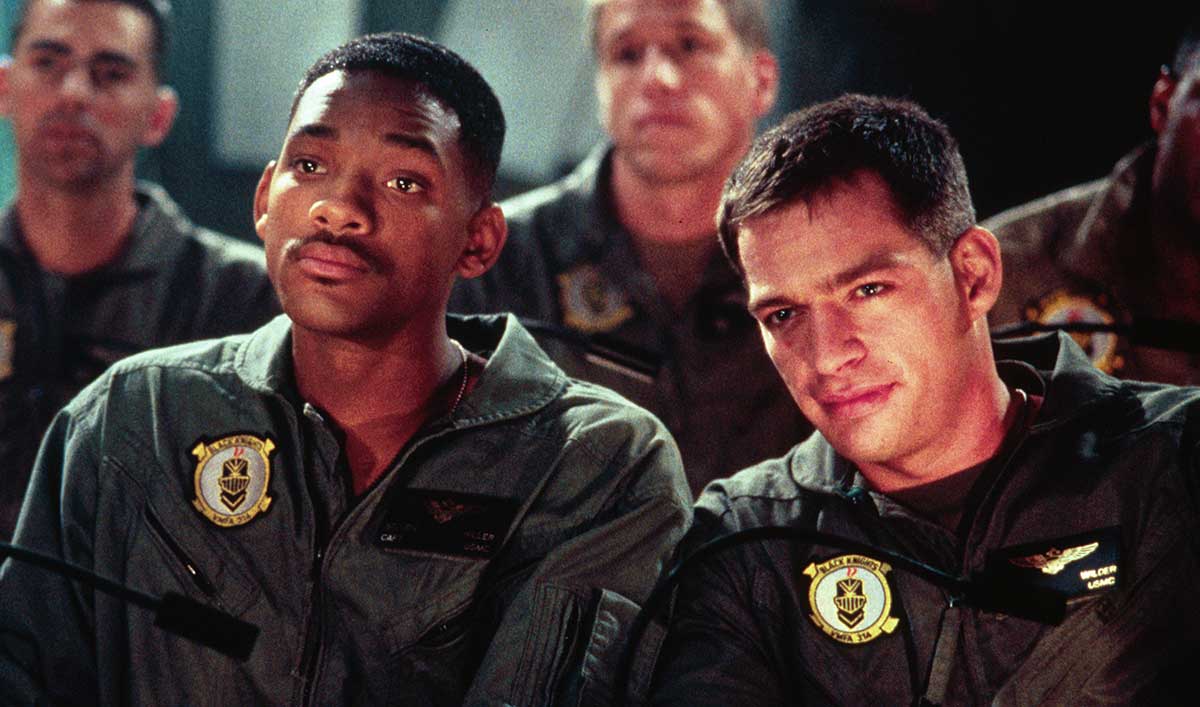 Get ready for a summer of action and adventure — at least at home! All month long, AMC is offering a selection of adrenaline-pumping films and more on amc.com and the AMC apps for mobile and devices. Kick off the July holiday with the sci-fi classic Independence Day, then it's rush after rush with Zombielanand, the Rambo franchise, The November Man, and so many more.
Take a look at what's streaming this month on amc.com and the AMC apps below:
The aliens are coming and their goal is to invade and destroy Earth. Fighting superior technology, mankind's best weapon is the will to survive. Watch Independence Day now.
A shy student trying to reach Ohio, a gun-toting tough guy trying to find the last Twinkie, and two sisters trying to get to an amusement park join forces to travel across zombie-filled America. Watch Zombieland now.
A bank is hit by a brutal heist, and all evidence points to the owner and his high powered clients. Watch Marauders now.
An ex-C.I.A. operative is brought back in on a very personal mission, and finds himself pitted against his former student. Watch The November Man now.
A rescue mission is launched to investigate and bring back any survivors after the first manned mission to Mars ends in a catastrophic, mysterious disaster. Watch Mission to Mars now.
Aliens and their Guardians are hiding on Earth from intergalactic bounty hunters. They can only be killed in numerical order, and Number Four is next on the list. This is his story. Watch I Am Number Four now.
A factory worker begins to suspect that he is a spy after visiting Recall – a company that provides its clients with implanted fake memories of a life they would like to have led. Watch Total Recall (2012) now.
A former Green Beret is chased into the mountains by a sheriff and his deputies. He must rely on his combat skills to survive. Watch First Blood now.
Rambo: First Blood Part II (1985)
John Rambo must return to the jungles of Vietnam for a top-secret, action-packed government mission. Watch Rambo: First Blood Part II now.
John Rambo returns to rescue a colonel who's been captured by Soviet forces during a mission in Afghanistan. Watch Rambo III now.
In Thailand, John Rambo joins a group of mercenaries to travel to Burma, and rescue a group of Christian aid workers who were kidnapped by the ruthless local infantry unit. Watch Rambo now.
The Silence of the Lambs (1991)
A young F.B.I. cadet seeks the help of an incarcerated and manipulative cannibal killer to investigate another serial killer, a madman who skins his victims. Watch The Silence of the Lambs now.
When a structural-security authority finds himself set up and incarcerated in the world's most secret and secure prison, he has to use his skills to escape with help from the inside. Watch Escape Plan now.
An undercover Detroit cop navigates a dangerous neighborhood with the help of an ex-con to bring down a crime lord. Watch Brick Mansions now.
Clear and Present Danger (1994)
CIA Analyst Jack Ryan is pulled into an illegal war between the US government, and a Colombian drug cartel. Watch Clear and Present Danger now.
A commercial transport ship and its crew are marooned on a planet full of bloodthirsty nocturnal creatures. Then, they learn that a month-long eclipse is about to occur. Watch Pitch Black now.
A small town becomes infested with an alien plague, turning citizens into zombies and all forms of mutant monsters. Watch Slither now.
A man who has been accused of murder and rape has a mysterious gift. He affects the lives of his Death Row guards. Watch The Green Mile now.
Michael Bublé's Christmas in Hollywood (2015)
It's Christmas in July with Michael Bublé's Christmas show featuring top artists and Christmas classics. Watch Michael Bublé's Christmas in Hollywood now.
A brainiac teen purchases a possessed car, and begins to mimic the vehicle's evil behavior. Watch Christine now.
A tough bouncer (Patrick Swayze) is hired to tame a dirty bar. Watch Road House now.
Upon returning home from war, a former U.S. soldier (Dwayne Johnson) finds his hometown overrun by crime and corruption. This prompts him to take matters into his own hands. Watch Walking Tall now.
A high school thug is the front man for a local marijuana ring. Watch The Cool and the Crazy now.
A young woman inherits a family curse that turns her into a murderous feline when she is angered. Watch Cat Girl now.
Dr. Thomas Bolton fights for the use of anesthetic in surgery and uses himself as a guinea pig, but soon finds himself addicted. Watch Corridors of Blood now.
Creation of the Humanoids (1962)
In a post holocaust society, robots take it upon themselves to help the dying human race by giving them android bodies. Watch Creation of the Humanoids now.
Take a look at the full selection of films streaming this month here. Wondering how to watch these movies on your big screen? You can download the AMC App on iOS, Apple TV, Android, Windows, Fire Tablets, Roku, and Xbox One. Check out the on-air schedule to see what movies are airing on AMC this month.
For more news from AMC, sign up for the AMC Insiders Club.
Read More