Blog
17 Irish Actors to Watch on St. Patrick's Day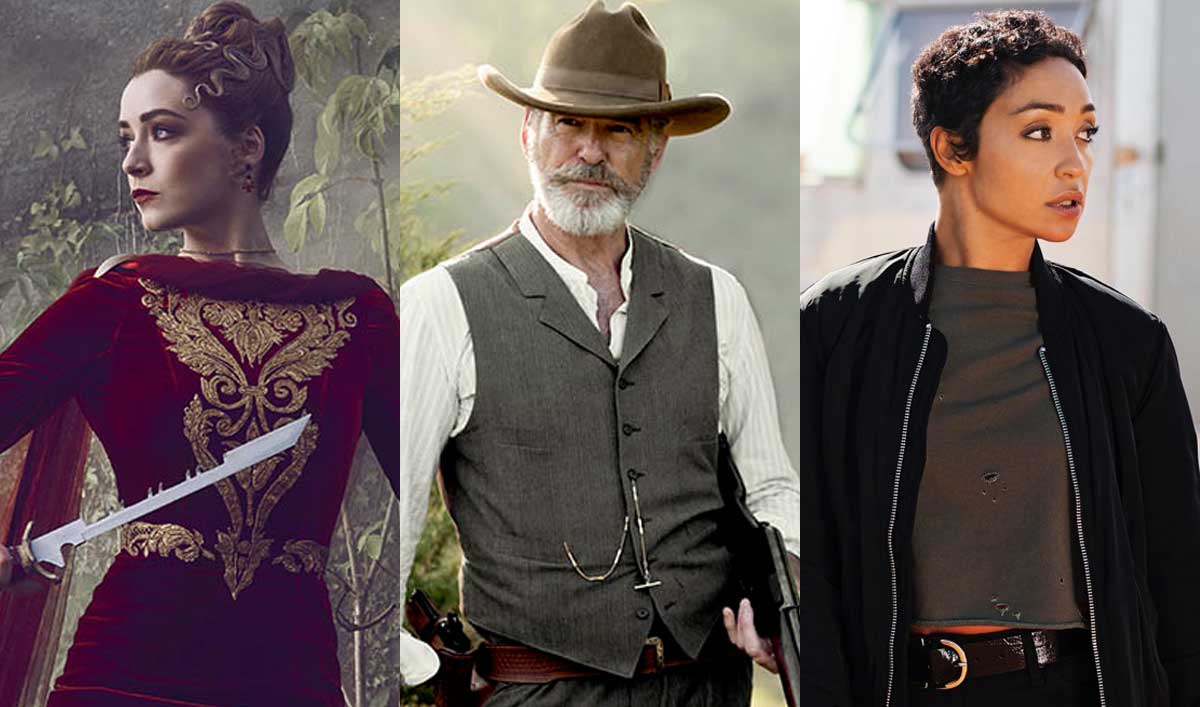 Given the current global health crisis associated with the coronavirus, this year's St. Patrick's Day celebrations should be much more about couching than carousing. But just because you're confined indoors, there's no reason why you can't pour yourself a pint and spend your evening celebrating the Irish. With that in mind, we've compiled a list of fine Irish actors you can watch while feasting on shepherd's pie, corned beef and cabbage or whatever Irish fare you prefer with your whiskey.
Liam Neeson
Perhaps the most-well known of all the working Irish actors, Liam Neeson wasn't always the star you know him to be. In his early years, he worked as a forklift operator for Guinness, a truck driver, an assistant architect, and even an amateur boxer. In 1976, Neeson joined the Belfast Lyric Players' Theater and made his professional acting debut in The Risen People. He took smaller British roles in the 1980s, but it wasn't until he moved to Hollywood that his career dramatically progressed. He took on leading roles in Sam Raimi's Darkman (1990) and Steven Spielberg's Oscar-winning film Schindler's List (1993), cemented Neeson as a Hollywood fixture. He didn't sit back and put his feet up, though, taking on a number of outstanding roles, like in Michael Collins (1996), Star Wars: Episode I – The Phantom Menace (1999), Batman Begins(2005), and of course more recently with the Taken franchise. It wasn't always smooth sailing for the famed actor. He recalled on The Graham Norton Show, about the time he auditioned for Fezzik, the beloved giant from The Princess Bride. Director Rob Reiner had a look of disgust on his face when he realized that Neeson was "only" six-feet-four. The role eventually went to the late André the Giant.
Cillian Murphy
Cillian Murphy grew up in Cork, Ireland as the son of parents' in the educational field. After graduating from Presentation Brothers College Cork, he studied law at University College Cork, but dropped out within a year. Afterward, he played guitar for various bands and also joined the Corcadorca Theater in Cork where he played the lead for Disco Pigs. His big break came when he was cast in Danny Boyle's 28 Days Later. The performance earned him nominations for Best Newcomer at the Empire Awards and Breakthrough Male Performance at MTV's Movie Awards. Known for his role as Scarecrow in Christopher Nolan's Batman Begins (2005), Murphy actually first auditioned for the part of Batman, which eventually went to Christian Bale.  You may also know him from the period drama Peaky Blinders (2013-2019), created by Steven Knight. You can look for him in A Quiet Place II, the follow-up to 2018's sleeper hit.
Saoirse Ronan
Although growing up in Ireland, Saoirse Ronan was actually born in the Bronx, NY in 1994 to Monica Ronan and Paul Ronan, an actor in his own right with roles in The Tudors with Jonathan Rhys Meyers and The Devil's Own with Brad Pitt and Harrison Ford. Ronan received international fame as one of the youngest women to be nominated for an Oscar for her role in Atonement (2007), starring opposite Keira Knightley and James McAvoy. She received her second Oscar nomination for Brooklyn (2015) and her third Oscar nomination for Lady Bird (2017). In 2019, we saw her in director Greta Gerwig's adaptation of Little Women as the lead protagonist and narrator Jo March. And we can look for her in this year's Wes Anderson movie The French Dispatch. When not putting on Oscar worthy performances, Ronan brushes up on her martial arts skills (2011's Hanna) and relaxes watching one of her favorite shows, Breaking Bad.
Fiona Shaw
Fiona Shaw was born in the County Cork to father Denis Wilson, an ophthalmic surgeon and mother Mary, a physicist. She changed her surname to Shaw inspired by the great playwright George Bernard Shaw, a benefactor of her school, The Royal Academy of Dramatic Art, when she learnt of another actress Fiona Wilson. You may have been introduced to Shaw with her role as Petunia Dursley, the not-so-nice aunt to Harry Potter. She currently stars as the MI6 Head of Russia desk, Carolyn Martens in Killing Eve. Since being cast in our favorite killer-thriller, she's collaborated with KE's executive producer Phoebe Waller-Bridge once again, making in a appearance in season two of Fleabag. Her storied career has included roles in My Left Foot (1989), the Jane Eyre (1996) and True Blood(2011).
Olivia Wilde
Born Olivia Jane Cockburn, she changed her surname in high school to Wilde after playing Gwendolen in The Importance of Being Earnest by Oscar Wilde. Raised in the Washington, D.C. area, she spent summers in Ardmore, County Waterford, Ireland. She deferred her college enrollment to study acting at the Gaiety School of Acting in Dublin, Ireland. Known for her roles in the O.C. (2003) and House (2007-2012), Wilde made her directorial debut with the teen angst movie Booksmart (2019). She's already completed filming her follow-up movie, Perfect, set to hit theaters later this year. The story follows American gymnast Kerri Strug, who made her career-defining performance at the 1996 Olympics on a severely injured ankle to help the gymnastic team win its first gold-medal. Wilde's passions outside of Hollywood include her penchant for classic cars as well as competitive eating having won a pancake eating contest in Australia and an impromptu brownie eating contest against the late Chris Farley, while visiting the set of Saturday Night Live.
Pierce Brosnan
Best known for his portrayal of James Bond, Pierce Brosnan was born in Drogheda, County Louth, Ireland, to parents of Irish descent. Before making his debut in GoldenEye (1995), he was originally cast to play 007 in 1986 for The Living Daylights (1987). At the time, he was under contract to NBC for Remington Steele, but the show was scheduled to be canceled after the fourth season freeing Pierce to play Bond. But late in the fourth season, NBC decided to renew for a fifth season, resulting in Timothy Dalton being handed the License to Kill. His post-Bond career brought him to AMC, where he played "First Son of Texas' Eli McCullough on two seasons of The Son.
Ruth Negga
Born an only child in Addis Ababa, Ethiopia to an Irish mother and an Ethiopian father, Negga's family moved to Limerick, Ireland when she was four. At the age of 7, her father passed in an automobile accident when she was only seven, which she talks about publicly. Negga got into acting, performing in school plays. She did a lot of stage work before appearing on-screen. One of her first roles was in the British soap Doctors in 2014. She worked her way up to starring as a regular in the (also British) superhero series Misfits in 2010. In 2013, she turned up on American TV, starring in Agents of S.H.I.E.L.D. More recently, you may have seen her in AMC's Preacher (2016-2019) as Tulip. You may also know her from the multi award-nominated role as Mildred from Loving (2016).
Jamie Dornan
Jamie Dornan, born in Belfast, Northern Ireland. His father, Jim Dornan, was obstetrician and gynecologist who once considered being an actor himself. Dornan made his movie debut in 2006, starring in Sofia Coppola's Marie Antoinette as Count Axel Ferson. Of course, now best known for his role as Christian Grey in Fifty Shades of Grey, prior to being an actor, he was an underwear model and part of the folk band Sons of Jim.
Natascha McElhone
Born Natasha Abigail Taylor, she took her Irish mother's maiden name (pronounced Mackle-hone) as her stage name. Perhaps best known for portraying David Duchovny's ex-girlfriend Karen van der Beek on Showtime's Californication, Natascha has appeared alongside many Hollywood legends including Anthony Hopkins in Surviving Picasso (1995), Harrison Ford and Brad Pitt in The Devil's Own (1997), Jim Carrey in The Truman Show (1998), Robert De Niro in Ronin (1998), and George Clooney in Solaris (2002). While that is quite a roster of A-listers, she holds her own, making each role jump off the screen.
Colin Farrell
He's the son of Rita Monaghan and Eamon Farrell and was born in Castleknock, Dublin, Ireland. He was inspired to try acting when Henry Thomas's performance in E.T. the Extra-Terrestrial moved him to tears. Since then he's starred in lead roles with movies like S.W.A.T (2003), Alexander (2004), Miami Vice (2006) and Total Recall (2012). He's also taken on supporting roles with some of Hollywood's heavyweights, including Tom Cruise in Minority Report (2002), Al Pacino in The Recruit (2003), and Rachel McAdams and Vince Vaughn in the second season of HBO's True Detective. He's also appeared in three movies with Samantha Morton (Alpha from The Walking Dead), including Minority Report (2002), Miss Julie (2014) and Fantastic Beasts and Where to Find Them (2016).
Michael Fassbender
Born in Germany to an Irish mother and a German father, the Fassbenders' desire to live in a more green environment and open space led the family back to Killarney, Ireland. Prior to taking on the role of young Magneto in the X-Men franchise, Fassbender auditioned for the Landa character in Quentin Tarantino's Inglourious Basterds (2009), which eventually went to Christoph Waltz. It was a tremendous disappointment for Fassbender, given his arduous routine of practicing five hours a day and even learning French. Tarantino encouraged Fassbender to read for Inglourious Basterds once again, but for the role of Archie Hicox, which he did eventually get. Since then, he's appeared in such films as 12 Years a Slave, Steve Jobs, Assassin's Creed, and Alien: Covenant.
Sarah Bolger
Born in Dublin, Ireland, Sarah Bolger made her memorable and award-winning debut at the age of 11 in Jim Sheridan's In America (2002) where she played sister to her real-life sister Emma. She's appeared in TV series such as The Tudors (2008-2010), Once Upon a Time (2012-2015), Into the Badlands (2015-2017), Mayans M.C. (2018-2019) and movies like the Spiderwick Chronicles (2008). Her favorite movie is 1993's The Fugitive, starring Harrison Ford, according to The Independent. 
Fionnula Flanagan
She may not have the instant name recognition as some on this list, but you'll probably recognize her face since her career spans 50 years in various shows and movies. You may have spotted the Dublin-born actress in TV series like Star Trek: The Next Generation, Murder She Wrote and Lost. She's also appeared in movies like The Others and Transamerica.
Brendan Gleeson
Another actor who may not be a household name (unless you're a regular reader of Anglophenia, that is), you'll surely recognize him from the Harry Potter films as Professor Alastor 'Mad Eye' Moody. Backtracking, he made his movie debut in 1995, starring in Mel Gibson's Braveheart. Since then, he's built quite a CV, appearing in movies like Assassin's Creed (2016) with Michael Fassbender, Safe House (2012) with Ryan Reynolds and Denzel Washington, Greenzone (2010) with Matt Damon, Kingdom of Heaven (2005) with Orlando Bloom, Troy (2004) with Brad Pitt, 28 Days Later (2002) with Cillian Murphy, andMission: Impossible II (2000) with Tom Cruise. Okay, now do you know who we're talking about?
Sharon Horgan
Born in London to an Irish mother and a New Zealand father, Sharon Horgan burst into the limelight with her Emmy Nomination for Outstanding Writing for a Comedy Series with her work on Catastrophe, which she co-created, co-wrote and co-starred with Rob Delaney. It marked the first Emmy nomination for a British comedy series in nine years. But, per most success stories, this didn't just happen overnight. Prior to this breakthrough moment, Horgan was already credited with the groundbreaking TV comedy Pulling. Following up these successes, she went mainstream with her dramedy Divorce premiering on HBO in 2016, starring Sarah Jessica Parker and Thomas Haden Church.
Evanna Lynch
Evanna Lynch is an Irish actress born in the town of Termonfeckin and is one of four children to Donal and Marguerite Lynch. in 2007, she went to an open audition for Harry Potter and the Order of the Phoenix, where she competed against nearly 15,000 other girls for the prized role of Luna Lovegood, which she won out. Prior to the casting call, Lynch had been a fan of the Harry Potter novels. She even wrote toHP author J.K. Rowling on a regular basis, one time commenting how much she'd like to act in a Harry Potter film, but doubted anything would come of it given her upbringing in the sleepy town of Termonfeckin. To her
Jonathan Rhys Meyers
Though perhaps best known for playing English ruler King Henry VIII on Showtime's The Tudors, Meyers is actually from the Emerald Isle. After his breakout role in Velvet Goldmine and appearances in such films as Bend It Like Beckham and Match Point, Meyers' run in TV was jump-started when he played another "king" — Elvis Presley — in the TV movie Elvis, for which he received Golden Globe and Emmy nominations. The actor has also appeared on NBC's Dracula and History's Vikings in recent years.
Take a look at the full selection of films streaming this month here. For more news from AMC, sign up for the AMC Insiders Club.
Read More