Blog
Best Christmukkah Ever: Build Your Very Own AMC Dreidel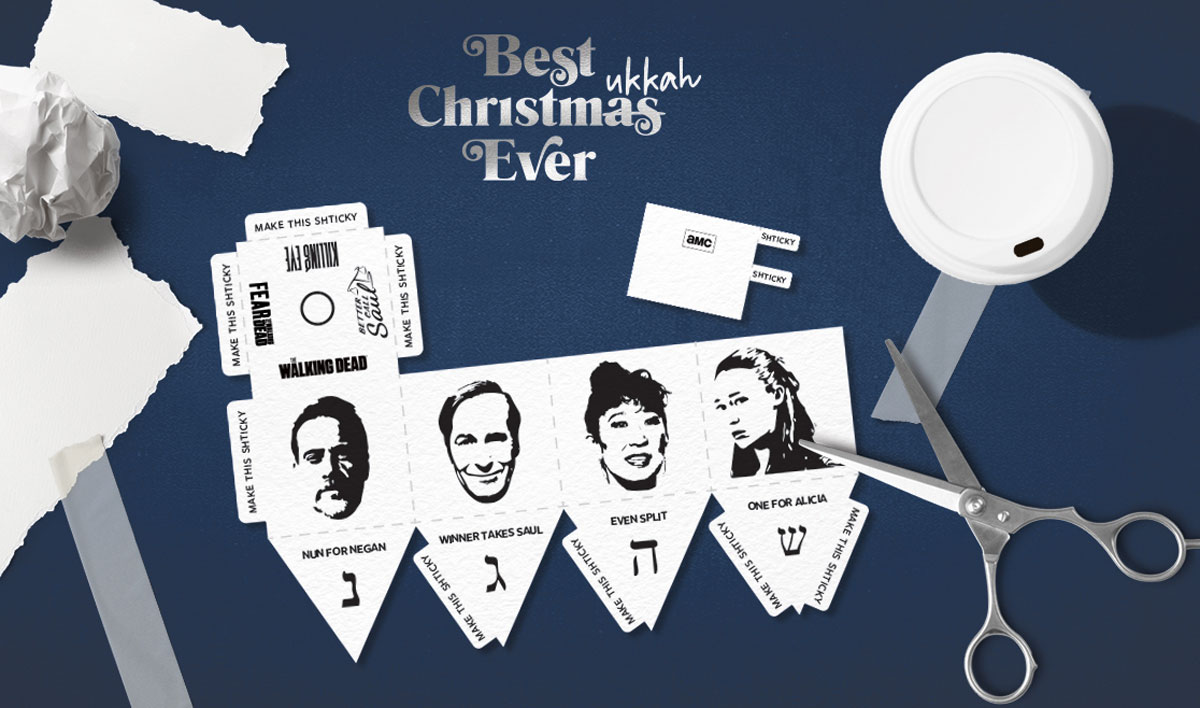 At this point in our Best Christmas Ever marathon, you've probably watched Elf or National Lampoon's Christmas Vacation three or four times. And while those holiday favorites certainly stand up to countless viewings, we thought you might like to try something different – like gambling!
Introducing the AMC dreidel! For those of you who don't celebrate Hanukkah, it's a tradition with a badass origin story. The Maccabees, a small rebel army, were able to defeat a huge Syrian army and retake their sacred temple, the Second Temple of Jerusalem. (Kind of like how Rick's group defeated the saviors on The Walking Dead, or how Preacher's Jesse, Tulip and Cassidy defeated the Grail or when Sunny finally gains control of the Badlands. You get the picture.) Plus, there's the whole legend that one day's supply of oil ended up lasting eight days.
So now, the annual Festival of Lights is all about lighting the symbolic Menorah and enjoying eight crazy nights of celebration, chocolate gelt coins, and of course, the beloved dreidel. Playing dreidel is simple. Just take turns spinning that top and see where you land. Once you spin the dreidel, your bounty will be dictated by the side your dreidel lands on.
That's where we come in. We reimagined the Hebrew letters as AMC characters. If you land on the letter Nun, you'll go down like Negan: empty-handed and bummed. If you get the Gimmel, you're in luck! Just like Slippin' Jimmy, you'll get the full megillah. Land on the Hay? Like Eve, you'll have your hands full… with half the bounty. And if you're as selfless as Alicia, you'll be totally cool with putting one in when you land on Shin.
So, what are you waiting for? Print out this PDF, get out your old school supplies and assemble your dreidel. Then, put on our ever-burning Menorah Log and spin your heart out. And, if you lose all your gelt early in the game, play a round of Plot or Not and see how well you know the other movies available as part of Best Christmas Ever. Shalom!
Movies streaming with AMC's Best Christmas Ever are available to watch with a cable login on amc.com and the AMC apps beginning December 1. Got an Apple TV, Roku, Xbox One or Fire TV? Hallelujah! Download the AMC app and start streaming on your television right away. Looking for some Christmas cheer on the go? You can also watch the above movies and more on your mobile device with the AMC mobile app, available for iOS, Android, Windows and Fire Tablets.
Check out the full schedule here to see when your favorite holiday movies are airing on AMC. Don't want to wait? Take a look at our full holiday offering of Christmas movies on amc.com and the AMC apps.
For more details on how to experience AMC's Best Christmas Ever holiday movie spectacular, sign up for the AMC Insiders' Club.
Read More