Uncategorized
Six Things You Didn't Know About White Christmas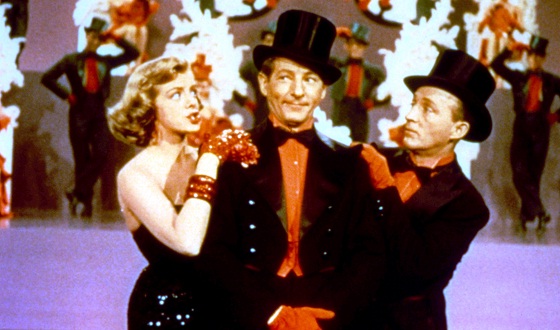 This year, the holiday classic White Christmas celebrates its 60th anniversary, so AMC is airing the holly jolly musical back-to-back tonight starting at 7pm. If you're a fan of the Bing Crosby flick, you probably know that White Christmas was originally meant to reunite Bing Crosby and Fred Astaire, but Astaire was "retired." You're likely also aware that Vera-Ellen's (Judy) voice is dubbed in most of the songs.  But here are some things you may not have heard about the Christmas classic…
1. The finale scene was reshot for the King and Queen of Greece
Shortly after White Christmas wrapped filming, the set was visited by King Paul and Queen Frederica of Greece. The director Michael Curditz decided to reshoot the finale number for their guests… but without Bing Crosby. Crosby, notoriously averse to press, told Rosemary Clooney to "cover for him" before skipping out. They "reshot" the finale with no film in the camera and Clooney lip-synced some of Crosby's lines.
2. Betty and Judy's Alaska-bound brother was indeed out of the country

Before Betty and Judy perform their sister act on stage, they mention their brother "Freckle-faced Haynes" is out of the country… in Alaska. This sounds odd to an audience today, but Alaska wasn't admitted as a state until 1959. When White Christmas premiered in 1954, "Freckle-faced Haynes" was indeed working out of the country.
3. Bing Crosby and Danny Kaye's "Sisters" reprise wasn't in the original script
Bing Crosby and Danny Kaye's famous "Sisters" act, in which the two men dance to the Haynes sisters' song, wasn't in the original script. When director Michael Curditz saw Crosby and Kaye goofing around on set, he thought it was so funny he wanted it in the film. However, Crosby and Kaye had a hard time keeping it together on camera, and you can still see the unscripted laughs and smiles from the two actors in the final cut.
4. The Columbia Inn is a remodeled set piece from another Bing Crosby film
The Vermont Columbia Inn, where much of the latter half of the movie takes place, is actually a remodeled version of the inn from Holiday Inn, a film featuring Bing Crosby and Fred Astaire. White Christmas was originally intended to reunite Crosby and Astaire and capitalize on the success of Holiday Inn, but Astaire turned the film down. Danny Kaye was cast instead, and the beautiful inn soundstage makes another appearance in a classic film.
5. Vera-Ellen's (Judy) real singing voice can be heard in the movie
It's no secret that Vera-Ellen's singing voice was dubbed for most of the songs (by Trudy Stevens). However, Vera-Ellen's singing voice can be heard once, in the "Arrival in Pine Tree" scene at the railroad station.
6. Two iconic actors make appearances in the film
Audiences can briefly see two famous actors in White Christmas. Though he isn't credited in the film, Carl Switzer, a.k.a. Alfalfa from The Little Rascals appears in the picture of her brother that Judy flashes to Bob and Phil. In Betty's "Love, You Didn't Do Right By Me" number, one of the dancers is none other than George Chakiris, who went on to win the Academy Award for Best Supporting Actor in West Side Story.
See the full schedule for White Christmas here. Then, play the White Christmas Ultimate Fan Game to test your knowledge of the film.
White Christmas airs Friday, December 12 at 7/6c and 9:45/8:45c.
Read More