Games, Polls & Quizzes
Ho, Ho, Howdy Partner! Celebrate Christmas With John Wayne On-Air and Online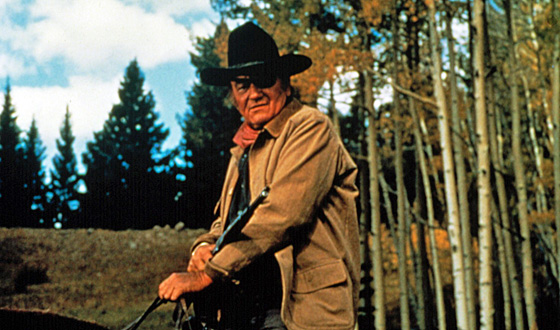 Get ready for a visit from the big guy this Christmas… No, not Santa. The Duke is coming to town! Starting Wednesday, December 24th at 7/6c and continuing all through Christmas Day, you can check out classic John Wayne westerns like Big Jake, Rio Bravo, The Horse Soldiers, The Quiet Man, The Cowboys, True Grit and The Sons of Katie Elder. Then, instead of arguing over who gets the last piece of Christmas pie, challenge your family to John Wayne trivia games, rank the best of John Wayne's movies and more below…
ULTIMATE FAN GAMES
John Wayne
Which of the Duke's many roles was his personal favorite? Play the game!
True Grit
What John Wayne one-liner ends True Grit? Play the game!
The Quiet Man
In The Quiet Man, John Wayne plays a former what? Play the game!
MOVIE RANKING LISTS
John Wayne's Best Movies
The American icon has appeared in more than 170 films, so choosing a favorite is a daunting task. Which one ranks as your number one? Vote now!
John Wayne's Finest Westerns
John Wayne's roles defined the Western genre, but which Wayne Western is your favorite? Vote now!
The Late Westerns
The early westerns made him a star, but his later westerns made him a legend. Which of John Wayne's last ten westerns is your favorite? Vote now!
TOURNAMENT
John Wayne's Toughest Character
Rooster Cogburn faces off against Sean Thornton, Sheriff John T. Chance and more of Wayne's most iconic roles. Which character do you think is the toughest? Vote now!
PHOTO GALLERY
John Wayne's Western Road Trip
Not traveling for the holidays this year? No problem. Take a tour of the wild west from the comfort of your own home with this photo gallery. View photos now!
The Christmas With the Duke marathon airs Wednesday, December 24 at 7/6c through Thursday, December 25. See the full schedule here.
Read More