Games, Polls & Quizzes
Commemorate Veterans Day On-Air and Online With the Best Vets Marathon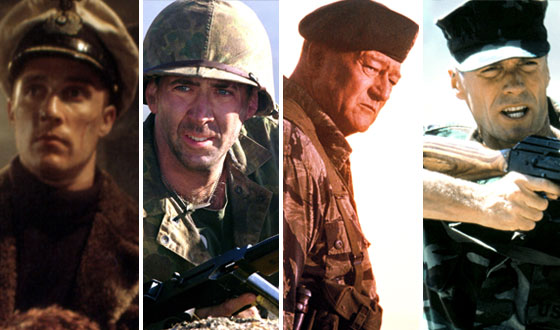 On Tuesday, November 11, AMC commemorates Veterans Day with the Best Vets Marathon, featuring wartime movies that showcase the strength and courage of Hollywood's greatest onscreen heroes. Starting at 9AM/8c, you can catch classics like U-571, Windtalkers, We Were Soldiers, The Green Berets and Heartbreak Ridge. Want more ways to remember our nation's finest? Check out these quizzes, movie ranking lists and more.
ULTIMATE FAN GAMES
War Movies
Which Vietnam flick is shot entirely in shades of red, white, or blue? Play now »
World War II Movies
Which American war movie is almost entirely in Japanese? Play now »
We Were Soldiers
Director Randall Wallace worked with Mel Gibson on which other war movie? Play now »
Heartbreak Ridge
Clint Eastwood plays Sgt. Highway, a veteran of which war? Play now »
Pearl Harbor
In Pearl Harbor, Ben Affleck's character suffers from what condition? Play now »
Good Morning, Vietnam
Which actor co-starred in another movie about the Vietnam War the year before? Play now »
Patton
Which legendary director co-wrote Patton? Play now »
MOVIE RANKING LISTS
Top 20 Best War Movies
War movies have depicted the best and the worst of the human condition since film was invented, but which iconic war movie ranks as number one? Vote here »
Best Vietnam War Movies
The Vietnam War has been the inspiration behind some of Hollywood's most memorable and classic films. Which is the greatest? Vote here »
Best War Movies of John Wayne
The Duke has led the charge in many different war movies. Which John Wayne flick is your favorite? Vote here »
TOURNAMENT
Best War Heroes
War movies are filled with brave men and women. Which movie war hero inspires you the most? Vote here »
Best War Movies
The most iconic war movies of all time are pitted together in one tournament. Which do you think should come out on top? Vote here »
The Best Vets Marathon airs Tuesday, November 11 at 9AM/8c. Click here for the full schedule.
Read More