Uncategorized
Six Things You Didn't Know About the Rambo Franchise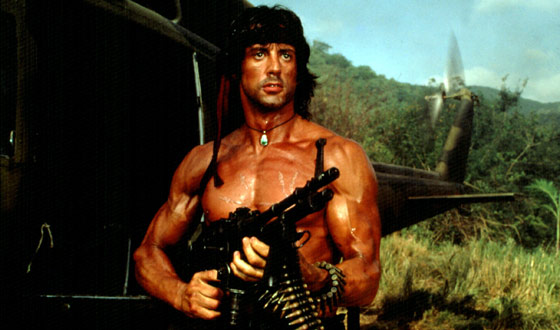 With its jam-packed fight scenes and violence, the wildly popular Rambo series helped set the standard for modern action films. If you're a fan of the haunted Vietnam veteran, you probably know that First Blood is based on a novel of the same name and that John Rambo was supposed to die at the end of the movie. Plus, you're probably aware that Titanic and Avatar director James Cameron co-wrote First Blood: Part II. But there are probably a few details on the making of the $727 million action franchise that you may have missed. Here are six lesser-known facts about the Rambo flicks…
1. Sylvester Stallone tried to buy and destroy First Blood
Stallone despised the 195-minute first cut of the film so much that he attempted to purchase the film back to prevent its distribution. When this proved impossible, Stallone suggested the movie time be halved, cutting much of his role out in order to let the rest of the characters tell the narrative. This shorter approach to action movies set a precedent for future films of the genre.
2. Rambo was inspired by a World War II hero turned Hollywood actor
In the DVD commentary for First Blood, David Morrel, author of the First Blood novel, reveals that World War II hero-turned-Hollywood actor Audie Murphy provided some inspiration for Rambo's character. Murphy, who was one of the most decorated American combat soldiers of World War II, single-handedly held off an entire company of German soldiers after he climbed in a burning M10 tank destroyer and engaged the enemy with the heavy artillery. He was given the Medal of Honor for this heroic stand and, after the war, enjoyed a 21-year acting career.
3. Stallone was responsible for the political content of Rambo: First Blood Part II
First Blood Part II co-writer James Cameron insists that he only wrote the first draft of the sequel. Cameron claims that Stallone made many changes to the script and is responsible for the political content which focuses on Soviet and Vietnamese soldiers. Cameron says that he scripted the action for the film, while Stallone wrote the controversial politics surrounding the Vietnam War.
4. Sylvester Stallone relates Rambo and Colonel Trautman's relationship to Dr. Frankenstein and his Monster
In the DVD commentary for First Blood, Stallone says that Colonel Trautman and Rambo parallel the story of Mary Shelley's Frankenstein, in the respect that Rambo is a monstrous war machine created by America, then is shunned by society and runs amok, even though he just wants to be accepted. Like the doctor, Colonel Trautman feels responsible and wants to make things right.
5. Rambo is listed in the English dictionary
Stallone's character has become such a pop-culture icon that the word "Rambo" was added to the dictionary as a noun. It means, "a fanatically militant or violently aggressive person."
6. Rambo III held a World Record for most violent film
Although First Blood has the reputation of being extremely violent, only one person is killed during the movie with all other characters surviving. Rambo: First Blood Part II drastically increases the amount of violence, with 67 deaths, 57 of which Rambo is personally responsible for. However these statistics pale in comparison to Rambo III, which boasts a total of 132 deaths and 78 kills by John Rambo.
The Rambo marathon airs Saturday, November 1 at 1PM/12c. See the full schedule here.
Read More