AMC FearFest Kicks Off With Marathons of Stephen King, Tremors and Chucky Movies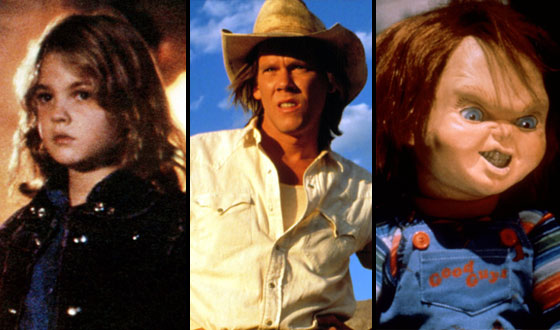 AMC announces the launch of its annual AMC FearFest, the biggest annual horror and thriller movie marathon of the Halloween season, starting this Friday, Oct. 17.  The 15-day on-air film festival celebrates the best in contemporary and classic horror genre films, including the 30th anniversaries of Stephen King's Firestarter and Children of the Corn. AMC FearFest features continuous scare-themed programming, including classic film franchises such as Halloween, The Omen, Friday the 13th, Tremors and Child's Play. In addition to the on-air festivities, AMC FearFest will feature online interactive movie trivia games inviting horror movie fans to take quizzes, earn badges and challenge friends via Facebook.

Among a vast library of horror favorites, AMC FearFest will present marathons of the following franchises:
Stephen King Marathon – Friday, 10/17, featuring: Thinner, Silver Bullet, Cujo, Christine, Dreamcatcher and the 30th anniversaries of Firestarter at 8p and Children of the Corn at 10:30p.
Tremors Marathon – Saturday, 10/18 and Sunday 10/26, featuring: Tremors, Tremors 2: Aftershocks, Tremors 3: Back to Perfection, Tremors 4: The Legend Begins.
Chucky-thon – Sunday, 10/19 and Saturday, 10/25, featuring: Child's Play 2, Child's Play 3, Bride of Chucky and Seed of Chucky.
Friday the 13th Marathon – Monday, 10/20 – Tuesday, 10/21, featuring: Friday the 13th, Friday the 13th Part II, Friday the 13th Part III, Friday the 13th: The Final Chapter, Friday the 13th: A New Beginning, Friday the 13th VI: Jason Lives, Friday the 13th VIII: Jason Takes Manhattan, Jason Goes to Hell: The Final Friday, Jason X and Friday the 13th (2009).
The Omen Marathon – Friday, 10/24, featuring: The Omen, Damien: Omen II and Omen III: The Final Conflict.
Halloween Marathon – Monday, 10/27 – Friday, 10/31, featuring: Halloween, Halloween II, Halloween III: Season of the Witch, Halloween 4: The Return of Michael Myers, Halloween 5: The Revenge of Michael Myers and Halloween 6: The Curse of Michael Myers.
Other titles will include:
A Nightmare on Elm Street
An American Werewolf in Paris
Corridors of Blood
Creation of the Humanoids
Deep Blue Sea
Dreamcatcher
Eight Legged Freaks
Freddy's Dead: The Final Nightmare
Ghost Ship
Ghoulies
Ghoulies II
Hide and Seek
House on Haunted Hill
How to Make a Monster
I Know What You Did Last Summer
Invasion of the Neptune Men
Lake Placid
Land of the Dead
Pumpkinhead
Puppet Master
Return to House on Haunted Hill
Riding the Bullet
Scream 3
Slaughter of the Vampires
Survival of the Dead
The Crow: City of Angels
The Fog
The Funhouse
The Howling
Thirteen Ghosts
Violent Midnight
War of the Colossal Beast
AMC FearFest on www.amc.com
Each day, www.amc.com will feature an Ultimate Fan Game about a landmark horror movie as well as other online exclusives like personality quizzes, movie ranking lists, tournaments and more.
Click here for the full AMC Fearfest schedule.
Read More