Games, Polls & Quizzes
Dino-Mania Hits AMC With All Things Jurassic Park Online and the Trilogy On-Air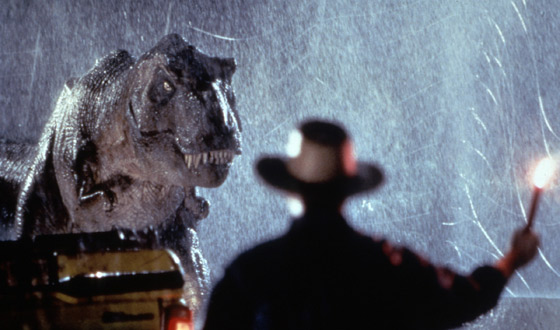 Something big is coming to AMC…. dinosaurs! The Jurassic Park trilogy airs Monday, September 29 at 7/6c. With a giant T-Rex, great one-liners and the emergence of CGI, what's not to love about the Steven Spielberg classic? If you can't wait until the dino-marathon, you can immerse yourself in the world of InGen and Jurassic Park with these quizzes, movie ranking lists and even a prehistoric tournament.
ULTIMATE FAN GAMES
Jurassic Park
Who developed such a passion for dinosaurs that they assisted in an actual dinosaur dig after filming? Play the game.

Jurassic Park III
The movie was filmed on which Hawaiian island? Play the game.

Steven Spielberg
Steven Spielberg dropped which other Michael Crichton project to work on Jurassic Park? Play the game.
MOVIE RANKING LISTS
Steven Spielberg Movies
Is Jurassic Park your favorite Steven Spielberg movie? Vote for it in this movie ranking list here!
Top 100 Blockbusters
Jurassic Park made our list of Top 100 Blockbusters. Your vote could push it closer to the top! Vote here.
TOURNAMENT
Prehistoric Beasts Tournament
Who is the most fearsome prehistoric Hollywood beast? Can the Velociraptor beat the likes of King Kong? Vote for your favorite here. 

The Jurassic Park Trilogy airs Monday, September 29 at 7/6c.
Read More