Unscripted
4th and Loud Q&A – Joe Mortensen (Fullback)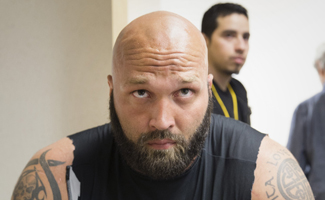 4th and Loud's Joe Mortensen, the LA KISS linebacker-turned-fullback, discusses his friendship with quarterback and "class act" JJ Raterink and how much Assistant Coach Walt "Hous" Housman loves his cat.
Q: An expansion team is basically a random bunch of guys that haven't been signed by other teams and such. What was the chemistry like this season on the LA KISS? 
A: Up and down the roster, I don't think we had a bad team. If anything, it was chemistry on the field that was hurting us. Some guys didn't really know the game that well, at first, [and] our offensive line didn't play that well. It was my third year playing arena, [and] I had been playing defense my whole life, and it was my first year playing fullback. You know, teams like Arizona and San Jose, Pittsburgh and Cleveland, those guys have been together for three or four years… we had a short mini-camp, and we were bringing guys in and out all throughout the year, so it was tough.
Q: You had to be pretty close to JJ Raterink, considering you were literally defending him as a fullback during games. What kind of relationship did you have with him as a player?

A: JJ was my roommate before my wife moved out to L.A. I played in the league the last couple of years [and] knocked the sh*t out of him real bad a couple of times playing linebacker, but he's a class act.
Q: Were you ready for the spotlight of 4th and Loud?
A: To me, I always went out there and played ball. I always strap up and play ball, and on game day, I don't really think about all that stuff. I'm excited for the show: We all watched it last night, but I didn't really get nervous about that. I'm kind of a guy who doesn't get embarrassed well, and I really don't stress out that much.
Q: You have a wife and young daughter. What was it like being away from them for part of the season? 
A: It was tough. Two months without seeing them. My little girl's four years old, and she'd call and ask me where I'm at. Earlier in my professional career, I played in the NFL and the UFL, and there was times when I didn't see them for three to four months at a time. The one thing that I loved when they came out [to Los Angeles], is just like, no matter what, after a tough loss or a bad day, it's nice to come home to my wife and little girl. I can just look at my little girl, she can do something, and it makes me happy. A home-cooked meal is always great. [laughs] When [my wife] was gone, it's just like Hot Pockets or Hungry Man's.
Q: You're a bouncer on the offseason. On average, how many guys do you have to physically remove from the bar on a nightly basis?
A: I average maybe one or two, depending on how busy it is. You're liable to the bar, so I don't swing at guys no more. The only time I fight is when I'm physically in danger — there's more than one [guy] swinging at me. But when you get older, you learn that you use your words. Everybody's there to have a good time; your job is to make sure that everybody stays in line, but at the same time, you've got to be hospitable and kind. I've met some bouncers before that are just complete a**holes, and they just want to fight someone. I'm not like that. I'll give you a couple warnings. If you're disrespecting women or trying to cop a feel, then you're going to get tossed out real quick.
Q: Do your best impression of assistant coach Walt 'Hous' Housman.

A: Walt Hous! [laughs] Oh, man. I love Bob, but Hous to me…. I love watching Hous coach. He's hilarious. Not only his knowledge of the game, but just his sayings. Of course, he drops F-bombs. He'll say, "F*ck. A thousand f*cks!" He's got that Boston-New Hampshire accent. I'm not great at impressions, man, but he to me, is awesome. I love that he's got a girlfriend and he takes care of his mom and his cat. And he's like, "I f*cking love my cat!"
Read an interview with JJ Raterink.
Read More