Uncategorized
Story Notes for Ocean's Eleven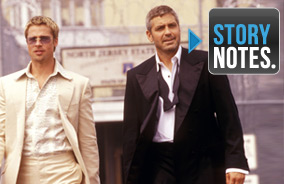 Weeknights during prime time on AMC, you can catch Story Notes — real time trivia and facts about your favorite movies! Below is the online version of the Story Notes for Ocean's Eleven.
Award Notes
In 1963, the year Brad Pitt was born, Carl Reiner won an Emmy for his writing on The Dick Van Dyke Show. As of 2014, Reiner has won nine Emmy Awards for acting, writing and producing.
Steven Soderbergh and Julia Roberts won Oscars while filming this movie. He won Best Director for Traffic and she won Best Actress for Soderbergh's Erin Brockovich.
In 1991, Andy Garcia was nominated for a Best Supporting Actor Oscar for The Godfather: Part III.
Biographical Notes
Pitt and Clooney were later in the Coen brothers' Burn After Reading (2008).
At the time of Ocean's, Elliott Gould, Brad Pitt and George Clooney had each appeared on Friends. Pitt and Clooney made guest appearances, and Gould played Ross and Monica's father.
Gould and Clooney worked together 17 years earlier on the short-lived sitcom E/R (1984). Of course, Clooney rose to fame on the similarly named ER (1994-2009).
Carl Reiner created The Dick Van Dyke Show in 1961.
Brad Pitt played a detective in Cool World (1992) and Se7en (1995).
Cheadle played original Ocean's 11 actor Sammy Davis Jr. in the 1998 TV movie The Rat Pack.
Shaobo Qin speaks Mandarin in the movie, but he isn't entirely fluent. In real life, he speaks Cantonese.
Carl Reiner played many different characters on the variety series Your Show of Shows (1950-1954).
A decade earlier, George Clooney auditioned for Brad Pitt's breakout role in Thelma & Louise (1991).
Julia Roberts first worked with Director Steven Soderbergh on Erin Brockovich (2000).
Shaobo Qin began his acrobatic training in Yulin, China when he was eight.
Don Cheadle is American – he was born in Kansas City, Missouri. He admitted his accent isn't great. He wanted to change it for the sequels, but his agent said no.
Casey Affleck and Scott Caan each have famous actor relatives. Casey's brother is Ben Affleck and Scott's father is James Caan.
Bernie Mac was born Bernard Jeffrey McCullough.
In 2006, Soderbergh made a black and white movie starring George Clooney – The Good German.
Matt Damon was later in Soderbergh's Emmy-winning Behind the Candelabra (2013).
After this film, Shaobo Qin considered being a stuntman. He eventually returned to the Peking Acrobats.
Don Cheadle, Carl Reiner and Matt Damon later appeared on episodes of The Bernie Mac Show.
Julia Roberts and Brad Pitt appeared in Director Steven Soderbergh's next movie Full Frontal (2002).
In 2000, Julia Roberts became the first actress to make The Hollywood Reporter's "Power List."
Julia Roberts, George Clooney and Brad Pitt would work together again in 2002. They all acted in Clooney's directorial debut Confessions of a Dangerous Mind (2002).
Casting Notes
George Clooney was in The Perfect Storm and O Brother, Where Art Thou? the year before Ocean's Eleven (2001).
Clooney first worked with Director Steven Soderbergh in Out of Sight (1998), where he also played a career criminal.
Bernie Mac had just been in the 2000 stand-up documentary The Original Kings of Comedy. His TV series The Bernie Mac Show (2001-2006) premiered one month before this movie.
Brad Pitt had just been in Spy Game (2001). Pitt agreed to be in Ocean's after being asked by George Clooney, who was the first to join the cast.
Director Steven Soderbergh wanted someone associated with the 1970s movies to play Ruben. Elliott Gould was suggested by a member of the crew. Soderbergh realized he would be perfect for the role. Gould starred in 1970s classics M*A*S*H (1970) and The Long Goodbye (1973).
Topher Grace from That '70s Show makes a cameo in the film as himself.
Eddie Jemison (Livingston) was in Bruce Almighty (2003) and on the HBO series Hung (2009-2011). At the time, Jemison and Soderbergh had been friends for almost 20 years.
Don Cheadle (Basher) was in Soderbergh's Out of Sight (1998) and Traffic (2000).
The filmmakers were looking for someone with specific acrobatic skills to play the part of Yen. They discovered Shaobo Qin performing with the troupe in Las Vegas. He had never acted before.
Producer Jerry Weintraub asked Carl Reiner to be in the movie a few days before he had to be on set. They'd known each other for years. Weintraub produced Oh God! (1977), which Carl Reiner directed.
Carl Reiner was called in to replace Alan Arkin, who had to drop out last minute due to a medical emergency.
Joe La Due (salesman) was in Indecent Proposal (1993) and Casino (1995). He grew up in Las Vegas.
Andy Garcia (Terry Benedict) was Agent George Stone in The Untouchables (1987).
Julia Roberts was in American Sweethearts and The Mexican the same year as Ocean's. Brad Pitt was her co-star in The Mexican.
Matt Damon replaced Mark Wahlberg, who opted to be in Tim Burton's Planet of the Apes (2001).
Scott L. Schwartz (Bruiser) is a former professional wrestler who was in The Scorpion King (2002).
Financial Notes
The entire cast worked for less than their usual salaries to bring down the budget.
The Bellagio was built in 1998 for $1.6 billion. It was the world's most expensive building at the time.
Ocean's Eleven opened at #1 at the box office. It made $450 million worldwide.
Historical Note
In the mid-1800s, John Augustus became the first probation officer in the United States.
Location Notes
The Bellagio Resort & Casino in Las Vegas was named after a resort town in Italy.
The Picasso restaurant inside the Bellagio is decorated with real Pablo Picasso artwork.
McCarran Airport is just over two miles from the Bellagio.
Some scenes were filmed in the Musso & Frank Grill–the oldest restaurant in Hollywood which opened in 1919.
Love Note
Julia Roberts really married a man named Danny right after this movie came out. She met cameraman Danny Moder on the set of The Mexican (2001). They married in 2002.
Music Notes
Composer David Holmes also worked on Director Steven Soderbergh's Out of Sight (1998).
Some songs on the film's soundtrack include "The Projects" by Handsome Boy Modeling School, 1999, "Blues in the Night" written by Harold Arlen and Johnny Mercer, performed by Quincy Jones, 1959, "A Little Less Conversation" by Elvis Presley, remixed by Junkie XL, 2001 and "Clair de Lune" written by Claude Debussy, 1890.
Pop Culture Notes
Ocean's Eleven (2001) is on Entertainment Weekly's list of  "15 Great On-Screen Heists."
The earliest heist movie was 1903's silent The Great Train Robbery. The 12-minute short was also the first narrative movie – one that tells a story.
Ocean's Eleven was Director Steven Soderbergh's follow-up to 2000's Traffic and Erin Brockovich.
Classic heist movies: The Asphalt Jungle (1950), Rififi (1955), and The Italian Job (1969).
"Of all the gin joints, in all the towns, in all the world" is a line from Casablanca (1942).
George Clooney, Brad Pitt and Matt Damon have each been chosen as People's "Sexiest Man Alive."
Other heist comedies: The Pink Panther (1963), A Fish Called Wanda (1988) and Snatch (2000).
The main cast reunited for two sequels, Ocean's Twelve (2004) and Ocean's Thirteen (2007).
Entertainment Weekly gave Ocean's Eleven an "A" and called it "one of the most sheerly pleasurable movies [of 2001]."
Press Note
The New York Times: "Mr. Soderbergh does some of his best work in Ocean's Eleven."
Production Notes
Brad Pitt thought his character should always be eating, so they made it a recurring theme.
Most of the movie was shot in Las Vegas, where producer Jerry Weintraub had many connections. He got the filmmakers access to the casinos. George Clooney called him the "Pope of Vegas."
Director Steven Soderbergh was also the movie's cinematographer. Soderbergh has been the cinematographer on many of his movies. He uses the alias Peter Andrews.
Director Steven Soderbergh and George Clooney sent Julia Roberts the script with a $20 bill.  They included a note about her fee of "20" per movie – a reference to Roberts' usual $20 million salary.
In 1998, Entertainment Weekly named Holmes one of the "Top 100 Creative People in Entertainment."
The Bellagio granted the crew full access. Producer Jerry Weintraub was friends with former owner Steve Wynn. Wynn sold the Bellagio to Kirk Kerkorian before filming, but Weintraub was friends with him too.
Director Steven Soderbergh briefly considered filming Ocean's Eleven in black and white, but the studio told him he'd have to drastically cut the budget. He opted for color.
Director Steven Soderbergh didn't want any characters to get seriously hurt in the movie. Soderbergh: "It's probably the least threatening film I've ever made… That was conscious on my part."
It was Elliott Gould's idea for his character to smoke a cigar.
They shot Andy Garcia exiting the vault and continuing down the hallway two weeks apart.
Prop Note
Rusty's wig was used by Mike Myers during rehearsals for his Austin Powers movies.
Quotation Notes
Director Steven Soderbergh: "Those guys were the epitome of cool… none of us wanted to compare ourselves to them."
Andy Garcia said it wasn't easy to do a serious scene with Carl Reiner because Reiner is so funny.
Matt Damon said the scene at the fountain was the last thing they shot and "oddly emotional."
Director Steven Soderbergh said Ocean's Eleven was an opportunity to give audiences "pleasure from beginning to end." He wanted it to be "a movie that you just surrender to, without embarrassment and without regret."
Script Notes
Screenwriter Ted Griffin was inspired by The Magnificent Seven (1960) and The Great Escape (1963). He liked the way the men in those movies had a shorthand with each other that only they understood.
Casey Affleck and Scott Caan improvised some of their lines in the movie.
Screenwriter Ted Griffin based Virgil and Turk's arguments on fights he and his brother had as kids.
Director Steven Soderbergh came up with the line "I hope you were the groom" on set.
Set Notes
Clooney played blackjack in his downtime on set. One time, he lost 25 times in a row.
The club didn't have a back room, so they built one for the movie on a separate set.
Production designer Phil Messina worked with Soderbergh on 2000's Traffic and Erin Brockovich.
The Bellagio let them tap into their security system to get real surveillance footage of the casino.
Roberts and Clooney hadn't met before the movie.
Director Steven Soderbergh wanted the actors to hang out on set to make sure they had good chemistry. During downtime, the cast often crowded around Carl Reiner to listen to his stories.
It was estimated that 25-30% of the casino was used by the production at any given time.
George Clooney and the other actors played pranks on Julia Roberts. Sometimes they left 5 AM wake-up calls for her when she didn't need to be on set until noon.
Bernie Mac improvised some of his lines, including "You want me to get on the table and dance?"
Shaobo Qin didn't speak much English. He had a translator on set who would tell him what to do.
The Bellagio closed their valet parking for the movie. Even the high rollers had to use the parking garage.
The lead cast members lived at the Bellagio during filming – each in separate 7000-square-foot villas.
Source Notes
This movie is loosely based on 1960's Ocean's 11 – the first movie featuring The Rat Pack. The Rat Pack included Frank Sinatra, Dean Martin, Sammy Davis Jr., Peter Lawford and Joey Bishop.
Sports Notes
Olympic gold winner Wladimir Klitschko held several heavyweight titles by the time of filming.
Lennox Lewis won the Olympic gold in 1988 and his first of many heavyweight championships in 1994.
Technical Notes
The elevator shaft was created with visual effects. The actors were only a few feet off the ground.
Director Steven Soderbergh used a 45 degree shutter effect for the flashback scenes. It causes the film to be exposed to light for less time than usual and results in more of a choppy feel.
Trivia Notes
Don Cheadle (Basher) uses Cockney rhyming slang, which originated in the East End of London. Cheadle went to London and talked to people there to get his accent down.
Pinch machines exist, but they don't look anything like what is shown in the movie. In reality, a pinch machine would be too big to fit in a van and too weak to cause widespread damage.
Ya vas lyublyu means "I love you" in Russian.
The Bellagio's casino is 122,000 square feet.
Wardrobe Note
Costume designer Jeffrey Kurland wanted the actors to wear their vests without shirts, but they overruled him.
Read More